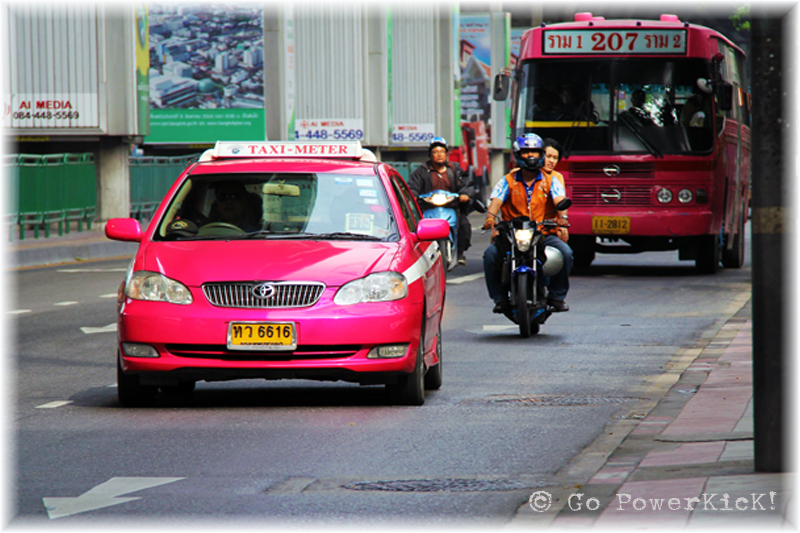 Your lungs, legs and body temperature will thank you for taking advantage of the colorful and extensive Bangkok taxi system. While not always the fastest mode of transporta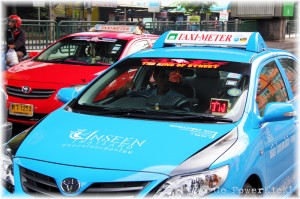 tion to get from point A to B, especially during traffic, they are definitely the most comfortable. Easily recognizable with their bright colors and a "Taxi Meter" sign on the roof, they are known for keeping sub-zero temps coming through the air-con. Climbing into a taxi is a refreshing break from the continuous tropical heat of the "Big Mango."
With a base fare of 35 Baht (roughly $1.14) taxis are cost-efficient and relatively simple to use. In comparison to their unregulated younger brother, the tuk-tuk, taxis are sometimes overlooked by travelers as a great way to get around. After the initial base fare, which includes the first 2km, an additional 2 Baht is charged for each additional 0.4km, and 2 Baht per min is charged during waiting time. At current conversion rates 2 Baht is roughly $.06, making the ride quite a bargain. When first entering a taxi be sure to watch the driver start the meter; occasionally drivers will try to tell non-Thais the meter is broken and take you for a ride. Always insist the meter is o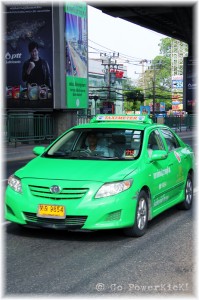 n, there is never such a thing as a "flat fare," anywhere! The only official extra fees are expressway tolls (average 40 Baht). It is always good to carry an assortment of small bills, as sometimes drivers refuse to accept larger bills and don't always carry change. Tipping is not  a common Thai practice, and not necessary in a taxi. On the other hand, rounding the fare up/down to the nearest 5 or 10 Baht is fairly common and falls right in line with the "Mai Pen Rai" attitude. No worries! Bangkok literally has thousands of taxis, helping contribute to the City's notorious traffic problem. However, finding one at any time of the day is never a problem. Exceptions can occur at night if your destination is out of the inner-ring or during monsoon season downpours when everyone wants in.
In Bangkok anyone can become a taxi driver. There's no exam to pass to obtain a taxi license. This coupled with the fact that Bangkok is a sprawling metropolis, 606 sq miles, some drivers can have a less than Triple-A rated knowledge of the city. Communication now takes top priority. Reaching a level of communication in English can be difficult, so it's best to make sure the driver knows your destination before hittin' the road. It's been known to happen where a driver says "Yes" to a destination; later to find the driver asking where you want to go again and both of you not knowing where you are or where you're going.
Toyota Corolla has cornered the market on Bangkok's eye-catching brightly colored taxi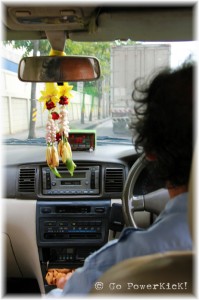 industry. Blues, greens, yellows, purples, pinks and orange are common taxi colors. While nice to look at, the colors do have meaning. Since Thailand is a devout Buddhist country most taxis in will have Buddha images on the dashboard and/or a garland of fragrant flowers hanging from the rear view mirror. These are placed as a blessing to the taxi to keep it safe as well as bring good luck and wealth.
The two-tone green and yellow taxis are thought to be the best. While not always the newest taxi's on the road, these are owned by the driver. These drivers tend to take care of their property and know the city best, making for a more enjoyable ride to your destination.
Other two-toned and single colored taxis are rented out on a daily basis from a taxi firm. Common thought is the drivers of these cabs are slightly more aggressive on the road and less patient behind the wheel.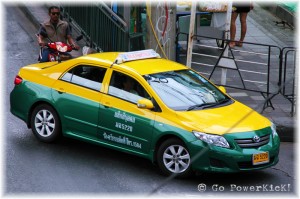 99% of the time all taxi rides are pleasant and without problem. However, It does pay to do your research, be prepared and know what to expect before you step into the Thunderdome.
Here are a few extra tips to keep in mind when looking to hitch a ride:
     – Look for the red light on the passenger side windshield, these are unoccupied taxis.
     – Once you're in the car, make sure the taxi driver has reset the meter before taking off.
     – Try to have your destination written in Thai and hand it to the driver. Don't expect the taxi  driver to understand English or poorly-pronounced Thai addresses.
     – Check the taxi fare against the fare sheet hanging from the headrest in the car.  This will give an estimate on how much you should pay.
     – Keep small change with you to avoid payment/change issues. Carry coins and 20, 50 Baht banknotes.
     – If you forget something in the cab and if you have information about the taxi, you can call 1644 in Bangkok, the taxi call center for lost items.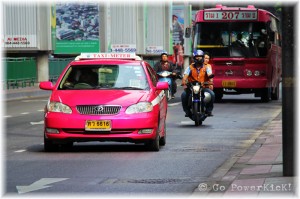 Comments
comments
More Good Reads!










Share
About Author
(0) Readers Comments