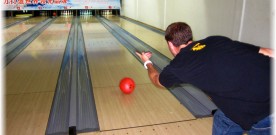 What to do when a Nation-wide curfew kicks in and its "lights-out?" Hit the lanes anyone?? It could be right up your alley!
Situated on the map next to Thailand, where it's easy to find a 24-hour scene, Laos has invoked a Nation-wide curfew. Laotians, and travelers making their way through the country, must clear the streets, vacate the bars and be home by 11:30pm. In most Western/Asian countries the usual custom might be to hear a bell ring or the barkeep shout something resembling "Last Call;" letting you know its near closing time and time to wrap up. Quite the contrary in Laos. Promptly at 11:30pm staff at the bar/restaurant will head over to your table, take the drinks away, clean up and start to turn off the lights. Clear signals that it's time to go. This might catch you off your guard. In case you think about negotiating for that final round of drinks, one would be advised against it. This is a law that is taken seriously and no need venturing into a "Locked-up Abroad" scenario. Final answer; pack up and head back to the hotel/guest house.
Lights out and streets deserted is the scene when trekking back, reminiscent of a ghost town. There is nothing that makes a guest house manager happier than a group of travelers coming home shortly after curfew. As they probably turned in earlier in the night; banging on the door asking to be let in or given back a room key is not their definition of R.E.M sleep. If luck falls your way and the right manager was on duty, they may still sell a few bottles of Beer Lao or possibly share a few shots of Lao Lao (the local equivalent to moonshine made from sticky rice) to cap off the night.
In the sleepy town of Luang Prabang a loophole has been found somewhere in this curfew.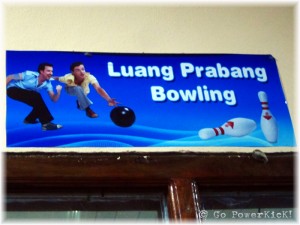 With a small discotheque, but no real late night bars to be heard of; venturing into the streets around closing time is where you'll find the "secret solution" to the curfew. For the cost of 35,000 kip per person a tuk-tuk driver will happily pile 4 to 6 people into his ride and venture slightly out of downtown. Where he is heading is the late night watering hole; the one and only bowling alley in Luang Prabang. I don't know how they've done it, but this alley has found a way to stay open past the 11:30pm curfew as well as keep a fully stocked refrigerator of Beer Lao and Namkong beer.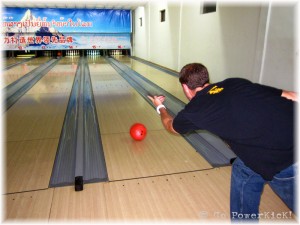 The bowling alley was quite a surprise to see. It was as if they the Laotians had uplifted a bowling alley straight from small-town USA and deposited it on the outskirts of Luang Prabang.  It was just like being at the Friday night disco-bowl back home. Travelers and locals mixing it up together amongst rock-and-roll and Thai pop-songs blasting through the speakers. For 15,000 kip per game, the equivalent of roughly $1.85, you can enjoy music, drink and bowling all night. You don't even have to rent bowling shoes, you can bowl barefoot if you like!
The alley stays open till about 3am in the morning; continuously filtering in are groups of travelers and the occasional party of locals. Again, not sure how they get around the law as the loud music combined with the crashing of bowling balls and pins is about as far from a quiet night-cap as you can get. Traveling through Lunag Prabang there is not a moment to spare. Roll in to "Ten-Pin-Alley" and strike it up with a gang of fellow travelers and hit the lanes…that's how Luang Prabang rolls!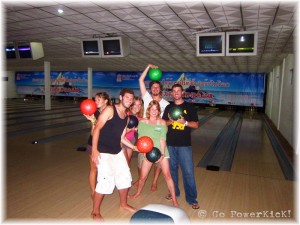 Comments
comments
More Good Reads!










Share
About Author
(0) Readers Comments