Whether you're traveling one week or one year; you have a few options about how to handle the packing dilemma before heading abroad.
You can always show up in your Sunday best: alligator shoes, sharkskin pants, embroidered Hawaiian shirt and Ray-Ban sunglasses, buy a backpack and accumulate the remaining necessities once on the ground. To quote a friend preparing for a recent trip to Thailand "Oh yeah, I'm packing real light. Just bringing a backpack and going to buy clothes when I get there. Everything is made there anyway, probably at half the price."
While this is a viable option some have found success with; the large majority of travelers will follow the customary route of packing a backpack or suitcase. For those of us who follow this lone traditional path, here are a few suggestions on essentials for your trip.
Sometimes less really is more. When getting ready to travel your natural first step is to make a comprehensive list of everything you'll need; not a bad place to start. At home it's very easy to think you will need to bring everything you own, including the kitchen sink. The recurring question popping into your head might be "Will they have this there?" The answer to that question more often than not is "Yes, and probably at a cheaper price."
Needless to say packing becomes an art form, and packing "light" is definitely easier said than done. You don't want to leave something essential behind or leave home without your favorite whatchmadingy. I, and other travelers alike, can assure you that you will be the envy of your travel companions if it's your bag/pack that fits under the seat of a bus, on your lap in a tuk-tuk or in the overhead storage compartment on a flight. To achieve this you must trim the fat.
Step number one, you must conquer your fear that something left behind won't be able to be purchased abroad. Many products are available abroad and again, usually at a discount. When going through this exercise remember "everything is essential, only some things more than others." Hopefully this helps when it comes time to make the tough decisions on what makes the list and what gets cut.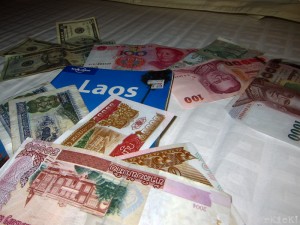 Next, utilize the tested packing philosophy "Lay everything out that you really want to take, halve it and take twice as much money." Here you come out on top twofold, needed space in your pack and genuine local souvenirs and clothing to take home.
Finally, avoid packing the random stuff you "might just need" or "just want to take." Usually this stuff sits at the bottom of your bag or only gets used half the time. It'll make you wonder "Why did I even bring this?"
With these few pieces of packing code you should manage to squeeze everything into a 30-40 liter pack or suitcase. The hassle you will avoid and the flexibility you will gain will make your tough packing decisions worth their weight in gold.
Keeping the steps above in mind, below is a short check list of some essentials you want to make sure are on your short list.
Check List:
Sturdy backpack
Walking shoes / boots / sandals
Insect repellent / sun protection
Toiletries / an emergency toilet roll or tissues – This one speaks for itself!
Medicine / Travel-sized First Aid Kit
Travel-sized towel
Clothing – for all weather patterns
Waterproof jacket
Maps and Guidebooks
Journal w/ pen
Camera
Earplugs
Pocket Dictionary / Phrase Guide
Laptop
Money & money belt
Swiss army knife
Sunglasses
Passport
Something to kill time (books, iPod)
An open mind!

Comments
comments
More Good Reads!










Share
About Author
(0) Readers Comments