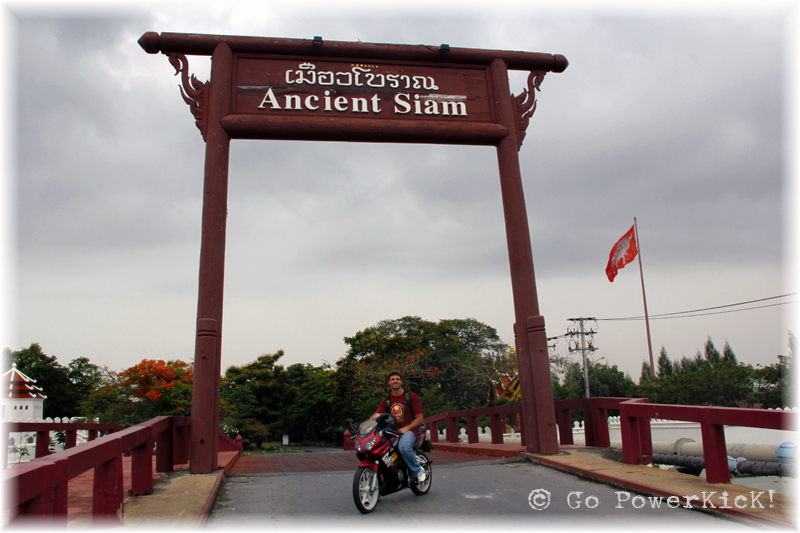 Taking a much needed mid-term exam study break yesterday, I decided to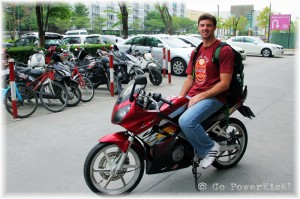 roll the dice on Weather.com's forecast for Samut Prakarn. They called for a 60% chance of thunderstorms, but looking out my window I could see some blue sky in the distance, so I liked my odds. I calculated my route from Bangkok to Samut Prakarn on Google maps and it looked to be a pretty straight shot down Sukhumvit Road. Heading roughly 40 km south from Bangkok towards the mouth of the Gulf of Thailand I hopped on my motorcycle towards my destination of Ancient Siam, also called Mueang Boran. The weather stayed on my side and it didn't rain, however, the thunder was rolling throughout the day and the skies looked like they wanted to open up at any moment.
Who doesn't love an eccentric millionaire? Some, with more money than they know what to do with, have both created and follow the reputation of being extravagant, enigma's, lavish dressers and sometimes doing senseless things with their fortunes. On the other hand there are those interested in doing good and leaving a lasting legacy. With the help of the National Museum, one such eccentric Thai millionaire did just that. Khun Lek Viriyaphant used his post World War II import, automotive and petrol business fortune to preserve and share the cultural heritage and history of Thailand. True to hi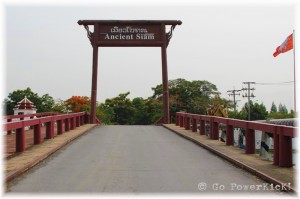 s eccentric form he accomplished this by constructing what is now known as the world's largest outdoor museum. Sprawling 240 acres and built in a shape resembling the Kingdom of Thailand; Ancient Siam is a tour through Thailand's most historically significant structures and attractions.
Ancient Siam consists of 116 of the most famous and significant structures across the country. These life size models are strategically placed to correspond with their actual location in Thailand. During developmental stages it was recognized that some of the original structures were deteriorating, so, where possible to save the integrity of the original structures they have been moved to this new location.
When entering Ancient Siam you have 3 choices for touring the park. A guided tram tour, riding a bicycle on your own or renting a golf cart. Wanting to take my time and explore on my own, yet not really feeling like working too hard in the tropical humidity, I mixed Ancient Siam with Neuveaux Siam and toured by golf cart. For an entrance fee of 500 Baht and 150 Baht per hour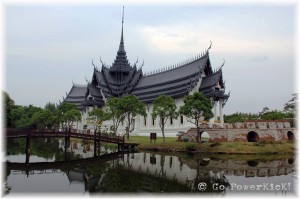 for the golf cart, I was able to see Siam in a day for about $20….Not a bad deal!
The entrance/exit to the park is situated where the Southern tip of the country would be. Structures from Surat Thani, Petchaburi and an old market town are there to greet you upon entry. Consistent throughout the park are plaques in front of each structure offering a brief history and description so visitors can get an idea of what they are looking at. The cart path winds its way through Bangkok's Giant Swing then north to the old capitol of Ayutthaya and on to Sukothai. Continuing upcountry, a few original structures have been moved from the northern town of Chiang Rai and its surrounding villages to bring an authentic northern feel.
The road goes on with more and more sights around every turn. Not leaving anything out, the park even includes a small zoo. Logical thought would put elephants as the main attraction here, however, what I found was a herd of reindeer. Aside from Ancient Siam, I'm not exactly sure where in Thailand you can find reindeer. Maybe Old Saint Nick has a long standing deal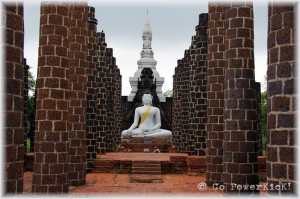 with Buddha to keep his reindeer in Thailand during the 'off season' to keep them refreshed and ready to haul the sleigh again come Christmas time….just a thought.
If you get hungry, the park has its own floating market area for lunch or some snacks. Whether you're in the mood for a lunch of Tom Yum Goong or just want to snack on some papaya and sticky rice or coconut flavored desserts, the floating vendors can fix up whatever you're craving.
Moving along the tour through the north east you can see the highlights of Issan. The pride of Surin, Prasat Sikhoraphum. Buri Ram's miniature Angkor Wat, Wat Phanom Rung and Si Sa Ket's mighty Prasat Phra Wihan. The top of Prasat Phram Wihan provides a great vantage point to see the expanse of Ancient Siam. From here you can really see and appreciate the time, thought and detail that was put in to bring this idea to life.
Most trips to Thailand are centered around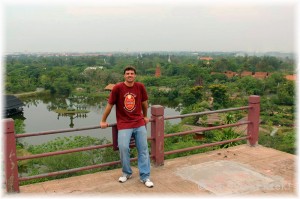 island hoping the beaches of the south then mixing in a few days of peaceful relaxation up north in Chiang Mai. Finding the time or even having the ability to see the many different and unique structures throughout Thailand can prove to be a difficult if not insurmountable task. For those with limited time, a day trip to Ancient Siam will definitely get you one step closer to seeing almost everything the country has to offer in just 1 day. I went during the week and given the light visitor volume of a weekday, activities like dancers, waterfalls/fountains and all the floating market vendors were not in full swing. To capture Siam in all its glory I would recommend going on a weekend when its prime time. Either way, Ancient Siam is definitely a unique and off the beaten path adventure for those visiting Thailand.
Ancient Siam
[custom_gallery style="1″ source="post" link="image" description="0″ size="150×150″ limit="50″]
Comments
comments
More Good Reads!









Share
About Author
(0) Readers Comments