I recently had the opportunity to bridge the gap between teacher/budget traveler and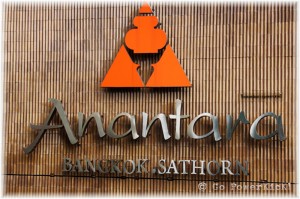 executive traveler during a stay at the Anantara Hotel, Bangkok Sathorn. Derived from the Sanskrit word meaning "without end" the Anantara takes you to your own individual sanctuary escaping the hustle-and-bustle of daily life. Stretching from Abu Dhabi to Thailand to China, the Anantara properties are distinguished by their luxurious, exclusive and contemporary feel; providing guests with a relaxing and revitalizing experience. I hoped my stay would take on the same Sanskrit meaning and also be without end; however, everyone knows that all good things must come to an end….but after this trip I'm sure to return.
From the moment I arrived my stay was 1st class all the way. Friendly, hospitable and professional staff made my check-in a breeze. While being escorted to my room on the 34th floor, the many benefits of the "Kasara Experience" were brought to my attention. I was encouraged to enjoy the pool; however, be ready at 6pm for complimentary snacks and beverages in the Kasara Lounge on the 37th floor. Complimentary food and drink….noted!
BINGO! An impressive one bedroom suite was what awaited me on the 34th floor. The room was equipped with all the essentials; and was quite aesthetically pleasing. The sitting area had a large comfy couch and was adjacent to a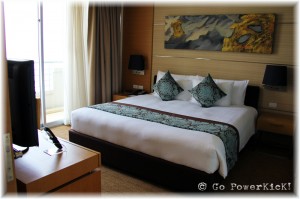 small dining area, which included a stocked fridge and bar. The bathroom had it all; a full sized tub, a refreshing overhead rain shower and vanity area complete with his and hers robes. The bedroom was pure comfort. My room had a large king size bed with a comforter and pillows that literally made you feel as if you were floating on "Cloud 9." Flat screen T.V's with international satellite rounded out both the bedroom and sitting room. All rooms come with a private balcony offering guests a view of Bangkok's sprawling and striking cityscape. Having compromised no expense on comfort; I could feel my chakra's aligning and the Feng Shuey meter maxing out. I unpacked and decided to hit the pool for a cold drink and a swim.
At 6pm I promptly made my way to the Kasara Lounge. Enjoying the 37th floor lounge was no difficult task, especially with its unique backdrop. Other lounges may offer pieces of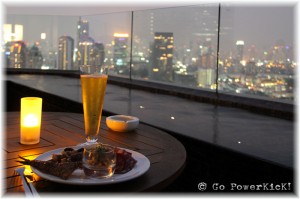 art, a pool or fixture as their backdrop; the Kasara Lounge however, offers the glowing city lights of Bangkok. This was perfect for enjoying the complimentary snacks and beverages. I ordered myself a Singha and plated up some cold cuts, salmon, breads and mixed nuts with Thai chilies. 37 floors up, removed from the noise and congestion of Bangkok's rush hour traffic, there wasn't much else I could have asked for. Another plate of snacks and a few more Singha's had my thoughts slipping away to pure relaxation.
I wasn't able to get to relaxed as the dinner buffet was already in progress. Comfortably full from the snacks in the Lounge I wasn't sure how I could eat much more; that is until I saw the buffet. Sea food, Thai dishes, Western treats and a stir fry bar finished out the options. When I saw the Laarb Moo (spicy pork salad), oysters and homemade pizza it was mind over matter and I was hungry again. As I cruised through the buffet I noticed the dessert area from the corner of my eye. Upon further inspection one area that stood out was the chocolate fountain off to the right side. I immediately told my stomach to "Make room, we're having dessert!" After enjoying dinner I made my way to the fountain. Picking a few local fruits I dipped them into the chocolate extravaganza. I literally felt like a kid who owned a candy store! A few rounds of chocolate covered fruit had me heading back to my room an extremely satisfied guest.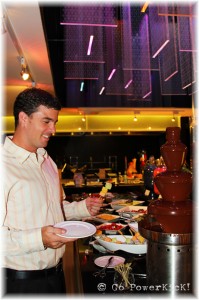 The turn-down service had slippers laid out, a chocolate and an orchid meticulously placed by the pillow and the bed ready for me to sink into. The impressive attention to detail of the Anatara was confirmed once again. I sunk into the king sized bed and floated on the pillows as I put on a movie and drifted into an REM food coma.
Waking up completely refreshed I had no desire to get out of bed or check out. I don't know how I woke up thinking of more food, but I remembered the 6:30am – 10:30am buffet breakfast offered in the 100° East restaurant. Similar to the buffet dinner, breakfast was full of top quality foods of both Eastern and Western delight. I made my way to breakfast and chowed down, again.
The VIP service, if only for a day, was fantastic and extremely welcoming. If you're a traveler who's been on the "road"  or a business executive cutting your way through ASEAN and want to treat yourself to an unforgettable experience of relaxation, great views and food; head to the Anantara. With amazing properties in picturesque locations, I highly recommend adding the Anantara to your list when planning that next destination getaway.
The Kasara Experience
Comments
comments
More Good Reads!










Share
About Author
(0) Readers Comments