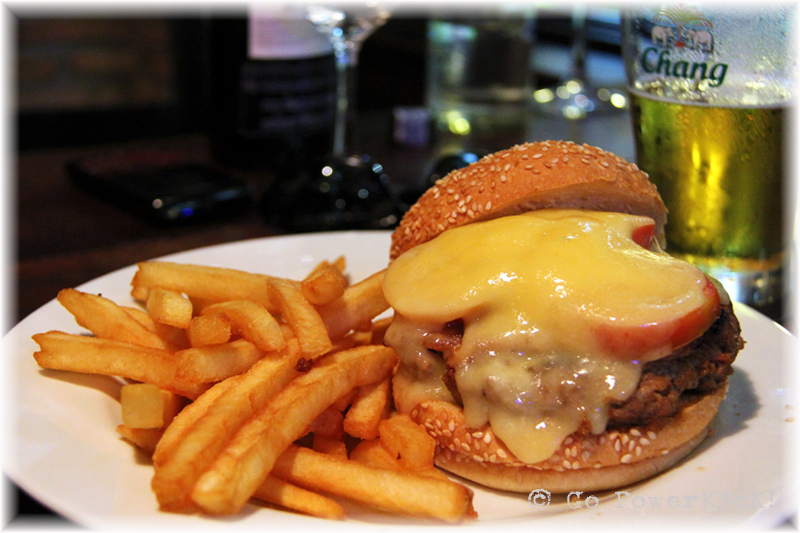 The Beef Burger with Cheddar Cheese and Bacon
Touted by friends, and others around town, as having some of the best hamburgers in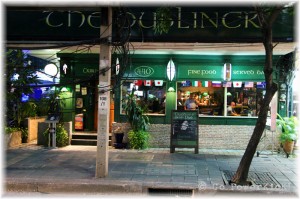 Bangkok I had to make my way over to The Dubliner and give their burger a go. The location is smack in the middle of Bangkok's main artery, Sukhumvit Road, between Soi 24 and 22. The location is convenient as it's just a short walk from the Phrom Pong BTS station (although they are moving just up the road to Soi 14 shortly after St. Patrick's Day). Walking inside you are immediately taken out of Bangkok and dropped in any one of Dublin's best pubs. 3 floors of seating, a pool table, good music, a fully stocked bar….I almost forgot I came for the burger. The burgers range in price from 280 to 325 Baht depending on the toppings. All burgers are made from tenderloin cuts of Thai beef that are aged 21 days. The beef is trimmed, minced and seasoned in house. The Dubliner hand-makes their burger patties which arrive on your plate in a sizeable 250g portion. Curious about the seasoning I tried to find out more, however, their secret was not being let out that easy. I did learn the beef was seasoned with salt, pepper, garlic, and for the additional ingredients I needed to ask the chef….in the kitchen "mum" was the word. Fresh produce is delivered daily from the Khlong Toei Market which is used on all burgers.
Flipping the menu to the "Paddy's" page revealed a list of burgers that all looked tempting.
Looking over the choices my eyes immediately found the Beef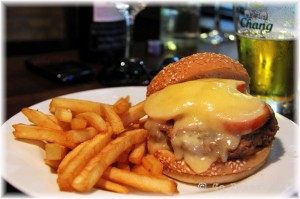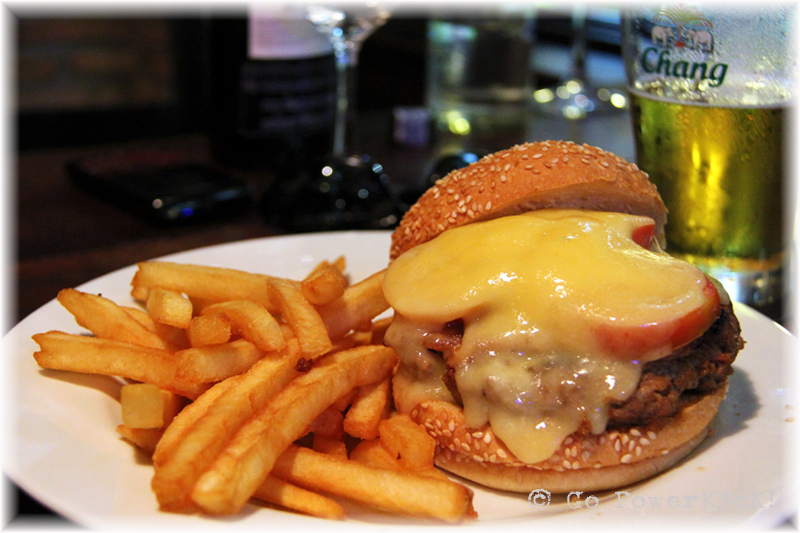 Burger with Cheddar Cheese, Bacon, Tomato and fries. Their "Cheese & Bacon Burger" comes with two slices of bacon and fresh cuts of tomato smothered beneath a generous layer of white cheddar cheese. Prior to coming out of the kitchen, waitresses are instructed to compare all plates with a photo of how the dish should be presented. If they are not a match the plate is sent back to the kitchen for a small make-over.
I'd never know if my burger wasn't up to picture standards before leaving the kitchen, however, I do know when it arrived it was a thing of beauty looking almost too good to eat. It had the makings of a cheeseburger and mouth love affair waiting to happen. I sat and admired it for a minute, but my stomach eventually won and I was soon diving in to taste the spoils. The first bite lived up to the rumors.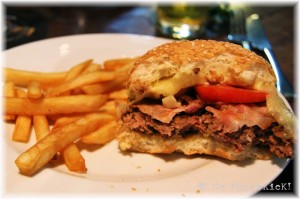 Juices from the patty, bacon, and cheese came alive immediately. The hints of garlic, pepper and salt in the seasoning were great compliments to the cheese and had me ready for a second bite real quick. During bite number one my mind and mouth were slightly preoccupied trying to identify and soak up the great taste. It wasn't until bite number two when I realized the perfect role the soft sesame seed bun played. It was a perfect addition to the flavors of bacon, cheese and burger, creating a mouth watering combo. The fluffiness of the bun did a great job pulling all the flavors together into every bite. The cheese also did its job well holding everything together. Sharp in taste and thick in consistency it covered every bite. Served with a nice helping of fries and washed down with a Chang draft, I think the motto "Don't bother me I'm eating" fits perfectly with this burger.
I briefly spoke with Wayne the manager and asked him about the burgers. He says the burgers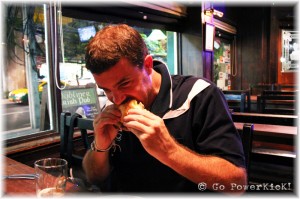 are all "Done with care," and I am not going to disagree! I won't call it the luck of the Irish either; this is just plain old good burger cookin!
Weekdays from 11am-2pm you can visit for lunch and get a slightly smaller burger at a steal of a price, just 98 baht. St. Patrick's Day should be a great day at The Dubliner as it's sort of their send-off before they move locations. If you are in the area, and hungry, drop in for a burger, you will not be disappointed. The Dubliner  is open Monday – Friday from 9am – 12:30am, and on Saturday and Sunday they open up at 8am.
Score Card
Burger Juiciness –  4 /5
Bun Goodness –  4/5
Cheesy Madness –  5/5
Overall Tastiness –  4/5
Price –  4/5
Overall Rating – 4/5

Comments
comments
More Good Reads!










Share
About Author
(0) Readers Comments