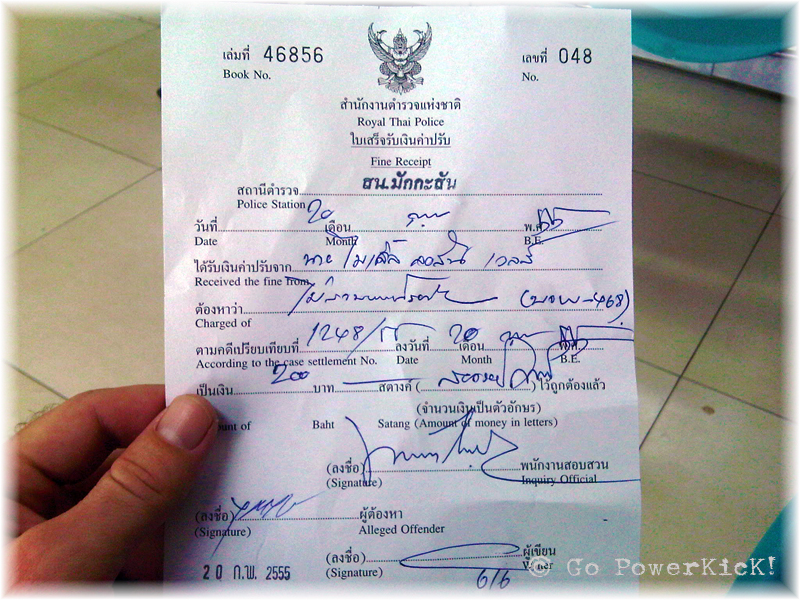 Last night I set out on a night ride to a market towards the Mo Chit BTS station (Sky Train). This
is Northern Bangkok and the end of the BTS line. From my home off the Rama 9 road it is about a 25 min ride, a decent distance and a nice ride when the night traffic is light. When I arrived at the market the traffic picked up, the place was packed. I followed a few other motorcycles and scooters to the parking area and found a spot for my bike. I hopped off and set out to stroll. "Talad Rot Fai" is the name of the market, which in Thai means "Train Market." It's an eclectic weekend night market offerng a variety of goods for sale as well as some snacks to enjoy while shopping. People at the market were really enjoying themselves; some enjoying the shopping while others were relaxing with groups of friends infront of restored VW Buses which had been converted into small bars. I had a great time looking at retro items as well as checking out the vintage clothing.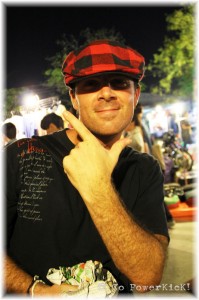 I got a surprise when I got back to my motorcycle to head home. The bike was there, however, I was minus 1 helmet. While I was out someone got a 5-fingered discount on my helmet. I was a little shocked as I have yet to have had anything stolen from me in Thailand. I guess there is a first for everything. I wasn't to upset, I guess they needed it more than I did. Hope it goes to good use. I was more nervous about making the ride home, sans helmet. I'm getting more comfortable on the roads of Bangkok, but when given the choice I will always opt to ride with a helmet. This time I had no other option and had to go for it. I was wearing my trusty PowerKicK hat, however, I know not even the Thai police would mistake that for a helmet. Good news is that as I write this I can safely say I made it home in one piece. Phew!
Fast forward to 9:30am, February 20th in Bangkok. As I am getting ready to make my second helmetless ride, I am wondering if the police will be out early. I'm running the scenarios and probabilities through my mind of my route and the chances of being pulled over, given the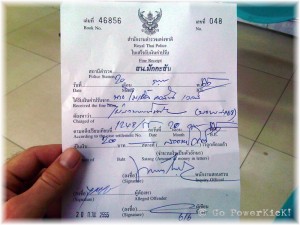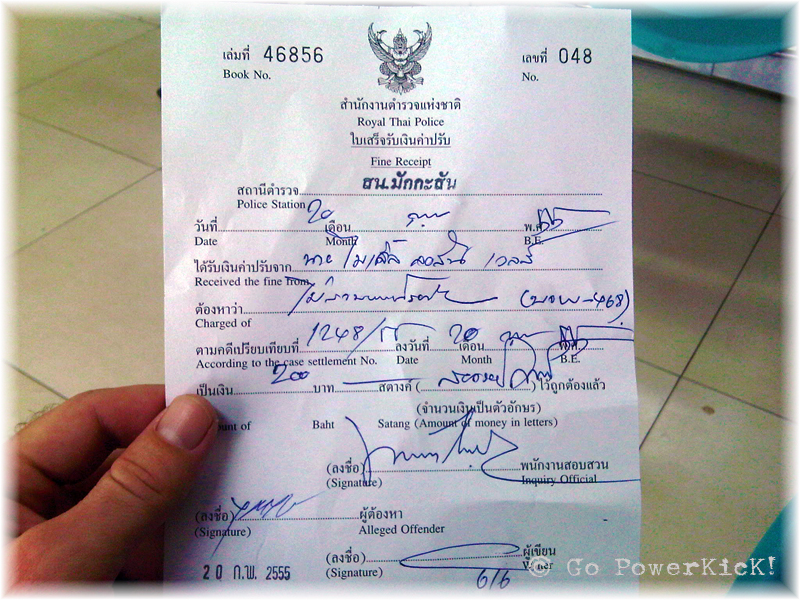 motorcycle shop is less than 2km away. With a busy day ahead I decide to roll the dice. I hopped on the bike and set off again. The cool morning air was nice without a helmet, maybe I could get used to this….maybe not! Not more than a block and a half away from the shop I was waved over to the sidewalk by a motorcycle officer in a bright yellow vest. With him pointing at my head and waving a finger; I knew exactly what was going on. I tried my best to explain in broken Thai-English my predicament. A NO go. I drove off having surrendered my license and with my first ticket in hand!
I made it to the shop and proceeded to re-purchase my helmet. The shop owner recognized me and we exchanged our hellos. I asked if he could, in Thai, write what happened to me on a piece of paper along with my receipt. I thought I could then go back to the officer and hopefully make everything all good. I paid for my helmet, dictated my story to the merchant and left with high hopes. I rode back to the yellow vested motorcycle officer, pointed to my helmet and handed him my story. He seemed to understand. I asked for my license back, and he hesitated. I thought "Was he going to need a monetary convincing to help grease the wheels on this one?" He continuously mentioned the police station, circled an area on my ticket and pointed in the opposite direction. I took his cue and headed towards the station, hoping I would soon have my license and I would be back at square 1.
When I arrived the "Captain" took my ticket, looked it over, circled something then signed his name. He gave me a grunt and pointed to a payment window. As I got to the window I decided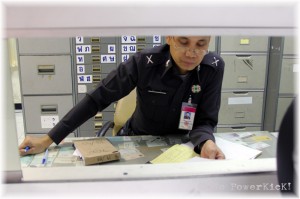 to give my note a 2nd try. I handed it to the clerk hoping he had a soft spot and would hand he my license, smile and send me on my way. When he finished reading he burst out in laughter. He pointed to my helmet and said "New?" His laughter caught me off guard and I started to laugh as well. I replied to him, "Yes" with a smile. Just as I was getting high hopes he said he "See-Roy." In Thai that means 400, which was the fine of my ticket, 400 Baht. My efforts didn't bear fruit this time, but at least we shared a laugh over my situation. I handed over the cash and received my license back. I walked out of the station with license and helmet in hand, telling myself we will not be back there, ever! What a Monday morning!
Comments
comments
More Good Reads!









Share
About Author
(0) Readers Comments