Amidst the humid, bustling, noisy evening streets of Bangkok exists a merchants dream. Each night dozens of markets take place in neighborhoods throughout the city. Indelibly leaving their mark, night markets have become synonymous with Bangkok. They offer a sharp contrast to air-conditioned mega-malls, yet, provide a fascinating shopping experience all their own.
Popping up in the early evening, markets can take over streets, walkways or entire Soi's (alleys). Vendors happily sell their wares as patrons leisurely stroll through, shopping and eating. From one-off clothing items, knick-knacks for your home, toys, counterfeit electronics, a pet or even a motorcycle; at night markets you can find just about anything. Night markets offer a glimpse into local life and how things were before we came to rely on the Wal-Mart's of the world. The night market is also a great opportunity to find and sample wonderful foods, which might not traditionally be found in restaurants; adding to the "cultural experience."
If you're heading to Bangkok for a visit, take one night to explore a night market, you will be in for a real treat. Below is a quick rundown of a few markets around Bangkok that are on, and off, the tourist path. Each offers something unique all its own.
Pat Pong Night Bazaar – Nestled in the Silom area of Bangkok the Pat Pong Night Bazaar is a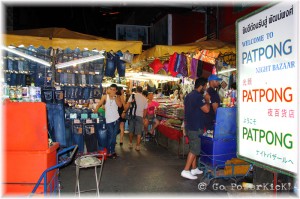 must see. If you've got your heart set on finding authentic knock-off Gucci sunglasses, faux Coach bags and fugazzi Rolex watches this is the place for you. Located smack in the middle of an area well known for its exotic night life, this market has a feel quite like no other in the city. It's busy, crowded, mildly chaotic and flanked on both sides by small restaurants and Go-Go Bars. Come ready to bargain as prices start high but are definitely negotiable. In Pat Pong vendors set up shop around 6pm and the haggling goes strong until 1am.
Siam BTS – Just as most shops begin to close up for the day, a small army of vendors are just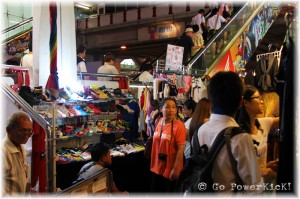 getting started. Juxtaposed to Bangkok's mega-mall, Siam Paragon, vendors set up stalls and illuminate the sidewalk in preparation for a night of selling their wares. Covering the length of roughly a few city blocks the foot traffic here is intense. Sitting at the base of the busy Siam BTS station, patrons consist of those coming to shop for a particular product as well as those passersby on their home via the Sky Train. The market is heavy tilted towards clothing, although you can still find key chains, iphone covers and a few electronics here. The market sets up around 6:30pm and continues til around 12am.
Talad Rot Fai – If its antiques and novelty items you crave then look no further. This weekend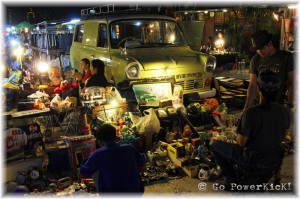 night market is where Hipsters meet Antique Roadshow. North of central Bangkok, close to Chatuchak park, on land owned by the State Railway of Thailand is the 'Train Market.' Centered next to a set of old train tracks the market used to come with abandoned rail cars ready for you to explore. They have since been moved to accommodate the growing number of vendors and merchants. Every Saturday and Sunday from 5pm until 1am this market showcases used items ranging from clothing and home decor to classic cars and antique toys. Cocktails, beers and an assortment of snacks are also available while you shop. The tourist path has not completely led the way to this market yet, so if you visit you will enjoy a fun authentic experience.
Saphan Phut Night Market – The Red Hot Chilli Peppers could write a song about this "Under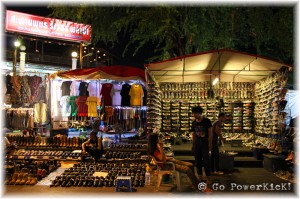 the Bridge" market in Asia's City of Angels. Every night of the week (except Wednesdays) vendors pack the footpath under Memorial Bridge, along the Bangkok side of the Chao Phraya River, ready to hustle their wares. It's the Perfect place for the Baht-strapped shopper. Saphan Phut is your one-stop-shop night market for everything from cheap apparel to entertainment items. T-shirts, sneakers, jeans, DVD's, CD's, stuffed animals and more are all sold at bargain prices. With amazingly cheap prices, bartering here is like bartering at the .99 cent store, unnecessary. Opening around 5:30pm, things don't really start going until around 8pm and shoppers don't quit until around midnight or a little later.
Ratchada Night Bazaar– Credence Clearwater, VW Buses along with used car and motorcycle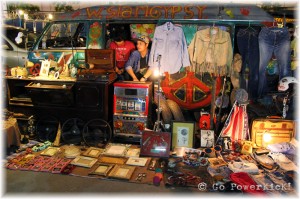 parts round out the unique atmosphere at the Ratchada Night Bazaar. Originating as a market selling Vespa scooters and old car parts, it has since morphed into selling just about anything pre-owned. Knick-knacks galore, books, leather bags, shoes, motorcycles and scooters and antique furniture catch your eye as you stroll up and down the crowded aisles. If you show up at the market hungry, "Mai Pen Rai," there are food stalls with delicious foods scattered about the venue. The vendors here have a friendly, laid-back attitude and are all smiles. This is one of the most interesting markets I've visited and a fantastic alternative to a shopping mall. Opening up around 6:30pm, the fun lasts well into the morning when things wrap up close to 2am.
Night Market Mayhem
Comments
comments
More Good Reads!










Share
About Author
(0) Readers Comments