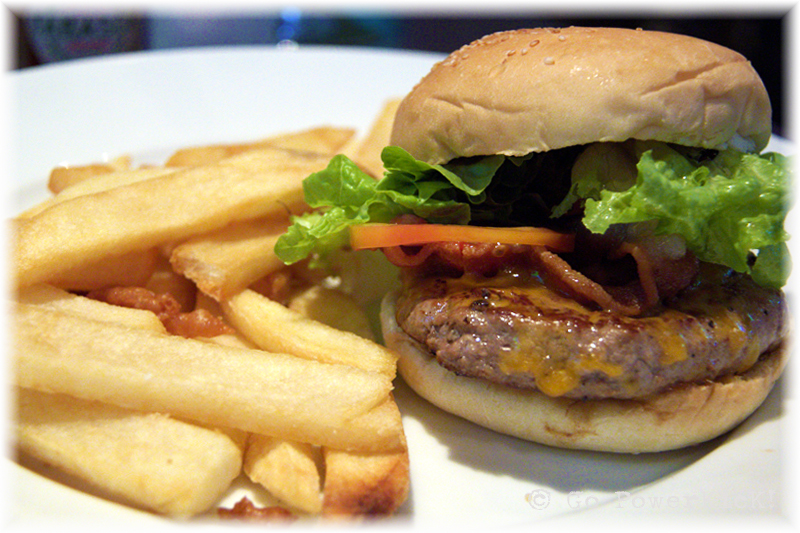 The Alpine Bacon Cheddar Burger

Taco Tuesday is out…Burger Tuesday is IN!! At 'The Clubhouse' Tuesday nights are dedicated to 1/2 priced burgers and sports. You can find The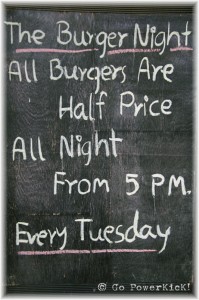 Clubhouse nestled in on Soi 23, close to the BTS and MRT Asoke Stations. Spread out over 2 floors and boasting 11 large TV's with over 200 satellite channels, the gentlemanly atmosphere makes it a proper place for good food and good times! Each section of the menu has a golf course theme and 'The Caddy Shack' features 8 burgers. 1/2 price burgers range from 105 to 145 Baht depending on your burger of choice. All burgers are made from Thai beef raised in the Chonburi province, just east outside of Bangkok. They use an 80/20 blend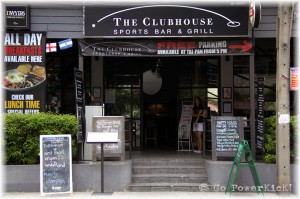 and it's seasoned well for maximum flavor.
Keeping true to form I bellied up to the 'Alpine Bacon Cheddar' burger, cooked medium, with a side of thick steak fries. Burgers at The Clubhouse are made to order and arrive in 130g patties. Keeping the seasoning simple, patties are flavored with onion and garlic powder combined with good old salt and pepper. The pepper is left slightly coarse to add more flavor to the patty, which I have to say worked quite well. The Alpine Bacon Cheddar burger features a thick slice of smoked bacon, cheddar cheese, lettuce and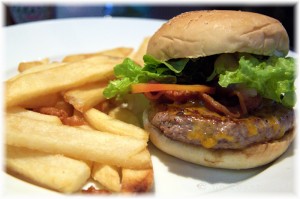 tomato. There is something slightly unconventional happening with the cheese at The Clubhouse. Burgers are topped with Australian Cheddar, however rather than a traditional thick slice straddling the burger, burgers here come topped with hefty handfuls of shredded cheese. This is done in an effort to keep the cheese moist and retain its flavor.
Surveying the burger I was ready to concur the Alpine. Bite one got a bit of it all….bun, bacon, lettuce, tomato, burger and cheese. While not exploding with juices, the patty was savory. Right off the bat the taste buds are greeted by the onion and garlic seasoning. The patty keeps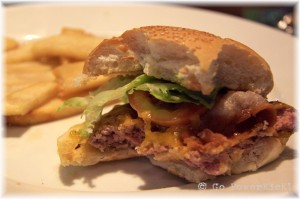 your mouth watering with a lively pepper after-taste lingering between bites. A thick and meaty strip of bacon topped the patty and was fried right; retaining the smoky flavor and delivering a nice crunch together with the chewiness of the cheese. Telling the difference between a slice and a handful of shredded cheese might be difficult as the cheese on this burger melted thoroughly and gave the burger a nice cover. The flavor of the cheddar was there, sharp! Holding everything together was the bun. Fluffy and chewy it played the role of book-ends well. This burger has a classic tail-gate BBq taste that brings you right back to the parking lot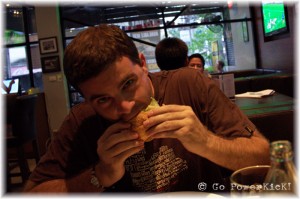 before your favorite game.
With a fantastic assortment of television and sporting channels to choose from The Clubhouse could easily become your regular spot for burgers and sports. An additional kicker are the half-priced draft beers to go along with the burgers. If you are looking to brush up on your pool skills there is also a nice table upstairs. The Clubhouse is open Monday – Sunday from 9am – 1am.
Score Card
Burger Juiciness –  2 /5
Bun Goodness –  2.5/5
Cheesy Madness –  3/5
Overall Tastiness –  3/5
Price –  5/5
Overall Rating – 3/5

Comments
comments
More Good Reads!










Share
About Author
(0) Readers Comments