Thailand has 3 seasons, Hot, Cool and Rainy. The 2011 rainy season saw rains and storms not even the Farmer's Almanac predicted. The result, over-filled dams and the worst flooding the country had seen in over 50 years. At the peak of the flood roughly 1/3 of the country was under water. Right now some areas north of Bangkok are still affected by flood waters. The damage knew no boundaries. Rice fields, schools, industrial estates and neighborhoods all felt the wrath. The damage estimate is in the neighborhood of 150 billion Baht.
'To Be Number One,' an anti-drug charity headed by Princess Ubolratana Rajakanya, decided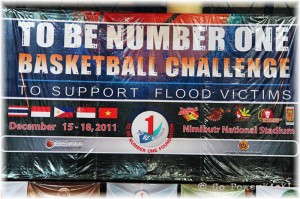 to raise funds to aid those affected by the flood. 'To Be Number One' teamed up with Air Asia's ABL, ASEAN Basketball League, and created an ASEAN Basketball Challenge to support flood victims. To bring the competition to life; five of the eight teams who will compete in  Season 3 signed up and headed to  Bangkok to hoop-it-up for charity. The tournament was December 15th – 18th and was a 4-day round robin. The challenge featured 3 teams who competed in Season 2 as well as newcomers to the ABL, the Saigon Heat from Vietnam and San Miguel Beermen from Philippines, who will compete in Season 3.
The four day hoop-a-thon had everything you would want to see from a pre-season tournament. Players dropped no look passes, threw the alley-oop, 3-point assassins stepped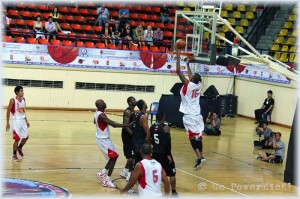 forward, iron-curtain defense shut down some while fancy dribblin' skills broke down others, and of course emotions ran high.
After four days of leaving it all on the court the final stage was set to crown a champ. Unveiling sleek new uniforms and a precision offense, the San Miguel Beermen looked strong throughout the entire challenge. As the new kid on the block they came into the finals to face the incumbent AirAsia Philippine Patriots. The Beermen didn't waste any opportunities during the hard fought battle. Their bench outscored the Patriots 26-12 and their defense stayed tough. When the final buzzer sounded the score was 84-76 and it was the Beermen who were the 'To Be Number One' champs, taking home the trophy.
The challenge was a success, funds were raised for those in need and fans got a great preview of the AirAsia ASEAN Basketball League's Season 3.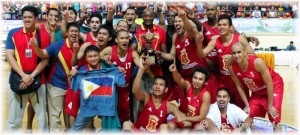 More 'To Be Number One' Challenge Pics
Comments
comments
More Good Reads!










Share
About Author
(0) Readers Comments