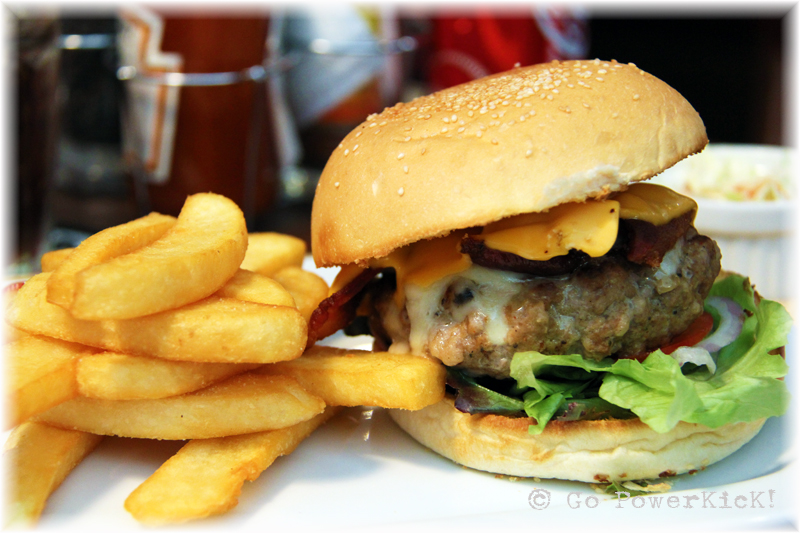 I'm on a conquest, pursuing the best burgers in Bangkok. 'Burgers a la Bangkok' will feature the American Classic throughout the capital of Siam. Italy has its spaghetti, India has their curry, Mexico has the burrito and Japan has sushi. America has the burger! Let's see how the 'Land of Smiles' ranks when Q'n up the American classic.
Bangkok Burger Company – The Bacon Cheese
With 15 burgers on the menu to choose from, Bangkok Burger Company 'Speaks Burger!' The restaurant is located just down Soi 10 in the neighborhood of Thonglor, a quick ride from the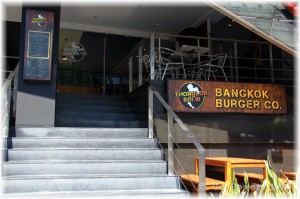 Thonglor BTS station. Inside they have re-created a diner type atmosphere, perfect for feasting on your favorite gourmet burgers. Come in, get comfortable, relax and get ready to chow down. Bangkok Burger Company keeps an ace in their pocket, a secret recipe for their buns. Buns are made especially for BBC and delivered daily. They come par-baked, then finished off in the oven just prior to serving. All burgers come in two sizes, Regular and Large, and are priced at 230 and 295 Baht respectively. Catering to the local Thai market, burgers are available in beef or pork. The all beef hand-patties are made when ordered and are exclusively from Charolais Beef; aged 21 days to improve taste and tenderness.
I went for 'The Bacon Cheese' burger. I took the large size option and had it served with french fries and coleslaw. You really couldn't ask for more in presentation. Delivered to your table on a wooden chopping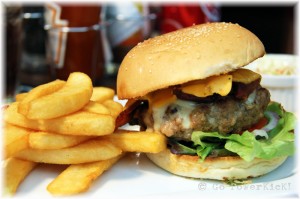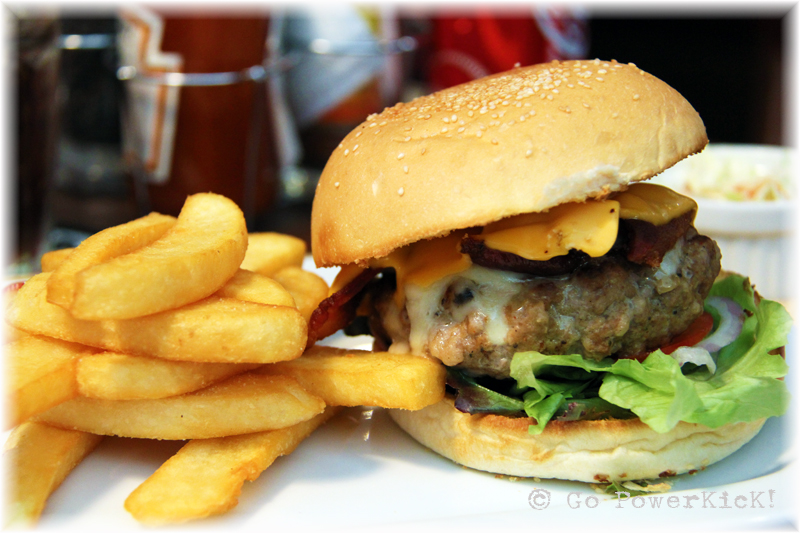 block it almost looks too good to eat. This burger is stacked high and served on that slightly toasted 'secret' sesame seed bun. A thick 200g patty, made up of 27 secret ingredients, is in the middle surrounded by the traditional condiments of lettuce, onion and tomato. This burger's name lives in its toppings. Three thick cuts of bacon along with a thick slice of cheddar and a slice of burger cheese finish it off. Cooked 'medium' the patty's flavors are geared up to burst out in bite number one. Once you sink your teeth in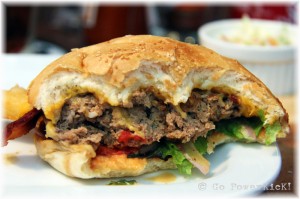 juice from the beef, the melted cheese and crispy bacon flavors come to life. The bun is soft, yet slightly crunchy, adding nicely to the texture. I have to mention the cheese again; the thick cuts cover the burger well and hold the bacon and flavors in place. With each bite the flavors come out making it difficult to put this burger down!
Although piled high, the burger holds its form and stays together nicely through the entire eating experience. The burger is served with a side of thick steak fries, cooked just right. Each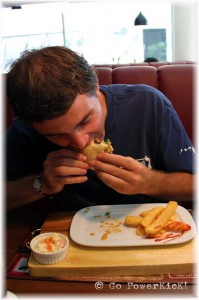 one is hot, crispy outside and soft on the inside. They still have a bit of the skins on the outer sides and come lightly drizzled with ketchup. Coleslaw is a welcome addition to any bbq and Bangkok Burger Company does theirs right. Fresh crisp ingredients make this cool summer favorite a nice side to the burger. Their slaw is crunchy, juicy and refreshing all while not being overly creamy. Its sweet, sour and salty flavor is a great way to finish off the meal.
An added bonus at Bangkok Burger Company is their b-day special. Head in on your b-day and enjoy a burger on the house along with your picture up on their Birthday Board! "Our service is simple, but with a smile" says manager Jim Moroney. With good burgers on the menu what else do you really need in a burger joint. Bangkok Burger Company is open daily from 11am – 11pm.
Score Card
Burger Juiciness –  3 /5
Bun Goodness –  3.5/5
Cheesy Madness –  4/5
Overall Tastiness –  4/5
Price –  3/5
Overall Rating – 3.5/5

Comments
comments
More Good Reads!










Share
About Author
(0) Readers Comments