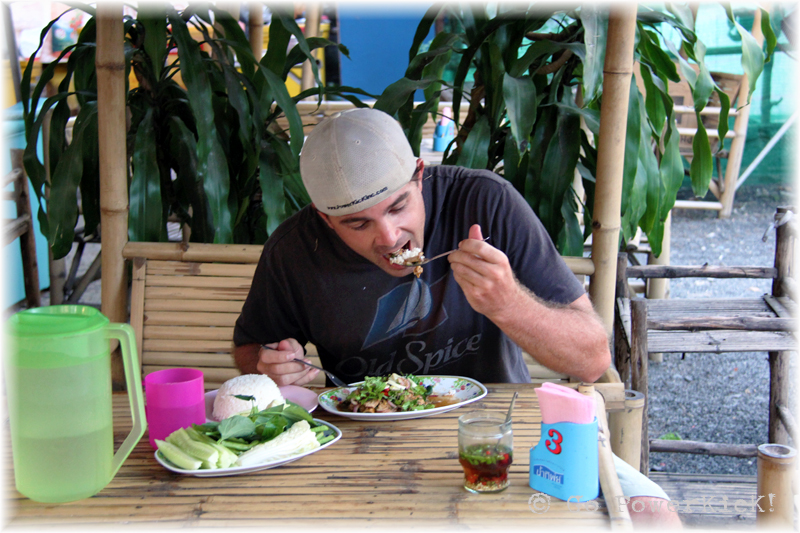 Northeast Thailand, better known as Isan, holds clues to Thai and Khmer civilizations of the past. Surin, a province of Isan, shares its borders with northeastern Cambodia. Heavily influenced by Khmer culture, significant overlap is reflected in temples found in the region as well as local cuisine. Some temples date back centuries and much of their architecture is reminiscent of that seen in the complexes of Angkor. The people of Angkor were greatly skilled builders, constructing amazing temples and cooking incredible foods. When these two cultures mixed a fusion of regional foods and flavors followed. Today, Isan is known for dishing out meals that are absolute firecrackers of flavor and spice. The flavors in these dishes will make your heart melt seconds before melting the taste buds on your tongue. If you make your way to the region, below are a few must see temples and some must eat cuisines that have to grace your list.
Nam Toke – In Thai, Nam Toke translates to "waterfall". This is a spicy grilled beef salad named
for how the juices drip from beef as it's cooked on the BBQ.  The onions, garlic, lime and chilies will bring the waterfall to your eyes from its beautiful presentation and heat.
Som Tam – A famous spicy papaya salad with knock you out heat. Read this to learn more about Som Tam.
Prasat Muang Thi – Originally built in a five tower formation, time has claimed two towers leaving only th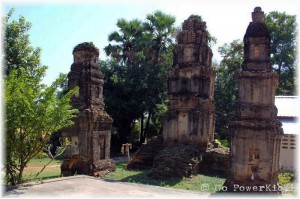 ree standing. The main central tower has a three-tiered upper structure, unfortunately the top has disappeared. The style is influenced by the Ayutthaya-Rattanakosin periods of the 18th -19th century A.D.
Yum Neam Khao Tord – Yum means "mix" in Thai. This dish is a mix of sour pork, fried rice balls,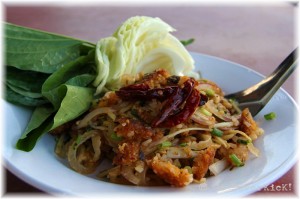 sugar, salt, carrots, onions, chili flakes, garlic, peanuts and  lime. Topped with more dried chilies….a refreshing snack on a hot day.
Prasat Sikhoraphum – Built in style resembling that of Angkor Wat in Cambodia, this temple was constructed around the 12th century. Surrounded by a U-shaped pond, the presence of the five brick prang structures is even more pronounced atop the 2 meter base. Dedicated to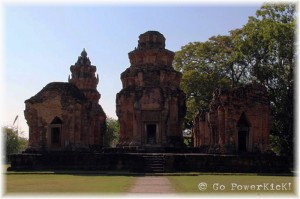 Hinduism, the structure is carved with scenes of Ganesh, Vishnu and Brahma onto the columns.
Tom Saap – A spicy soup featuring an extremely flavorful broth. A few ingredients giving the soup its lively taste are lemongrass, ginger, lime leaf, onions, coriander and  oh yeah…Chilies. Add some tomatoes, pork and sticky rice on the side and you've got a meal!
Pla Sam Rot – An Isan classic, meaning "fish with three flavors." This dish has everything you could want….flavor, texture and temperature. The 3 flavors found here are sour, sweet and of course hot. Simply deeelicious!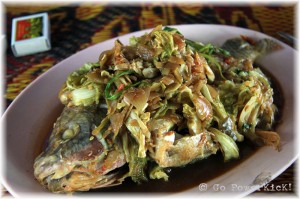 Prasat Phanom Rung – Originally built in 989 A.D., Phanom Rung is perched atop an extinct volcano, nearly 1,400 ft above the farmland below. Built as a Hindu shrine it was dedicated to the God Shiva. The complex was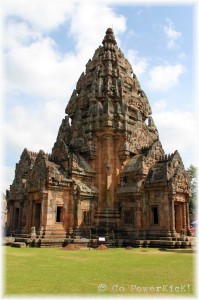 compared to Shiva's own residence, which is believed to be atop Mount Kailash of Himalayan Tibet. Sharing influences of Khmer architecture the complex is divided into four areas. The areas are each built in chronological order from the 10th to the 13th century. With ts 400 meter promenade leading to the main gate, the temple complex is the largest and best restored Khmer monument in Thailand. It faces east towards the original Angkor capital and is complete with carvings and naga bridges, identical to those found at Angkor Wat.
More of Eating Through Isan:
Comments
comments
More Good Reads!










Share
About Author
(0) Readers Comments