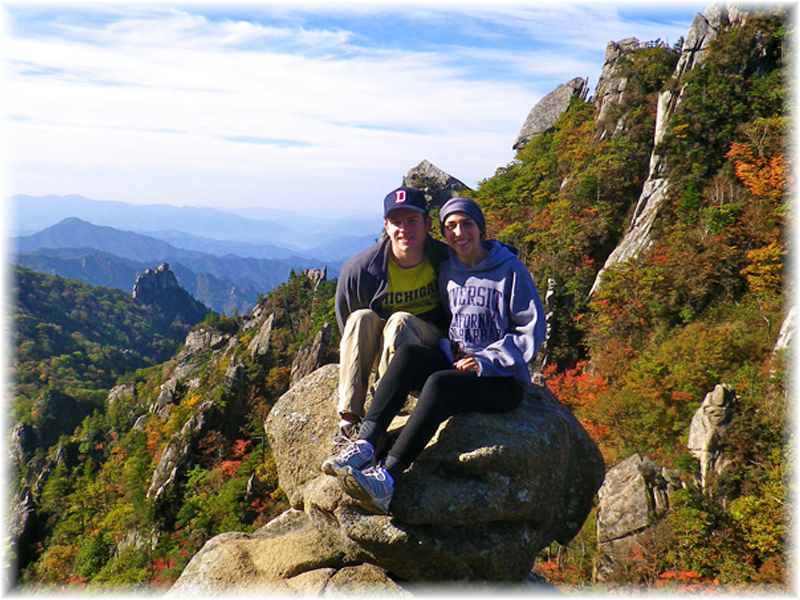 Hi! We are Alexa Hart and Eric Kumbier, ESL teachers in Seoul. We are a couple who met on our first day in Korea at the airport. After about a month of knowing each other, we started dating. We are now enjoying our time teaching and traveling together.
I'm Alexa, a California native who grew up in the suburbs of Los Angeles. I graduated from UC Santa Barbara in 2008, traveled for a bit around Europe, then lived and worked in San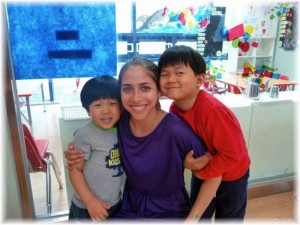 Francisco for six months. When I realized my job at a PR firm wasn't the right fit for me I took some of my savings and decided to travel around South America. A lot of people thought I was crazy for quitting my job, but I realized that it was the best time to be exploring the world because I am agile, young, and not tied-down. Too many people told me they regret not seeing the world, and I didn't want to be one of them. Traveling is one of my biggest life passions, and I love hearing travel stories. Check out my new website, Atlas Sliced, a video storytelling site that features stories from travelers.
After I quit my job, I had no idea what I was going to do, other than pick a place in Latin America and probably volunteer. I knew I wanted to learn more Spanish, and I wanted to live in a place that was culturally rich. I chose Cusco, Peru, a city surrounded by Incan ruins. While there, I volunteered with an organization called Maximo Nivel. Maximo Nivel is also an English language institute with an excellent TEFL/TESOL certification program. After a couple months of helping paint a battered women's shelter and working at a daycare with impoverished kids, I decided to take the TEFL/TESOL course. It was a wonderful experience that opened up so many more doors to see the world. I decided to teach in Korea for a few reasons. First, one of my TEFL/TESOL instructors recommended it as a good place to start an ESL teaching career. Also, I had never been to Asia before, so I jumped at the opportunity to teach in Korea. Finally, I knew Korea was a safe country, and I thought I would feel comfortable there.
I'm Eric. I'm from Ann Arbor, MI, and graduated from the University of Michigan in 2009. I am a history and political buff, and I majored in education so I would be certified to teach history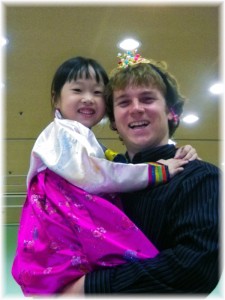 and social studies. After graduating college I tried to get a job teaching, but in the abysmal job market there was absolutely nothing for me. I saw an ad promoting a TEFL certification course on Facebook and started to explore teaching English internationally. The more I learned, the more teaching abroad began to appeal to me. I realized that I could save enough to pay off my college loans and travel the world while doing so. It wasn't long before I realized that teaching abroad was the best choice for me, even if the job market had been better. I was excited to meet new people and not at all ready to settle down and start teaching in a suburban school district in the United States.
To be honest, I picked Korea because it had the highest earning potential. I know that sounds bad, but I was riddled with debt and excited just to be traveling anywhere. Korea pays for your flight, apartment, and gives you one month's salary as a completion bonus, so it's really hard not to save money here. I go out once or twice a week, eat at nice restaurants a few times a month, and go on three international trips per year and still manage to save over $10,000 a year. I have an extreme aversion to shopping so that also helps me save some too.
We currently teach in Seoul, in a neighborhood called Gangnam. It's basically Korea's Upper East Side, and our language school (hagwon in Korean) charges what you would expect to pay for tuition at a reputable public university back home. During the day we teach kindergarten/preschool, though it often feels more like elementary school with the material we are covering with our kids. Most kids in our classes can read and write in English, and they are only five years old. After kindergarten is finished, we teach elementary school kids who come to our hagwon after their normal school day. You can tell that the kids are burned out by that point, but we always do our best to make the material fun and enjoyable. Korea places a very high value on education, and we have read that the average household spends 16% of its income on private education for their child in addition to what the government spends on public education.
Do you have any memorable moments from your teaching experience?

The best part about teaching kindergarten is that the kids come in every day with a smile and are so excited to see you. Every day they say or do something new that makes you laugh out loud, so it's hard to isolate one experience in the classroom as the most memorable.
Alexa: The teachers at our school had to prepare the kids for a presentation that showcased their English skills. I chose to teach my core class about sea animals. They learned a ton and performed a skit with really complex vocabulary, such as vertebrate, crustacean, and omnivore. It was super adorable. They did a great job presenting in front of their families and felt a strong sense of accomplishment.
Eric: If I had to pick one experience, I would pick one from last year. This six year old I taught named Justin had just returned from a trip to the UK to visit his uncle. While on the plane he (or his mother) had made a list of countries and their capitals. He had clearly spent a lot of time studying because when he got back he knew more world capitals than the average American adult. Every day he would try to stump me saying, "Teacher, Hungary?" To which I would respond, "Budapest." This went on for a while, and I would quiz him as well. Finally one day he said, "Teacher, Liechtenstein?" I looked him in the eye and said, "I don't know." "Vaduz!" He exclaimed. To this day I will never forget the capital of Liechtenstein. It was really exciting as a social studies teacher to foster an interest in the world with such a young child.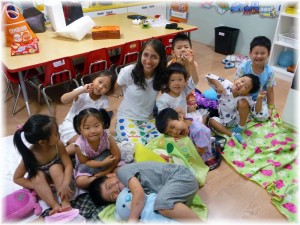 How about outside the class room, have you had any memorable experiences in or around Korea?
The most memorable trip we've taken within Korea was to Seoraksan National Park in October 2011. The park can get a bit crowded, as hiking is a national pastime in Korea, but the views of mist-shrouded mountains and scraggly peaks are breathtaking. We went with a group called Adventure Korea that organizes trips for expats. They bused us from Seoul to the park, and the guides led us on a few hikes over the course of a three-day weekend. One of the hikes was a very exhausting 11 hours, but the scenery was incredible. During the hikes, the crowds thinned out as people gradually separated based on fitness level. Even though we went with a big group, we were able to enjoy some time hiking alone (though there were always super speedy Korean hikers nipping at our feet), while meeting new people at night and during breaks.
Alexa: One of my favorite travel memories during my time here was in Suzhou, China. Suzhou is a city with lots of canals and beautiful gardens. I loved taking pictures of quaint, canal-side homes still in use. Eric and I also took a canal ride, complete with a romantic Chinese serenade from the boatman, all for a fraction of what it would cost in Venice.
Eric: Other than meeting Alexa, my most memorable experiences have been the trips I've taken. So far I've taken two trips to China and been to Japan and Bali. The most memorable is a bit cliché, but it would have to be my trip to Beijing. Nothing can compare to seeing the Great Wall and Forbidden City in person, particularly for a history buff like me. The Summer Palace is als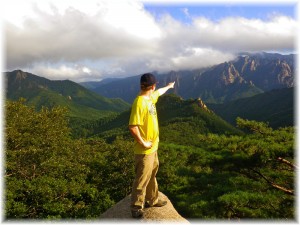 o a very beautiful place just to go for a stroll around the lake.
In December, we are going to Coron, Philippines for a short winter vacation. When our contracts are over in March, we plan to head to India, Thailand, Laos, Cambodia, and Vietnam.
Overall we have enjoyed ourselves here, but the hagwon experience can be a bit of a grind. We only get two weeks of vacation a year (plus holidays) and the curriculums at all hagwons are very textbook and memorization oriented. We do our best to make time for fun and original activities in the classroom, but that always comes after finishing bookwork. Also, you need to be extremely flexible because most hagwon administrations make a lot of last minute changes without informing you.
At first these things can be very frustrating and overwhelming, but over time you learn what proclamations from the administration are non-negotiable, which ones you can tweak to fit kids' interests and abilities, and which ones can simply be ignored. It is very important to have the administration like you and respect you as a teacher. Ultimately, if you never challenge them publicly during staff meetings and do your job well, they will like you. If they like you, you end up with a lot more flexibility, and they tend to micromanage your class a lot less. However, at the end of the day, the kids make it worthwhile. They worship you and soak up everything you say like little sponges. Teaching at a hagwon is a great way to meet fellow teachers and travelers and can often be a stepping stone to other teaching jobs in Korea. We would recommend Korea to travelers looking to save some money with a few caveats. First, understand a bit about Korean culture before you go. Their culture stresses hierarchy, harmony, and saving face, so be aware of your communication with your Korean administration and coworkers.
Getting a job in Korea is not that difficult. You need to have a university degree, be a native English speaker, have a clean criminal record, and have a pulse. A TEFL/TESOL certification is not necessary to teach here if you are only looking to teach here for a year or two. You can find a job through a connection, through a recruiter, or through the public school system. In terms of recruiters, make sure you are going through a good recruiting company first (it's free). You may want to research them in Dave's ESL Café to see what others have to say about them. Before you sign any contract, ask to correspond with at least two other teachers who work at your school, so you know what to expect.
Overall, Korea is a great country to teach in if you are open to experiencing cultural diversity and want to save money. Korea is very homogenous and is so different from Western culture. It has been really interesting observing how Confucianism plays a societal role. We are glad that we had the opportunity to live and work in such a unique place.
Comments
comments
More Good Reads!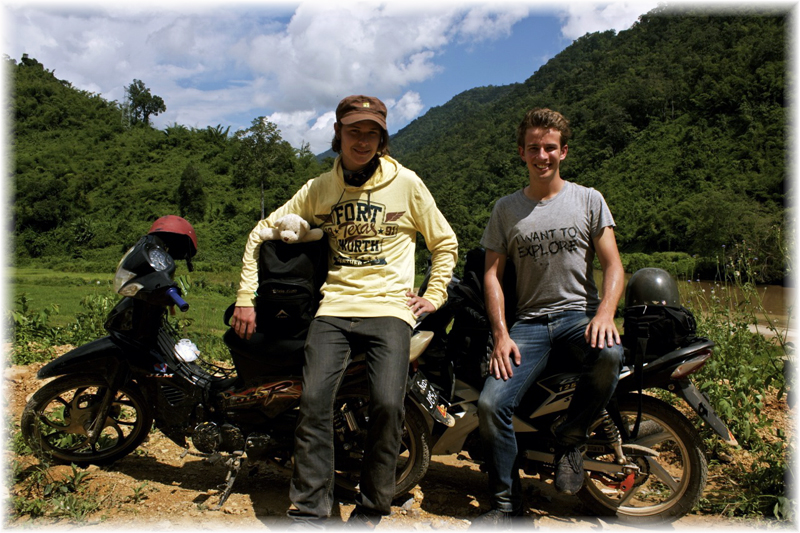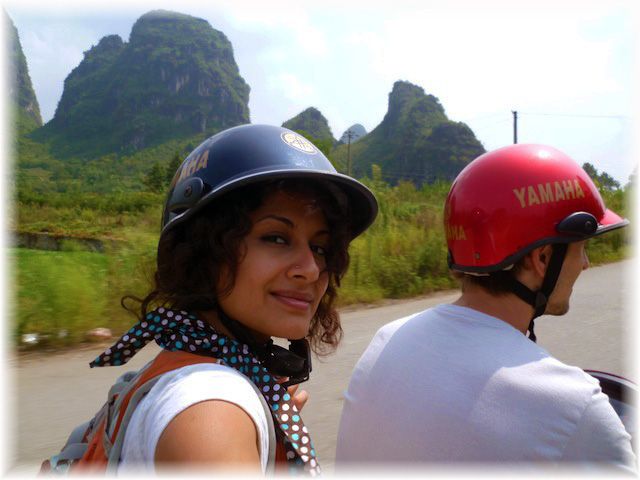 Share
About Author
(0) Readers Comments