The Journey of a Lifetime
As I departed for Thailand on a one-way ticket from San Francisco International Airport, I knew three things to be certain: I had to be in Phuket by August 2nd to begin my TEFL program, I had to complete said TEFL program and finally, I needed to be back in Bangkok by October 18th to start my teacher orientation session. The experiences and destinations that would unfold in between were completely up to my imagination.
Aside from unexplainable excitement, the thick tropical weather was the first feeling I experienced upon arriving in Bangkok. This was the moment when reality finally hit me; my adventure had really begun. A ride to the Hua Lamphong station to purchase a train ticket South was first on the agenda. An overnight train journey to Surat Thani, followed by a bus ride to Phuket further confirmed everything I had seen in pictures and heard about Thailand. Friendly people, delicious food, lush green vegetation, colorful sunset and sunrise, breathtaking landscapes.…and that was just day one!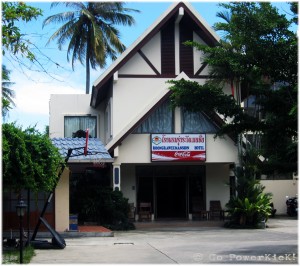 Home base was Phuket Town, on the Southeast side of the island. The TEFL International program houses all "teachers in-training" at the Roongrawee Mansion. It's not the Ritz Carlton, but it was everything I needed. We had friendly staff, a pool that got good sun, a spacious lobby with room to hang out and a refrigerator continuously stocked with Singha, Leo and Chang. My room had a queen size bed, a bathroom, a balcony, desk and a TV.
Craving mobility and the desire to explore I rented a motorbike for the month; which gave me the perfect opportunity to venture out and explore the island anytime, day or night. There are many amazing attractions throughout Phuket. Beautiful sights range from Promthep Cape and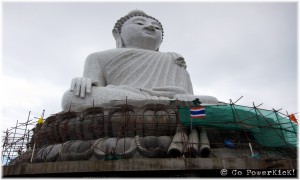 Rawai in the south, the beaches of Kata and Patong along the western coast, a Giant Buddha, many markets and a few Muey Thai schools as well. With the motorbike nothing was off limits.
Prior to the first day of class new TEFL teachers were slowly filtering in at the Mansion. Dan from Virginia, the South Africans, Kyle the swim coach, Mike from dirty Jersey, Cleo from England and Julio (dubbed the Don of Patong); as well as many others. We shortly came to realize we were in for an amazing month of learning, teaching and sightseeing.
The butterflies showed up day one as we all piled into the upstairs classroom of the training center. First day intros kicked things off followed by an outline of topics we would cover and skills we would learn to utilize in the classroom. I quickly learned that being a native English speaker, it's easy to forget about the "How" and "Why" of sentence structure when speaking. These fundamentals would certainly be addressed and we would learn techniques to deliver this knowledge to our students.
The daily routine was class in the morning, 8am – 12pm, then a break for lunch. After lunch we were assigned to small groups where we would prep a lesson and teach groups of students in varying levels. Our prep time was about 2 hours and we taught a one-hour lesson. We were assessed on our preparation, time management, class interaction, use of the board and materials, and our teaching style. Usually done by 5pm, we had evenings and weekends to do as we pleased.
Time spent practicing and learning in the classroom was designed to prepare us for our final exam. Our final was a comprehensive test of all the material we learned throughout the course. It covered grammar points, teaching styles and techniques, and other general teaching topics. With weekends free and some of the most beautiful beaches in the world right out our front door, we had a nice place to study and relax.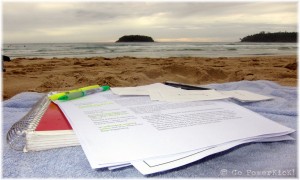 Working in our daily teaching groups and studying together helped build class camaraderie and develop very good friendships. Needless to say I learned and experienced a lot during the course; but the time sailed by. It felt as if as soon as I had arrived I found myself packing up to leave Phuket, a certified Teacher, ready for the classroom.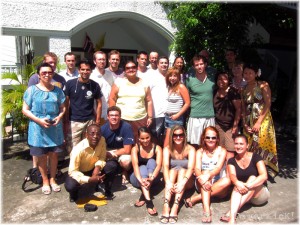 I currently find myself an English Lecturer at Assumption University in Bangkok, Thailand. Assumption University has two campuses in Bangkok, one in the Hua Mak area (a more city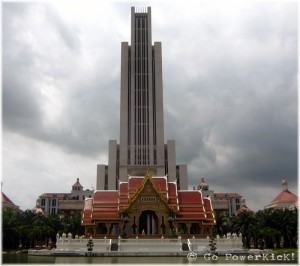 campus) and one in Bang Na. The campus in Bang Na is where the majority of the English and other Undergraduate courses are taught. The idea behind this campus is a "University in the Park." However, upon arrival you will feel as if taken back to ancient Rome and its monolithic buildings. The architecture and the facilities are quite spectacular. An "office" with this type of grandeur and elegance makes for a relaxing working environment.
I teach English Academic, reading and writing, and English Conversation classes. This semester I have 8 sections that are a mixture of both. With an average of about 25 students per class I am responsible for trying to guide roughly 200 students to see "The Light!" In class I teach tenses, vocabulary, essay writing and grammar points. I've quickly learned that no two classes are alike. What works in my 9am class may completely bomb in my 10:30 session. With a variety of methods available and the flexibility to adapt your lessons to each class, there really is a lot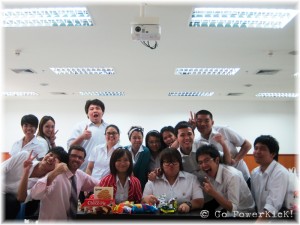 of freedom. This freedom and flexibility allows for tailoring my approach with each individual class, providing a more enjoyable and productive learning environment.
After preliminary research into becoming a teacher you soon learn it comes with nice holiday time. Whether teaching at a public school, International school or a private school your will undoubtedly get time off. The thirty million Baht question is, "How much?" Assumption University follows the International school calendar, providing a major perk for its teachers. This perk is a 3-month summer holiday; oh, I forgot to mention it was a 3-month PAID summer holiday at that! This summer holiday gives the English Teacher time and money to take to the road and explore the beauties of Southeast Asia after an intense semester of classes.
The salary of an English Teacher in Thailand is not too bad, comparatively. Usually housing is covered in a teachers' contract however; any additional expenses come out of the monthly paycheck. With the cost of goods and food dramatically cheaper in Thailand than the West, a teacher can really get some mileage out of the paycheck. The salary won't afford you the luxury of staying at the Four Seasons or similar five star hotels as you travel. It will however provide you the funds to cover transportation, decent lodging, great options for food (eating local style is always best to get an authentic experience), and of course souvenirs to take home as memories. This combo will allow you to keep the "Reserved For Emergencies Fund" intact as you travel; knowing travel expenses are covered for the most part.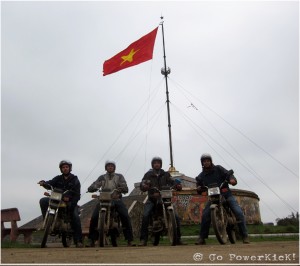 Traveling with new teachers you meet is a great way to create memories that will last a lifetime. During our recent holiday I created such a memory. My first leg of summer break was a trip to Vietnam. I flew into Hanoi with three other Teachers to procure motorcycles and ride the Ho Chi Minh Trail through the country to Saigon in the south. We planned to give ourselves a one month time period to complete the roughly 2,100km trip. We hoped this would be enough time to allow for sightseeing, getting lost and of course breakdowns all staying within the 1 month VISA window.
Indescribable is the best way to put it! From the initial purchase of our motorcycles in Hanoi, where a few members of our gang were learning to ride for the first time, all the way to that final ride into Saigon fighting the unimaginably chaotic traffic; the experiences and memories are too many to list!
A few memorable highlights were seeing the UNESCO Cave site in Phang Na, exploring the Vinh Moc Tunnels in Dong Ha and of course shooting an AK-47 at the Cu Chi tunnels just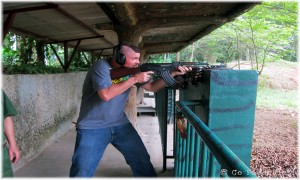 outside of Saigon. When it came to breakdowns, which occurred with increasing frequency as we added kilometers to our bikes, we soon realized that just about everyone in Vietnam is a mechanic. Finally, I can't forget to mention the many bowls of Pho and the welcomed surprise of baguette stands just about everywhere we went! (A thank you goes out to the French on this one!)
Teaching and traveling is without question a learning experience. You will learn to communicate better, express yourself more clearly, travel (on a budget), be resourceful, understand and interact with new cultures, and so much more about yourself.
Traveling to countries surrounding Thailand and not speaking the language of the host country at times has made me feel vulnerable. It's this feeling that puts me right in the shoes of my students during class. It was not until I would meet a proprietor who didn't mind taking the time to "explain" with their hands, speak slowly or maybe meet me half way and try to speak broken English would these feelings subside.
Sometimes it can be easy to get frustrated with students when they are not "getting" the lessons, participating in class or otherwise just looking/acting like they would rather be anywhere but there. Many excuses will flood the mind as to the cause for this. Anything from they are tired, they don't want to learn, they are distracted by their Blackberry….you fill in the blank.
After experiencing the above situations while traveling it opened my eyes to the feelings my students can have when entering a classroom to learn English. The feelings I learned through my travels are similar to what my students can feel in the classroom. It can best be described as "Drinking Water Through a Fire Hose." At first look it is intimidating, it's going to be tough and its probably gonna hurt!
Each person will walk away from these experiences with their own take-aways . For me, taking this knowledge back to the classroom helped me change my routine for the better. I like to think I am a patient person. I feel now I am even more patient with students after walking a mile in their shoes. I now find myself speaking slower and explaining each lesson to make sure there is as little confusion as possible in class. It can be a fine line,  you don't want to be too slow to make it "easy" and not too "fast" to deter trying, but a comfortable pace that encourages development and builds confidence. By doing this I hope my students feel more comfortable in the classroom to participate and hopefully learn more each day.
Embedded in the definition of traveling there should be something said to the effect of "It is an act that will impact your life from which you will undoubtedly come away changed and stronger."
Confidence is built by experiencing successes from taking risks. I have grown my confidence and expanded my comfort zone greater than I could have ever imagined prior to taking the risk of this journey. As a relatively rookie traveler I stepped into the world in what first felt like a glass house; it had the possibility of shattering if a rock was thrown its way. While out and traveling solo I had myself to rely on in just about every situation. After a few initial successes I realized that when stones were hurled at my house the glass didn't break, it stood there still standing. This gave me the strength to continually test myself, push myself and try new things that may once have seemed unthinkable. Now, these situations and others seem like a walk in the park. I have been challenged and come out on top, I have learned lessons that sometimes should be easy the hard way and survived, I have failed and I have succeeded and I have found myself in situations where I was in way over my head and have walked away with the mission accomplished.
Traveling will make anyone a much more culturally aware person. After making my way through Southeast Asia I have experienced many different cultures and people. These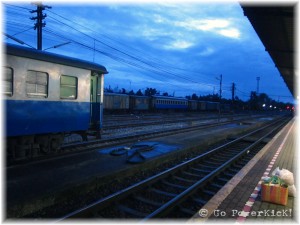 experiences have allowed me to understand and realize why some people do what they do, think what they think and act the way they act. Once you begin to learn where people come from and their history a level of acceptance and understanding can be reached that will make for a very rich experience; potentially making long-lasting friendships and memories.
Finally, I know that my travels have made me cherish the little things I might otherwise take for granted back home. Whenever the date will be I arrive back home, I know a hot shower, a comfortable bed and pillow, and a good home cooked meal will be luxuries I enjoy with an entirely new sense of gratitude!!
If you are reading this and contemplating the idea of taking some time (away from school or work) to travel, teach or a combination of the two; I have a small piece of advice for you. JUST DO IT! Taking this leap has been the best experience of my life and I will never forget or regret it. I think I can safely say you will experience similar feelings!
Take each day as a present and enjoy it. Spending one or two years seeing what is out there in this big world, and doing it while youth is on your side will be unforgettable. Exploring and learning about the world will make you more well-rounded and interesting, opening up doors you could never have imagined.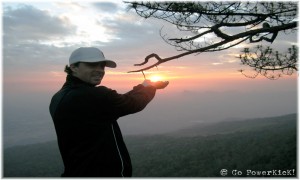 Comments
comments