Get Paid to Travel
Want to get paid to live in another country? Want to travel? Want to help brighten the future of tomorrow? If you answered "Yes" to any of these questions, Teaching English abroad might just be for you!
"The World is a book, and those who do not travel read only a page." – Saint Augustine
"Teaching is the profession that teaches all the other professions." – Author Unknown
Becoming an English Teacher abroad is a fresh way to re-design a lasting profession. Live in a foreign country, meet new people, explore new cultures, see amazing sights, and also share the gift of communication around the world.
When deciding to become an English teacher there are a few options from which to choose. You'll want to make the leap to "Professor-dom" the way that best suits you. Starting out with a certification course is a popular, and recommended route. A certification provides additional credentials, in addition to your undergraduate degree, making you that much more employable on top of the cunning wit and heart-warming charm you already posses! Below are the main avenues most explored prior to embarking on their new journey.
TEFL
CELTA
TESOL
University Work Abroad Programs
When I set out on my adventure I began with option 1 above, the TEFL certification. Here is my story below.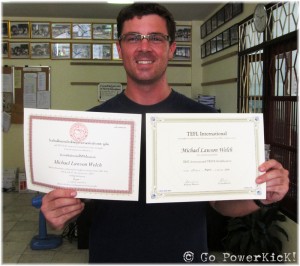 Read my "Journey of a Lifetime." It all started with a one-month intensive course in Phuket, Thailand….
Comments
comments