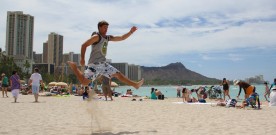 Flying from Bangkok to Tokyo, then on to Honolulu I couldn't wait to be back on the island of Oahu and get my toes in the warm sand of Waikiki Beach. It's been about 5 years since I left Hawaii and I have been more than missing sitting oceanfront at the Royal Hawaiian sipping on a Mai Tai. Revisiting Oahu was also going to be a great opportunity to reconnect with the island where the PowerKicK revolution initially kicked off.
The trip was set to be a whirlwind weekend with my brothers, dad and I flying in to surprise my mom for her birthday. With an itinerary full of activities exploring the island, I pre-planned as best as I could to try to find the time to sneak in an island PowerKicK shot. Of course I already had a few locations on my shortlist, but it was easy to nail it down to one after seeing the all the island's beautiful scenery from a bird's eye view while touring with Blue Hawaiian Helicopters.
Although Waimea Bay, the Pipeline surf break and Hanauma Bay all top the To-Do List while on Oahu, I felt there was no attraction more well suited for a PowerKicK photo than the Waikiki Beach and Diamond Head view outside of the beachfront Mai Tai Bar at the Royal Hawaiian Hotel. I'll admit, I am a bit bias to this location as it was the original location where I captured the PowerKicK photo 5 years ago that inspired me to launch my PowerKicK websites.
While I was living on the island of Oahu I had a tradition of visiting the Mai Tai bar at the Royal Hawaiian Hotel every Friday after work and treating myself to a few tasty hand crafted Mai Tais. One night my roommates decided to come meet me for few drinks before we bounced around Waikiki. Romantically snapping sunset photos and drinking a Mai Tai solo prior to their arrival, I was lucky to have had my camera with me as my roommates and I decided to have some fun with the camera on the beach after a few drinks.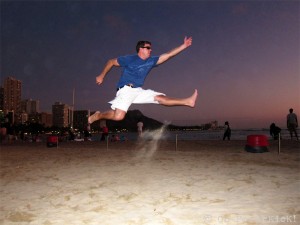 As it was evening and we were quite pre-occupied making our crawl through Waikiki, I didn't really get a good look at the photo until the next day. Once I saw it I was stoked and immediately began thinking of ideas of how to turn this into something I could share online….the rest is history and what you see here on Go PowerKicK!
Hoping to re-recreate the above photo this time around on the island, my brother and I made our way over to Waikiki Beach early to secure a location before the crowds arrived to work on their island suntans. Although we weren't saturated with Mai Tai's this time around, the morning had all the necessary elements to make sure we nailed a solid photo.
Bobby is going to be visiting me in Thailand this July to motorcycle the Mae Hong Son loop in northern Thailand, and as a neophyte PowerKicK photographer I quickly briefed him with the customary PowerKicK photo tutorial he could expect to get when he arrived in the Kingdom. Like a pro he dug into a position in the sand and quickly familiarized himself with the timing as we clicked off a couple test jumps to make sure our timing was synchronized to capture the jump at its pinnacle.
With the sun beginning to beat down and the sand warming up quickly, we were ready for showtime. Bobby gave a 3-2-1 countdown and I launched myself out of the sand and into the air as high as I could. Our timing on my first few attempts was slightly off, however, after a small adjustment we were able to capture a beachy PowerKicK shot of island paradise. While it may not be a 100% reincarnation of my PowerKicK photo from 5 years earlier, this one has its own unique memory and style, and thankfully after this shot Kui at the Royal Hawaiian was able to 100% recreate his tasty Mai Tais for us to sip on and enjoy!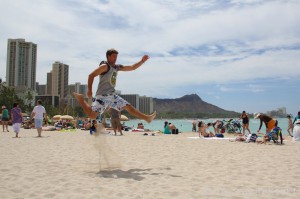 Comments
comments
More Good Reads!










Share
About Author
(0) Readers Comments