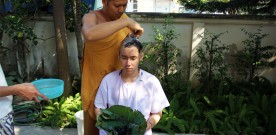 Shortly after living in Bangkok, one soon realizes the true nature of the city's transient population. Whether its English teachers passing through on 1 year contracts, expats on business assignments or wandering travelers floating north to the mountains or south to the beaches; foreigners are consistently flowing through Asia's City of Angels.
Prior to living in Bangkok, I experienced a somewhat similar environment living in Honolulu. One thing I learned from my time in surfers paradise, and initially found here in Thailand, was that with a constant rotation of non-natives coming and going, locals tend to have barriers up during the first attempts by Haoles or Farangs to penetrate local inner circles.
It was studying in Bangkok for two years and sharing the classroom with my Bangkokian classmates which helped me cut through those barriers and build good friendships with my cohorts. Having local friends has been great for learning of new places to visit, finding out about different foods to eat, having someone to call during the inevitable lost in translation moments and of course getting a deeper understanding of the Thai culture.
Over the last three years, during countless temple explorations, I've witnessed the tail end of what could be considered the pinnacle of Thai cultural events, the monk ordination ceremony. However, it wasn't until recently where I was lucky to be invited by a good friend and classmate, Pai, to witness firsthand his full ordination ceremony into monkhood.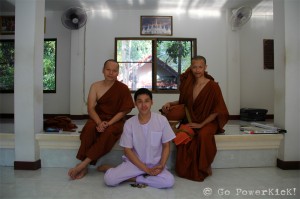 Thailand is a Buddhist country, and the faith encourages every male to enter the monkhood at some point in their lives. Whether it be for a week, a month, six months or a lifetime; becoming a monk is seen as the highest act one can do to make merit for himself and for his whole family, especially his parents and in particular his mother. The ordination event usually entails a gathering of friends and family followed by ceremonial activities with elder monks at a chosen temple. Since many may never get a chance to experience an ordination ceremony, here is a look at what typically takes place on this special day.
Pai's ordination day started early, around 9:30am, with friends and family filtering in to enjoy a full buffet before the ordination activities begin. Pai's family is originally from northern Thailand, and as part of the celebration they'd prepared a fantastic spread of food from their home province alongside typical Thai staples. As people chatted and ate, Pai's mother and father greeted everyone who came to share in the celebration. Dressed in the ceremonial white shirt and pants of a 'Naga,' the one who will become a monk, Pai also floated through the crowd saying hello, thanking people for attending and of course posing for photos.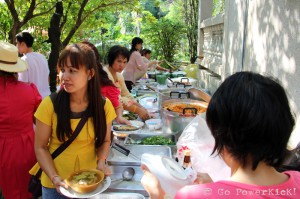 After the feast, the next stage in the ceremony was the shaving of the head and the eyebrows. Done to show devotion and commitment, the cutting and shaving process had several steps. First, the Naga (Pai) placed lotus leaves inside a silver bowl which would rest in his lap and be used to catch any falling hair. Then, with the bowl prepared Pai's father was the first to cut his hair. He began by giving Pai a blessing for a prosperous future then proceeded to cut a few locks of hair from his head.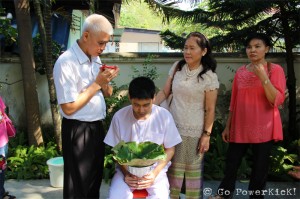 After a few snips of the scissors and locks of hair placed in the bowl, the scissors were passed to Pai's mother who also blessed his head and took her turn cutting a few locks.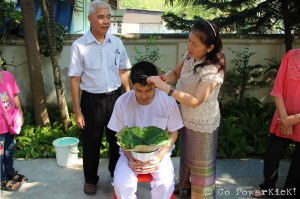 With smiling faces, Pai's elders and other relatives were up next, each taking turns cutting his hair and placing it in the lotus bowl.
As I was the only farang (the Thai word for foreigner) at the temple that day, I stood to the side taking pictures trying to stay out of the way and not interrupt the ceremony. I was totally caught off guard when I was invited to cut Pai's hair. It was great to be invited to be a part of his ceremony, and attempting to cut his hair certainly gave me a new respect for my barber .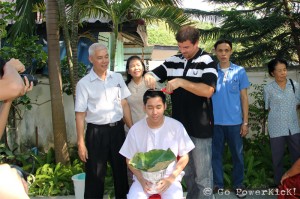 Once all family members had finished cutting Pai's hair a monk took over to shave off the rest. Using a razor that sliced through hair like a hot knife through butter, the monk's precision strokes removed Pai's hair and eyebrows in no time at all.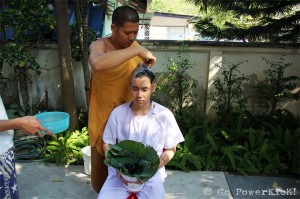 After the hair and the eyebrows were removed, Pai's father came back to rinse his head and give him a final blessing.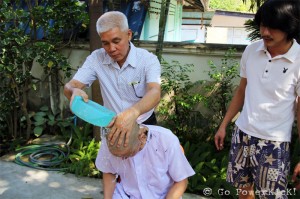 With Pai's head shaved and rinsed he then changed into his ceremonial white garments with gold trim and was ready to make the walk to the temple to begin the ordination with the monks. Prior to walking to the temple, gifts of shampoo, soap, detergent, razors and towels were prepared as offerings to the monks who were currently living at the temple. In-between preparing the offerings there was still time for a few final photo ops with friends and family.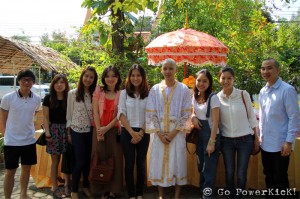 Walking in a long procession of family and friends, Pai held three lotus flowers, incense sticks and a candle between his palms as he made his way to the temple. In addition to the offerings for the monks living at the temple, Pai's family also carried essential items that Pai would need once he became a monk such as a pillow, an alms bowl and his saffron robes. When they reached the temple the procession walked around it three times, in a clockwise direction, before being allowed to enter.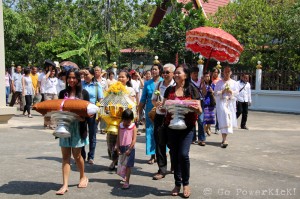 Completing the third walk around the temple, Pai stood at the temple entrance with a basket in front of him filled with what looked to be colorfully wrapped candies. Not actually candy, but rather wrapped 1 Baht coins, Pai tossed handfuls into the crowd symbolizing the relinquishing of his worldly treasures. The throwing of the coins into the crowd got everyone excited as they scurried around to pick up as many lucky coins as they could or grab them out of the the air as they were thrown.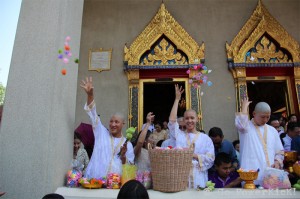 Next, Pai was lifted up and carried up the temple steps. He touched the top of the entrance to show respect and then entered the temple to begin his formal ordination ceremony.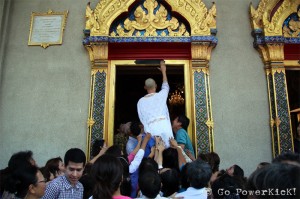 Inside the temple the to-be-ordained Naga's sat in front of the senior monks. To begin the ordination ceremony the senior monk spoke in Pali, the original language of Buddhism, and welcomed the Naga's to the temple as well as acknowledged their requests to become monks. At this time the Naga's also presented their gifts to the monks.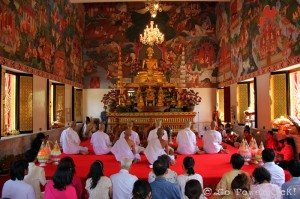 After making his offerings and stating to the senior monks that he had his robes and alms bowl, Pai went to the back of the temple and exchanged his white robe for the traditional saffron robe of a monk. Assisted by a senior monk, Pai was shown how to wrap and tie the robe correctly before going back inside for the final segments of the ordination.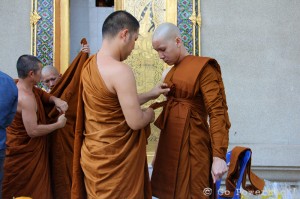 Now wearing the saffron robe, and carrying his alms bowl, Pai went back into the temple and knelt before the senior monks. As part of the tradition of becoming a monk, it was here that Pai must speak in Pali and Sanskrit to request refuge at the monastery and state the 10 precepts of a monk.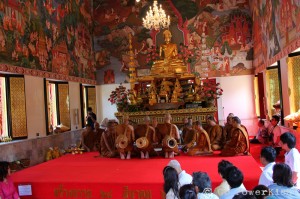 After he finished his requests of the monks, it was Pai's turn to answer some very important questions. Answering these questions correctly would allow him to become a monk. Moving to the rear of the temple, Pai was addressed one-on-one by a senior monk who asked him:
If he was human? If he was male? If he was free of debt? If his parents permitted him to become a monk? If he over 20 years old? If he had leprosy? If he had boils? If he had tuberculosis? If he was epileptic?
Pai answered all the questions correctly and was permitted to become a monk. It was here where he was also give his new name for the time he would be a monk, Ton.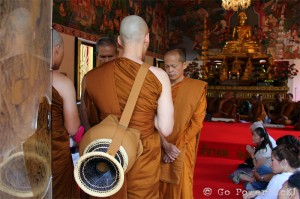 With the formal ordination activities now complete, Pai was officially an ordained monk. Next, his family presented him with gifts of some of the basic things he would need while living at the temple.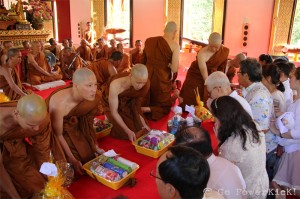 After the presentations of gifts, Pai and the other newly ordained monks sat on the altar with their alms bowls in front of them while family and friends lined up to give their own final blessings and make offerings of 100, 500 or 1,000 Baht into their alms bowls. This would be used for additional supplies should he need anything during his monkhood.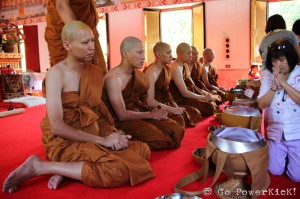 Now that Pai was ordained it was time for a short celebration with family and friends before he began his duties as a monk. This was a very happy time for the entire family and they celebrated by taking photos with him on the altar.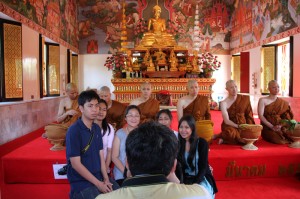 With his ordination officially complete Pai was ready to begin his monkhood. For at least the next thirty days, his days at the temple would begin around 4am and consist of receiving alms in the morning, cleaning the temple, studying the scriptures, meeting with visitors and meditation.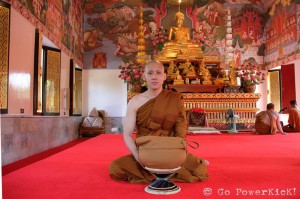 Certainly a one of a kind ceremony, if presented with the opportunity to attend an ordination ceremony I highly recommend accepting and attending. Not only does it give you a great insight into Thai culture, but it's also fantastic to see the family's pride and the excitement of friends and relatives as the Naga progresses step by step into monkhood.
Comments
comments
More Good Reads!










Share
About Author
(0) Readers Comments