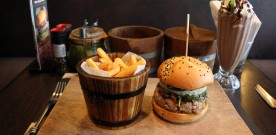 The only request my family had during their recent visit to Bangkok for my graduation was a celebratory burger at a place I hadn't yet been.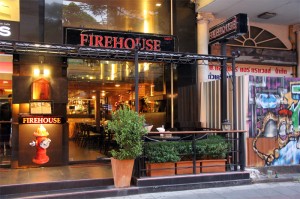 While I'd been one time before, although forgetting my camera, I told them I knew of just the place, the Firehouse, which served fantastic burgers that tasted as close to home as I'd been able to find in Bangkok.
While chowing down on mouthwatering burgers we were befriended by Pete, the co-owner, to ask about the service and how we liked our meals. We got to talking burgers and he mentioned the Firehouse was launching a new Pad Krapao themed burger and asked if I'd like to come back and give it a try. As pad krapao shares the pedestal for my #1 favorite Thai dish, I happily said yes.
Returning to the Firehouse for the third time, I made sure to bring my camera so I could finally get photos and share their burgers. Dodging street vendors and taxis while walking down a bustling Sukhumvit Soi 11 with my buddy Ian, the caveman sized hunger hunger in my belly was rumbling with excitement.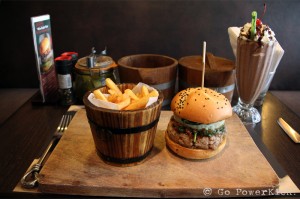 Since I knew which burger I was going to order, I took a minute to look over their specialty drink menu while enjoying the Top 100 hits playing over the speakers. Deciding to 'shake things up' a bit I passed on a water or a coke and instead opted to pair my burger with a double chocolate shake, 140 Baht ($4.29), made from New Zealand premium chocolate ice cream, homemade chocolate syrup and topped off with whipped cream and a cherry. With my final order of the Pad Krapao burger, cooked medium rare, a side of french fries and a chocolate shake placed, I waited in anticipation to get my grub on.
Patties at the Firehouse are made from organically fed Thai-French beef which comes from the Pon Yang Kham cooperative farm in northern Thailand. Ground daily in-house, the beef is an 80/20 blend that's seasoned with a special mix of 15 spices; and while Pete wouldn't give away the keys to the castle, he did say the seasoning contained hints of salt, pepper, garlic and red pepper.
Service at the Firehouse is quick, and it wasn't more than 5 or 6 minutes before the burger and shake were in front of me, daring me to dive in. Crafted with surgical perfection, the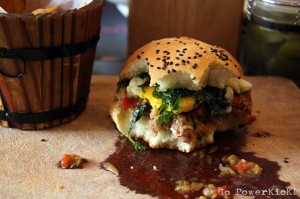 presentation was flawless and the handmade patty, weighing in at 180g, looked plump and ready to be consumed.
When pad krapao is made by a street vendor it's served as a stir fried mixture of pork, chilies, onions, garlic, green beans and holy basil plated next to a side of rice topped with a fried egg. Picking up the burger and giving it a once over, I could see its krapao authenticity in the 5 layers stacked between a custom made sesame seed kaiser bun. Made up of an all beef patty, homemade krapao sauce, a layer of stir fried holy basil, a fried egg and an additional topping of crispy-fried holy basil, this burger looked to be a mountain of deliciousness.
Bite one did not disappoint in the least. Sinking my teeth in immediately released a flavorful flow of juices from the patty and the krapao sauce. The combination of the spicy, peppery and minty bite from the holy basil and the kick from chilies in the krapao sauce turned up the heat and created a mouthful of spice. The lean and tender meat in the burger balanced out the flavors nicely and its rich, beefy taste did a fantastic job of smoothing out the spice while letting the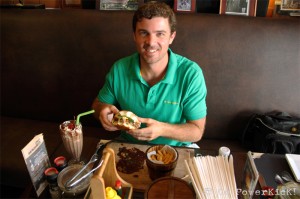 savory flavors linger.
With juices oozing from every bite I was pleasantly surprised at how well the bun stood up to the challenge. Reaching the crunchy, deep fried holy basil sitting atop the fried egg midway through was a welcome addition to the well orchestrated concert of textures going on between the soft fried egg and tender beef. Totally embodying the saying "If it doesn't get all over the place, it doesn't belong in your face," this burger is literally finger licking good from the first until the last bite.
Open Sunday – Thursday from 11:30am to Midnight and Friday and Saturday from 11:30am to 3am, the Firehouse is perfect for lunch or a midnight snack. The dangerously delicious Pad Krapao burger, 285 Baht ($8.73), goes live on the menu March 1st and whether you live in Bangkok or are just passing through, the tasty Thai food-Burger fusion makes this a must try. Of course, any of their other burgers will also certainly leave you well satisfied, and I personally recommend either the Baconist or the Premium Burger. Happy Eating!
Score Card
Burger Juiciness – 5/5
Bun Goodness – 5/5
Overall Tastiness – 5/5
Price – 5/5
Overall Rating – 5/5

Comments
comments
More Good Reads!










Share
About Author
(0) Readers Comments