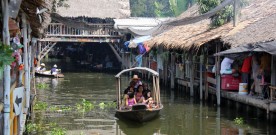 Floating markets have become synonymous with Thailand and when mentioning floating markets in Bangkok, initial thoughts are typically filled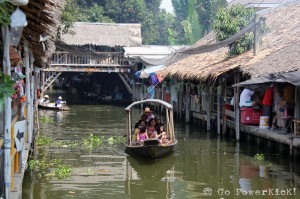 of the tourist hot spot Damnoen Saduak or the once calm, but now crowded, Amphawa floating market. Finding a floating market that's less touristy but still retains the charm and authenticity of traditional Thai canal life can prove to be a laborious search, especially finding one where you're one of only a handful of foreigners strolling about.
Enter Khlong Lat Mayom, a local-style off the beaten path 'floating market' tucked away just across the river from the madness of downtown Bangkok. Built up over the last few years, the market is bustling with both locals and Bangkokians looking for tasty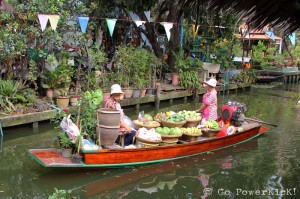 grub, bargain shopping and a place to unwind from the business of home.
Khlong Lat Mayom is a combination of a traditional market and a floating market. Resting snugly against the narrow canal walls are a handful of tiny wooden boats where proven chefs cook up tasty meals for customers sitting khlong-side ready to feast. Typical of most floating markets, boats loaded down with produce also float slowly down the khlong with vendors hawking bananas, papayas, vegetables and other fruits to passersby.
Just steps away from the khlong are five zones of shopping where vendors sell assortments of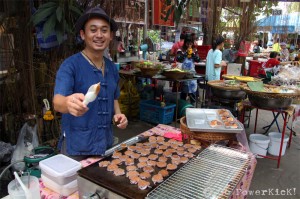 crafts and clothing, as well as food stalls which offer the gamut of Thai cuisine. The overly friendly personalities and constant smiles from the vendors makes you feel right at home. Merchants are happy to have a conversation with you, allow you to browse their handiworks and sample their delicacies without any pressure or urging you to buy, buy, buy.
Before hitting the five zones of colorful stalls I plopped down at a canal-side table to enjoy a morning bowl of guay theaw from a floating kitchen. For 20 baht ($0.85) I filled up on a delicious bowl of noodles and was ready to browse. Separated into sections, the shopping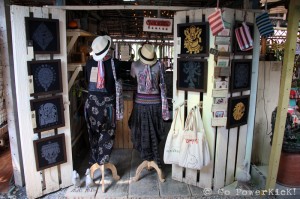 here is unique and extensive. With everything you might need to decorate your house, pick up as a one-of-a-kind souvenir, fill your closet and of course to satisfy your hunger; there is more than enough at Khlong Lat Mayom to keep you occupied for the better part of the day.
For me the food stalls were definitely the highlight. The variety of foods from fresh pineapple, noodles, papaya salad, BBQ chicken and fish, to Thai pancakes, omelettes, fresh seafood, desserts and much much more will certainly have your taste buds working overtime! While living in Thailand I've sampled my fair share of Thai foods, however, Khlong Lat Mayom had plenty of dishes I'd never seen or even knew existed.
A great way to wrap up the day is with a boat ride along the canals. From a small pier at the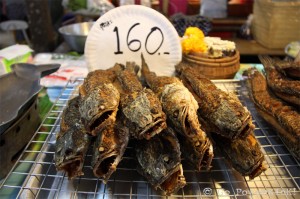 main artery of the market, paddle boats and watertaxis offer a glimpse into real canal life. The paddle boat ride costs 20 Baht ($.85), lasts 30 minutes and winds you through the relaxing neighboring canals, mangroves and a serene lotus pond at an old homestay. The longer motortaxi ride costs 100 Baht ($3.09) and zips you through the canals to visit three separate temples before returning to the market.
Strictly a weekend market, aside from public holidays, Talat Nam Khlong Lat Mayom is open from 9:30am to 4:30pm on Saturdays and Sundays. I arrived early, around 9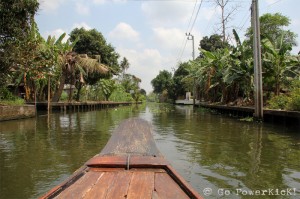 o'clock, and suggest doing the same to meander through the market before the crowds fill in the narrow aisles. Crowds peak around lunchtime where hoards of eaters converge on the food stalls making finding a place to sit and eat along the khlong a bit tricky.
If you have a weekend free in Bangkok and don't want to take the 2-hour ride to other more chaotic floating markets, then an afternoon at Khlong Lat Mayom is the perfect opportunity to have a genuine floating market experience without having to travel too far.
How To Get There
The market is located on Thonburi side of Bangkok, just across the Chao Phraya River, and very easy to get to.
– Take the BTS to the Bang Wa station, the last stop on the Silom Line.
– Exit the station at exit #1 or #2 and flag down a taxi on the road.
– Tell the taxi driver 'Talat Nam Khlong Lat Mayom' and they should take you right there. The ride is about 15 min and costs around 70 Baht ($$2.15).
More Photos of Talat Nam Khlong Lat Mayom
Comments
comments
More Good Reads!










Share
About Author
(0) Readers Comments