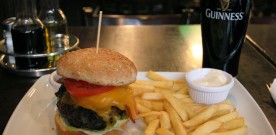 After nine days of eating hearty Romanian food I was craving a little taste of home. Luckily, some restaurateurs I'd spoken with in town had touted Bucharest as a city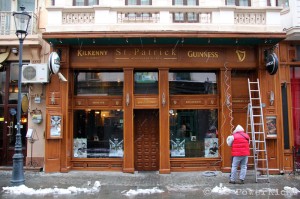 with great international cuisine and said finding a good burger, aside from McDonald's and Burger King, shouldn't be a problem.
While walking briskly through the Lipscani District of old town Bucharest trying to escape the falling snow and blistering cold, ambiance and decor were not high on my list as I searched for a watering hole to unthaw in. Call it blind luck or the luck of the Irish, however, whatever it was it landed me inside the warm and welcoming arms of the St. Patrick Irish Pub. Lucky for me, I'd found the only pub in town playing NBA basketball on the big screen, jamming classic rock over the sound system, stocked with all the whisky you can desire and loaded with pub grub.
As I warmed up inside I was all smiles. The atmosphere was a wave of nostalgia of my days back in North Beach, in San Francisco, settling in at the bar for a Saturday afternoon of sports and eats with friends. Those feelings faded quickly as the patrons incessantly puffing away indoors and the Romanian language being spoken quickly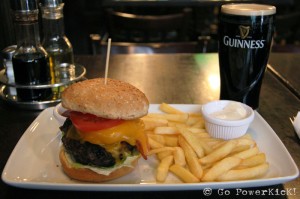 reminded me that I was indeed still in Eastern Europe.
Being handed dual menus got my attention right away, especially noticing one was a standalone burger menu with the bold statement "Definitely the best burgers in town" written at the bottom. The burger menu had six pages and six specialty burgers, each paired with a recommended beer.
Each burger looked better than the next and since I wouldn't be back any time soon to sample other burgers, I was a bit perplexed while placing my order. The waitress helped straighten me out and I settled on "The Legendary," a burger so good its memory is said to torment your taste buds long after you've polished it off!
Satisfied with my order of The Legendary burger cooked medium rare with cheddar cheese and bacon, paired with a Guinness, I sat back and enjoyed some NBA basketball and a cold pint. Blame it on the sub-zero temperatures or the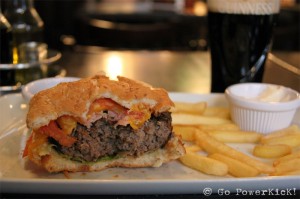 kitchen watching the same basketball game I was, but the service at the St. Patrick was a tad slow. I think I waited close to 20 minutes before my burger finally arrived. The sliver lining was, I was able to finish off my first Guinness and get a fresh cold one to enjoy with the burger.
When it arrived the burger did have the look of a 'Legendary' 4th of July bbq burger. Dressed with thick slices of Wisconsin cheddar cheese, bacon hanging over the sides, tomato and crisp iceberg lettuce, this burger was certainly created be devoured. All patties at the St. Patrick are handmade from an 80/20 blend of northern Romanian beef, and this 700g beauty was looking plump and well secured between a locally baked and 'lightly' toasted sesame seed bun.
Picking up the burger for the first bite I noticed the bun was a bit over toasted and it cracked slightly as I compressed it. As I chomped down I could taste the cheese and a slightly spicy kick in the burger. The seasoning of garlic, onion, worcestershire sauce and salt and pepper came together to create an almost meatloaf-esque taste.
The first bite was without a doubt flavorful, however, it was void of that initial burst of juices that comes after first sinking your teeth into an ideally cooked patty.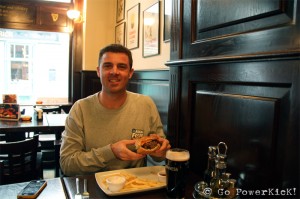 After a couple bites I decided to look at the inside of the burger and I noticed the pinkness had been cooked right out of it. While the slightly well done cooking did add a good char flavor, it left the burger rather dry for my liking.
I didn't let the dryness hold me back as I gulped my Guinness and chowed down. I was loving the salty bacon and gooey cheese, and the french fries accompanied with a side of mayonnaise were a nice compliment. This burger certainly had the potential to be 'Legendary,' but on this visit I was unable to confirm its ranking. Perhaps with a few tweaks from the kitchen it may one day reach true Legendary Burger Status.
If you're in Bucharest and looking for a cozy place to watch a game, have a drink or get a bite to eat, certainly pop into the St. Patrick. They're open daily from 11am – 2am, located right in the heat of the Lipscani District and with burgers priced around 33 Ron ($10) and pints at 16 Ron ($4.85), it's a good deal for a tasty meal.
Score Card
Burger Juiciness –  1/5
Bun Goodness –  2/5
Cheesy Madness –  4/5
Overall Tastiness –  2/5
Price –  3/5
Overall Rating – 2.5/5

Comments
comments
More Good Reads!










Share
About Author
(0) Readers Comments