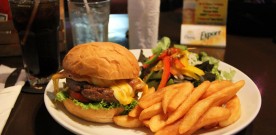 Aside from PowerKicKs at Lumpini Park, I haven't really explored much of the area around Silom Road. That all changed with the combination of Pub Quiz night and a tasty looking burger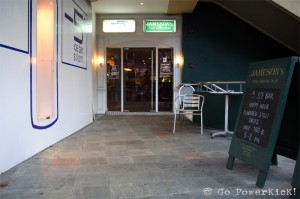 on the menu at Jameson's The Irish Pub. Located deep at the end of Silom Road, a short distance from the Surasak BTS station, Jameson's is adjacent to the Holiday Inn Hotel and conveniently shares space with the -5 Degree Absolute Vodka Ice Bar.
Pub Quiz typically kicks off at 8pm, so I arrived early to enjoy the burger and give my 'brain food' the necessary time needed to get the brain waves flowing. Although not overly packed with patrons, the pub does have a nice, warm feel to it. I took a seat at a table in one of their padded leather backed chairs and looked over the menu. Sitting proudly atop a delicious looking selections of burgers was the Jameson Burger, which I ordered cooked medium rare, with bacon and cheese.
Service was relatively quick and the burger arrived at the table in no time at all. At first sight the burger looked solid; a thick patty, a fl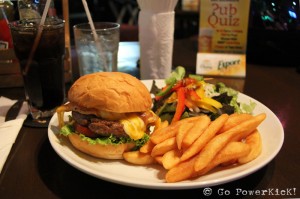 uffy bun and a heavy blanket of cheese. Jameson's hand-makes their burger patties daily from imported Australian beef which they then season with salt, pepper and paprika for a little extra spice. The layer of cheese is a double coating of both cheddar and mozzarella, and they certainly don't hold back.
The burger had a nice weight to it and the white-bread bun compressed softly in my hands as I went in for the first bite. The initial burst of flavors was a mouthful. The pepper and paprika really stood out and helped give the burger a nice kick. As a whole, the bun was well sized and did a great job of soaking up the juices and keeping the burger together.
Bite number two revealed a bit of a surprise. While chomping through I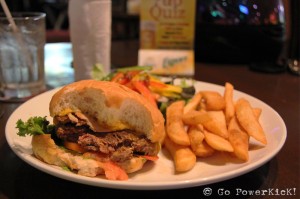 realized my burger was missing bacon. The chef had mistakenly added a slice of ham on my patty instead of slices of American bacon. I unfortunately missed this during my initial overview of the burger as the 'bacon' was hidden under a smothering of cheese.
Although the ham was salty and added a nice flavor to the burger, it was the 3rd time I've had the bacon switch-a-roo happen to my burger here in Bangkok. I guess I have to chalk this up as 'lost in translation' and make sure to double check my bacon orders in the future.
Looking past the bacon mix-up, this burger had a solid taste and was quite satisfying. I'd say it was the burger which helped carry our team to Pub Quiz night victory, but I think my teammates might disagree. At 315 Baht ($10.00) the price is a little steep but certainly won't bust the bank account.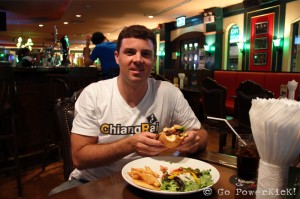 If you're looking for a homey pub feel and a good place to watch a game or play pool over a few beers,then Jameson's is a good choice. For those who want to test their brain power, Tuesday night is Pub Quiz night and a great venue to showcase your mental strength.
Additionally, Jameson's is connected to the -5 Degree Absolute Vodka Ice Bar which offers a good Pub Quiz celebration of all you can drink vodka shots for 20 minutes at a cost of only 500 Baht ($15.51). Jameson's is open from 7am – 1am daily and you can find all the festivities at the corner of Silom Rd and Surasak Rd.
Score Card
Burger Juiciness –  3/5
Bun Goodness –  3/5
Cheesy Madness –  3/5
Overall Tastiness –  3/5
Price –  3/5
Overall Rating – 3/5

Comments
comments
More Good Reads!










Share
About Author
(0) Readers Comments