This being my first time in Eastern Europe, I was excited to do some sightseeing after presenting my thesis paper in Bucharest. Home to both monolithic buildings as well as old and elegant architecture, the city was given the nickname 'Little Paris' in the time between the two World Wars.
Two main sites jump out as 'must see' attractions when visiting Bucharest, The People's Palace and Le Petite Arc de Triumph (The Little Arch de Triumph). Coming from Bangkok, and stubborn to admit winter is still a season, I arrived without the warmest winter attire. From a quick introduction to Romanian winter I learned that minimal time outside is preferable. As a result, the Arc de Triumph was the first sight to see as it was the shortest metro ride away and provided minimal time in the frigid cold.
While walking from the metro station to the Arc de Triumph I took Flat Stanley from my bag, flattened him out and prepped him for his Romanian photo shoot. For those who aren't familiar with Flat Stanley, he's a cardboard cutout which grade school kids make as part of a class project they send off to friends, relatives and/or pen pals around the country or world with the goal of creating a journal for Flat Stanley and documenting the destinations where he travels.
Before heading to Romania I received Flat Stanley in the mail in Bangkok from our neighbors back home in California, who are currently working on this project in their 4th grade class. I figured a PowerKicK photo in Bucharest would be a unique addition to Flat Stanley's travel journal. Walking around the Arc de Triumph, I chose a spot on the south side as the optimal PowerKicK location and tried to get as close to the center of the Arc as possible without getting run over.
The timing was a bit tricky as the gap in-between red lights and cars flying around the roundabout was really only about 10 seconds. Standing next to a van full of Bucharest's finest, I handed my mom the camera and gave her a rundown on how to best position the camera and snap a PowerKicK photo.
After a brief explanation and a few practice attempts we were ready for prime time. Stepping out onto the edge of the lane, I waited for my mom to get the shot lined up and for the last cars to pass by. We synchronized a 3-2-1 countdown and I leaped into the air. The first few attempts were close, but our timing was just a bit off. After a few minor adjustments I grabbed Flat Stanley and we gave it one more go.
My mom saw the photo first in the view finder, and her face was a dead giveaway. Reviewing the photo all I could say was 'Perfect.' Pleasantly surprised by my comment, my mom quickly replied 'What did you say?' so she could hear me say it was 'Perfect' again. We both laughed, high-fived and as we walked back to the metro station trying to warm up we both agreed this PowerKicK in Bucharest at Le Petite Arc de Triumph was going to make a great addition to Flat Stanley's Travel Journal.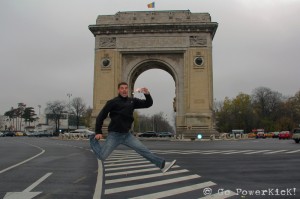 Comments
comments
More Good Reads!










Share
About Author
(0) Readers Comments