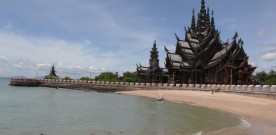 The Sanctuary of Truth might be one of the most impressive temples I've ever seen. Sitting on Ratchawet Cape, a small isolated cove just north of Pattaya Beach, this massive wooden structure is the ultimate tribute to woodworking and spirituality.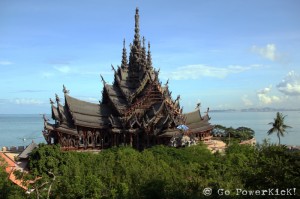 A creation of Thai businessman Lek Viriyaphant, the temple stands close to 105 meters high (345 feet) and is filled with intricate hand-carved Buddhist and Hindu sculptures. Known for his eccentricities, this isn't Khun Lek's first grandiose creation. He is also the visionary behind the Erawan Temple and Ancient Siam, both in Samut Prakan just outside Bangkok.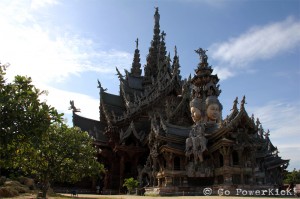 Construction of the temple began in 1981 and incorporates traditional Thai-style architecture. The complex is made entirely of teak, rosewood and ironwood all imported from Burma. Walking up to the entrance visitors are immediately greeted by ornate carvings which are a good indication of what's to come inside.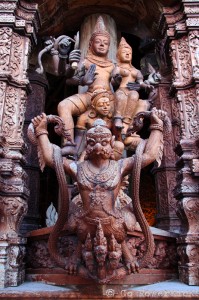 An interesting aspect of the construction is that it's made without any cement or metal. If a carving needs to be adorned to a wall or column, or structures need to be made to hold up the roof or a wall; they are made entirely of wood.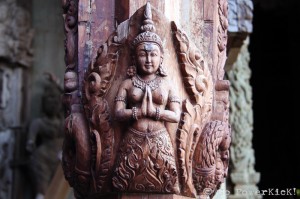 Built in a crucifix shape, the Sanctuary of Truth has a high central ceiling and four halls facing in each direction. Each hall is slightly off due north, east, south and west as this positioning is more optimal for catching breezes and keeping the temple cool.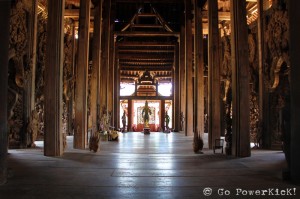 The foundation is built on an area of 2,115 sq meters with a single immense central column, designed to help support a weight of up to 40 tons. This was necessary as each of the statues positioned on the roof weighs close to 1 ton each.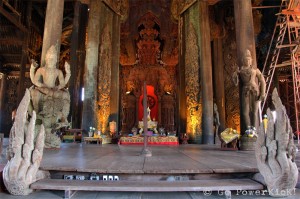 There are over 170 columns used to support the four halls, and within each hall are hand carved images of Buddhism and Hinduism based on mythologies from Cambodia, China, India and Thailand. The images and styles of the carvings in each hall are said to represent 'The Truth' and pay tribute to the 7 creators; Heaven, Earth, Father, Mother, Moon, Sun and Stars.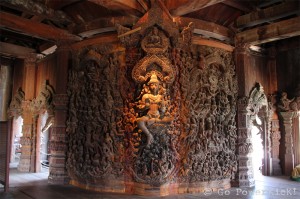 As the temple is still under construction, it's not uncommon to see workers raising sculptures and/or making carvings inside the temple while walking around.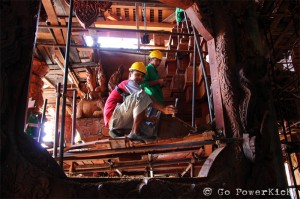 A sizable workforce of wood carvers are hard at work every day, carving various figures and bringing the temple to life. In the workshop visitors can watch some of the 250 workers, mostly Burmese, perform their carving craft. 50 years ago most of the workers here were Thai but due to older generations passing on and younger generations not as interested in carrying on this tradition, the wood working art has been virtually lost amongst the Thai workers. This is why a majority of the workers today, armed with a hammer and chisel, are brought in from Burma where the craft of wood carving is still prevalent in younger generations.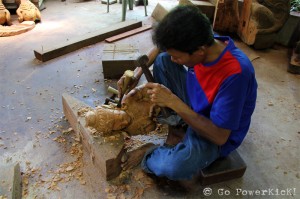 Literally watching the Sanctuary of Truth being constructed before your eyes makes it a unique place to visit. Helping to make for an even more memorable trip is the abundance of photo opportunities on the peaceful location. One great photo op is getting dressed up in traditional Emperor regalia, complete with swords, and being flanked by bodyguards while sitting on an ottoman. The photo costs 100 Baht ($3.11) and is a nice memory from the temple.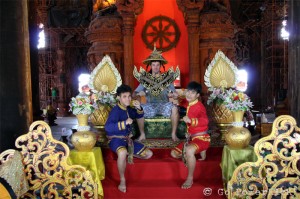 If you're in Pattaya and want a break from the chaos of the Walking Street, I highly recommend a trip over to The Sanctuary of Truth. The temple still has roughly 20 years of building remaining until the project is complete, so there is still ample time for a visit. However, don't wait to long or you might miss out on seeing this one-of-a-kind temple brought to life before your eyes!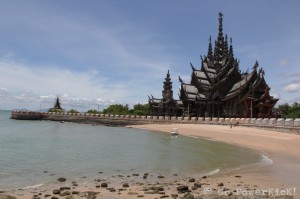 How to get to the Sanctuary of Truth
The Sanctuary of Truth is located on the north side of Pattaya, on Soi 12 of Naklua Road. A bit of a walk from the beach, the quickest and easiest way to get there is by taking a song thaew. Private vans, cars and taxis can also be arranged from hotels and drivers should know right where to go, wait for you to tour around and then drive you back to your hotel for a modest fee.
Admission & Opening Hours 
The Sanctuary of Truth is open daily from 8 am until 5 pm and admission is 500 baht ($15.57) for adults and 250 baht ($7.78) for children. For those who wish to take a tour to learn a bit more about the temple; group tours are available at no extra cost, are given in English and have knowledgeable and friendly guides leading groups around the temple.
Comments
comments
More Good Reads!










Share
About Author
(0) Readers Comments