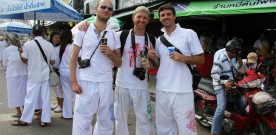 Every October, in the ninth lunar month of the Chinese calendar, the island of Phuket kicks off a truly one-of-a-kind, spiritually rockin 10 day vegetarian festival. You might think a vegetarian festival would include samplings of various veggie foods, discussions of the benefits of a healthy lifestyle and maybe even cooking classes teaching new and fun veggie recipes for everyday meals. That might be a normal vegetarian festival, however, in Phuket the local Chinese residents take it to an entirely different level, certainly living up to the country's Amazing Thailand nickname.
What started in 1825 as the result of a touring Chinese opera company regaining their health from a crippling illness by following a strict vegetarian diet and honoring two emperor gods, has since evolved into a spiritual cleansing with some of the most jaw dropping rituals I've ever seen.
I was wrapping up my thesis paper in Bangkok and unable to make the opening ceremonies, where huge poles are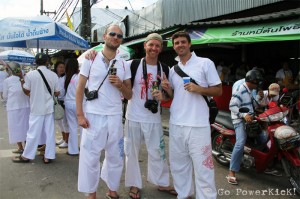 raised at each major temple in Phuket Town followed by a celebration calling 9 gods down to watch over the festival; but once I finished I was on a plane heading south with my buddies Ian and Anthony to participate in the festival's final 3 days.
Daily, the pre-dawn hours are when the ceremonies begin. At around 5:30am, at 6 temples throughout Phuket Town, local men and women arrive and commence the time-honored ritual process. Incense and a cacophony of banging drums, smashing symbols and chanting fills the morning air. Inside, the Ma Song, those who will be taking part in the processions through town, can be seen stirring about and entering into trances at alters in the temple.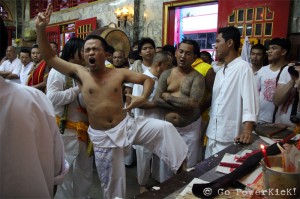 Once in a spiritual trance the Ma Song, sporting white in a show of cleansing, are wrapped with a symbolic apron, given a rope and lead outside.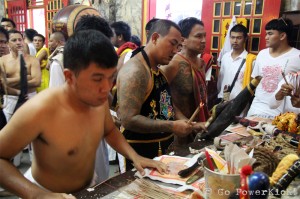 Outside is where their true display of merit begins. Body piercing and other acts of self mutilation are done as they summon supernatural powers in the hope of taking evil spirits from individuals into themselves, thereby bringing good luck to the community.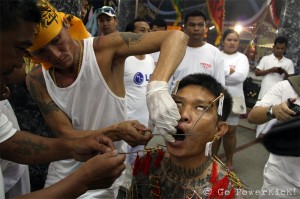 Men and women puncture their cheeks with various items including spears, knives, horns, umbrellas and other household items. The belief is that the Chinese gods will protect each person from harm, allow them to exhibit their inner power and bring peace to the body and mind.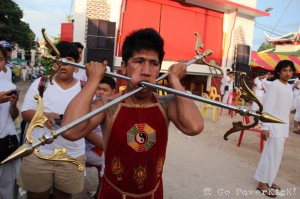 After a few hours of piercings the procession leaves the temple and heads into town. The walk is roughly 4km and takes them about 2 hours.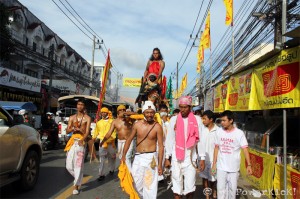 The streets are filled with devotees walking in trances with skewered cheeks. In front of them and behind them are groups carrying spirit houses adorned with small sculptures and deities. Along the walk is when the festival really kicks into high gear.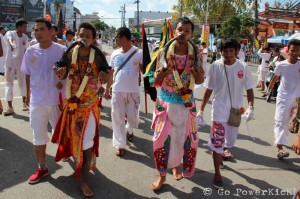 In an attempt to drive off any evil spirits the decibel level is increased quickly. Drums are pounded, symbols crash together and cars following the spirit houses blast music. The thousands and thousands and thousands of fireworks exploding everywhere quickly escalates the atmosphere that of a war zone.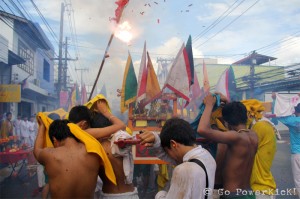 From literally every direction explosions are popping off and clouds of smoke fill the air to the point of not being to see 10 feet in front of you. This goes on for the entire walk through town.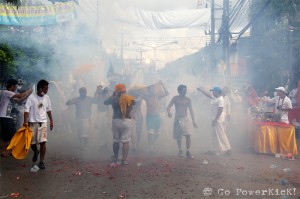 The goal of the processions is to make it to a large pond at the southern end of town. Here a blessing is cast over all those in the procession, after which they begin their walk back to the temple to have their piercings removed.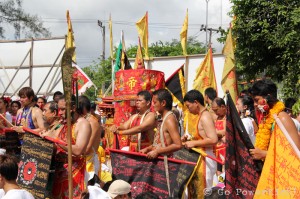 When the smoke and fireworks became too much we took a break and enjoyed some of the best vegetarian food I've ever eaten. Dishes prepared for the festival are made with soybeans and protein substitutes and are delicious and full of flavor, especially the pineapple curry! Street stalls line certain roads in town where food is available day and night from vendors marked with yellow flags which have Chinese writing on them.
I was so amazed by the face piercings and fireworks that I have to sadly admit to not taking 1 photo of food. While unfortunate, I now have an extra reason to go back.
The festival culminated with a final night send-off of the gods that left us speechless. The final procession began around 9pm on Sunday night from one of the main temples downtown. From here, 9 spirit houses were escorted out by groups of devotees as well as some Ma Song with piercings in their faces.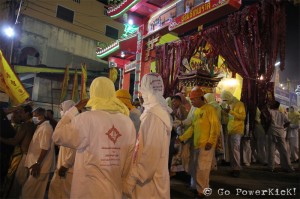 Just after the final spirit house came through the archway leading to the street, the send off officially began. 3,000 firecrackers at a minimum were draped like curtains in the archway and lit simultaneously. I've only seen combat in movies, but I can only imagine that the blast that followed that final spirit house was strikingly similar to what an actual small scale bomb blast would be like. The shock, the sound and the heat were surreal.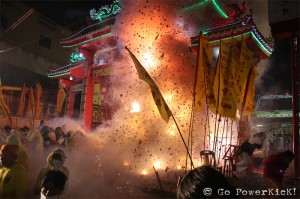 The procession continued and wound its way through the city streets. The Ma Song remained in a trans-like state while walking amidst the flying and exploding firecrackers.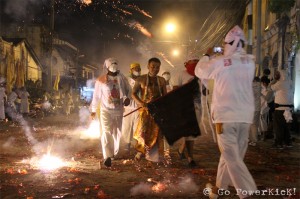 The spirit houses being carried along were put on the ground in places to allow for series of explosions to take place on, above and all around them.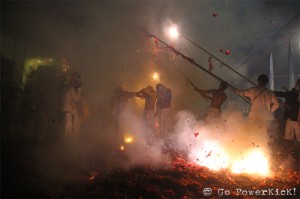 This was the send off of all send offs. We walked through the streets in ankle deep debris and point blank sonic boom explosions for almost 3 hours. After stopping for a what was literally the final photo (I maxed out my memory card) in the heart of the action we decided to bail out and save our ear drums.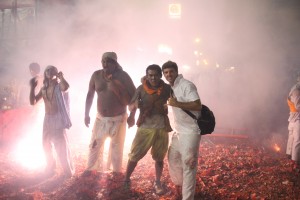 I've never seen anything quite like this festival in my entire life. I will certainly be back to experience it again and definitely recommend carving some time out in October to head to Phuket Town and experience it for yourself, you will certainly not be disappointed!
Comments
comments
More Good Reads!










Share
About Author
(0) Readers Comments