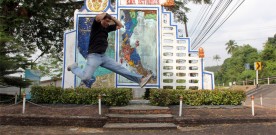 As I prepared for my ride I really had no idea where I was going. It was my first big ride south and from what I'd heard about Ranong I knew it was 575km and around 7 1/2 hours south of Bangkok, not including traffic and/or getting lost.
Ranong is mostly known as a jumping off point for travelers/expats living in Phuket who need to do a quick visa run over to Myanmar, as well as the beautiful islands off the coast and the spectacular scuba diving. I on the other hand wasn't making the ride to relax on a tropical island, scuba dive in crystal blue water or make a quick visa run; I was heading south to soak in the Raksawarin Hot Springs.
The hot springs are mystical baths that continuously release water, at a steaming 65oC (149oF), which is thought to have special healing powers and even prescribed by some doctors as a treatment for ailments. After having some aches and pains from excessive running I decided to scrap a visit to the local doctor and roll the dice with the hot springs, if it was good enough for the King to use on his 60th birthday celebration then it was certainly good enough for me!
Leaving town at 6:15am the roads were relatively clear and I caught a colorful sunrise as I crossed the Bhumibol 1 bridge and headed south. I sailed easily towards Highway 4, the main junction to southern Thailand, and contemplated the remaining 450km ahead of me.
Open roads under canopies of trees and winding roads through rolling hills make the ride south great on a motorcycle. Nearing Ban Krud, about the halfway point, I stopped for a quick lunch of guay theaw from a street vendor. I didn't have time to sit and relax as large trucks and traffic were starting to catch up with me and pack the roads.
Getting into Chumphon I began to realize just how far I was riding. A trip most tourists do on an overnight train or bus ride I was doing in less than a day on a motorcycle. With signs showing about 120km until my destination, I began to get a tad saddle sore.
After Highway 4 split westward towards the coast, the winding road cut through the mountains and tropical jungle dropping me into Ranong, Thailand's wettest province. Passing a bend in the road I spotted a river to my right which looked like a great place to stretch the legs. An information sign said this ssection of road was the narrowest part of the Malay Peninulsula, known as the Kra Isthmus, and the river was a shared border with Myanmar.
After a quick stroll along the waters edge I felt this would be a unique spot for a PowerKicK. Realizing I was the only one around I had to improvise on taking the picture. I wheeled my motorcycle close to the information sign and zoomed-in to frame the background just right.
I set the self-timer and ran out to my marked position. Listening to the beeper countdown and watching for the flashing light, I leaped into the air and struck a pose. My timing was slightly off and after about 12 tries all the photos were either of my landing or of me just starting my jump. Determined to get the shot I was was not about to admit defeat.
I walked over the my motorcycle, refocused the camera, set the timer and prepared for one final attempt. I started the timer and as I hurried over to my spot I reminded myself to jump as high as I could and to try and hang in the air so the camera could catch me in mid-jump.
As I swung my arms and leaped into the air I felt my sunglasses start to fly off my head. My reflexes kicked in and I immediately went to save my only source of eye protection, and once I landed I was sure I had blown another photo attempt. Walking over to the camera and reviewing the picture I realized that I'd nailed it! After about 14 tries and dripping with sweat I had proudly captured the October 2013 PowerKicK of The Month….Isthmus Be A PowerKicK!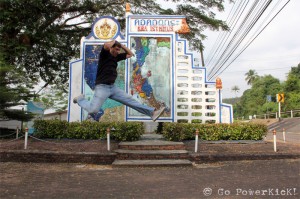 Comments
comments
More Good Reads!










Share
About Author
(0) Readers Comments