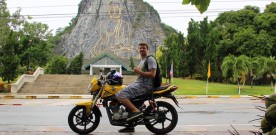 My Monday mornings are typically spent practicing past tense conversations with my various English classes. One of the benefits of teaching at the university level is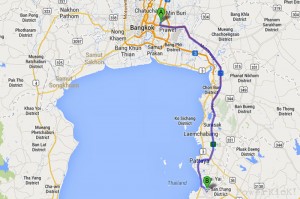 hearing students describe places they've visited over the weekend or during a holiday, which sometimes turn out to be places most foreign tourists don't often go.
Lots of students like to head to Pattaya to party, however, some also go for other more cultural activities. A few students have described a Buddha Mountain south of the main beach, which they suggested I visit. With my teaching & thesis load lightening as the semester draws to a close, I decided to take their advise and hit the road to Pattaya to check it out first hand.
Leaving campus at 2pm the streets were crowded early with Friday traffic as I fought my way to Sukhumvit Road. Once I hit it, I was able to make good time cruising down Highway 3. Entering Chonburi I was racing storms brewing on the horizon to my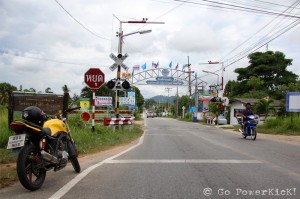 left and right. I got hit with a slight drizzle while stopped at a few red lights, but otherwise I was able to make it to Pattaya without getting completely drenched.
In the morning I hopped back on Sukhumvit Road and followed it about 20 km south to where the construction ends and palm trees, green fields and mountains can be seen in the distance. Veering left, cutting through a few small villages, the last 6 km or so to Khao Chi Chan are a nice reminder of the beautiful natural landscapes outside the concrete tourist jungle of Pattaya Beach.
As I wound my way through the greenery towards Buddha Mountain, I was again crossing my fingers to reach some shelter befor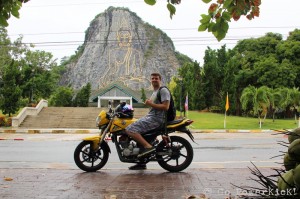 e a looming tropical storm opened up on me.
Buddha must have been watching out for me because not 5 seconds after I turned off the engine and got under an overhang, the sky opened up and poured buckets! I waited out the rain eating a plate of Kra Pao Moo Kai Dao before walking over to check things out.
From the road it's easy to see that Khao Chi Chan is a huge Buddha image sculpted onto the side of a mountain. Upon further inspection I learned that it was created in honor of the 50th anniversary of the enthronement of His Majesty King Bhumibol. At 109 meters tall and 70 meters wide, carved in the traditional Sukhothai style, it's quite an impressive anniversary gift!
Getting the image onto the mountain was no easy endeavor. It was first designed digitally before a laser was used to etch it onto the face of the mountain. Interestingly, the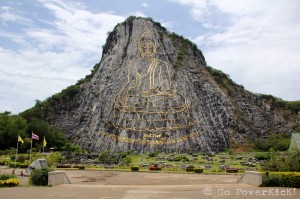 laser drawing could only be done at night when the architects could see it clearly in the dark.
After cutting the mountainside during the night, the days were spent prepping the laser for the next session and adjusting the drawing. Once the lasering was complete the sculpture was lined with a gold plated filling, which looked metallic but no one there as able to accurately describe it to me.
Originality alone make Khao Chi Chan an interesting site to visit, not to mention it being billed as the world's largest Buddha image. If you're in Pattaya and want to see an interesting new sight with no admission fee, Khao Chi Chan is an interesting place to go. It's opens from 6am to 6pm and is also a short distance from the SilverLake Winery.
How To Get There
From Pattaya Beach get on Sukhumvit Road and head South for roughly 25 km.
Turn left at the intersection of Sukhumvit Road and Soi Nong Jap Tao.
Follow this road for about 6 kilometers until you reach Khao Chi Chan.
Don't worry if you don't have a car or motorcycle, a song thaew or taxi will easily get you there from the beach.
Click here to see a map with the location.
Comments
comments
More Good Reads!









Share
About Author
(0) Readers Comments