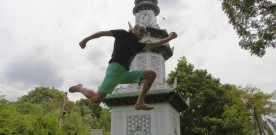 Surrounded by malls, skyscrapers and continuous traffic, the 142 acres of Lumpini Park are popular among both locals and expats looking to escape the controlled chaos of Bangkok. The park's oasis of greenery is a rare find in the crowded downtown Silom business district, and is great for jogging, lifting weights, listening to music, riding paddle boats and of course relaxing.
One interesting attraction in the park is an old Chinese clock tower that was built in 1925 in preparation for the Siamrath Phiphitthapan Trade Fair, a fair which showcased an array of Thai products to the world. The clock tower's pagoda-inspired theme and the surrounding canopy of trees have made it a good meeting place to escape the tropical heat and a favorite spot where visitors play chess and practice Tai-chi.
After feeling the PowerKicK vibe as the camera man on the PowerKicK of the Month shot taken last month during our motorcycle ride to Pattaya, I asked Anthony if he'd be up for a PowerKicK of the Month photo of his own before he headed off to The Land of the Rising Sun. He agreed and my initial suggestion, based on his travel blog Man vs. Clock, was a Flavor Flav-esque photo with a huge clock draped from his neck. Although it sounded good, we continued to kick around ideas in search of something a bit more fitting.
An 'Ah ha!" moment came over a few cold beers and I suggested the Chinese clock tower at Lumpini Park. After I described it, we both agreed there wasn't a better spot in Bangkok for his Man vs. Clock PowerKicK. We arrived at Lumpini Park around mid-morning and the tropical heat was already in full effect. After a short tutorial and a proper stretch, Anthony was ready to rock n' roll.
Sanding roughly 30 feet tall, the clock tower is large and flanked by many trees which made fitting it into the lens a bit tricky. I had to get down on my stomach, sniper-style, with the camera just slightly above the grass to get the right angle. Once I had the clock tower framed in the picture, it was showtime. I gave a ready-set-go countdown and Anthony came flying in like Alan Shearer in a flash of pure inspiration. The September 2013 PowerKicK of the Month is a reminder to grab the bull by the horns and seize the moment. If anything is holding you back or stopping you from accomplishing the dreams and goals you want in life, remember….PowerKicK Fear!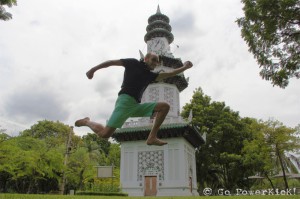 Comments
comments
More Good Reads!










Share
About Author
(0) Readers Comments