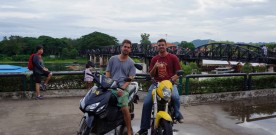 This semester I don't finish teaching on Friday's until 1:30pm; so as soon as I wrapped up the descriptive paragraph lesson I was giving my basic English class last Friday I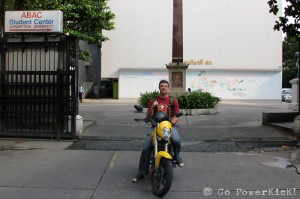 pulled a Clark Kent style change, packed my backpack and hit the road. Heading out of town I was racing a thunderstorm forecast on my 140km trek from Bangkok to Kanchanaburi to meet Turner, who was wrapping up his latest adventure job volunteering at the tiger temple.
As I made my way out of Bangkok's city limits the roads were surprisingly empty for a Friday afternoon; that was until I hit Highway 338 to the West. Highway 338 is a congested, dusty two lane road that's almost always packed with large trucks, which makes getting out of Bangkok a bit dicey and hot. However, my destination was to the West so I took the near sandwiching between the glut of Thai semi-trucks and the clouds of exhaust to the face in stride and carried on.
As the highway looped into a flyover, it opened up to the four busy lanes of Highway 4 towards Nakhon Pathom. A few kilometers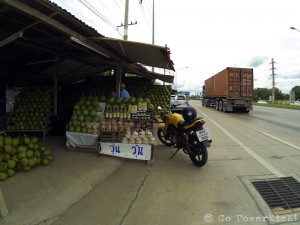 down the road a string of coconut vendors peppered the shoulder which was a welcome surprise. Although these vendors marked a little less than the halfway point, and I should have continued on to stay ahead of the rain, ice-cold coconuts are never a bad idea so I pulled over for a quick drink.
Just before splitting off onto Highway 321, which leads to Kanchanaburi, the chaotic 4 lanes slimmed down to two. From here onward the road was much calmer as it passed through small towns like Ban Pong, inching closer to my destination. Hills soon appeared in the distance and the lush green trees and rice fields to either side of the road signaled I was entering the country.
About 25km outside of Kanchanaburi the temperature dropped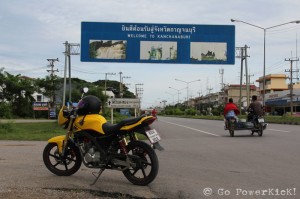 significantly and I could see the sky getting darker on the horizon. After living in a tropical climate for a while I've learned that when the temperature gets this cool, rain is most likely on the way. As the wind continued blowing hard to the east, I crossed my fingers that I would avoid the downpour. Since I was riding without a rain jacket the storm made me slightly nervous, however, the cool air was a refreshing change from the heat.
I arrived in Kanchanaburi at 4:30pm, roughly 3 hours after I scurried out of ABAC. From the look of things, the dark asphalt and puddles on the road, it looked like the rain storm I was riding to avoid had just dumped in town. In town I met up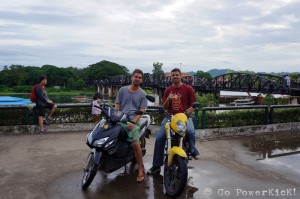 with Turner and we checked in at our guest house, then headed over to the market next to The Bridge Over the River Kwai to see what snacks we could find. After a long motorcycle ride one snack I always crave is BBQ pork on a stick and sticky rice from a street vendor. We were in luck and were able to find a vendor who was grilling up some delicious stick meat. We kicked back and enjoyed a few bites sitting next to the bridge while we formulated our plan for the morning ride to Hell Fire Pass.
Comments
comments
More Good Reads!









Share
About Author
(0) Readers Comments