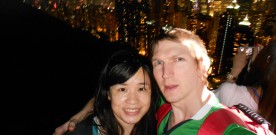 In 'Today's Traveler' I'll introduce you to a world traveler. Get to know them, learn what makes them tick and why they love to travel. Meet Jonny Blair, the globetrotting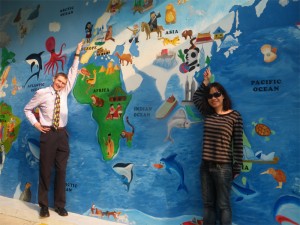 Northern Irish travel blogger behind Don't Stop Living. 10 years ago he left home behind and has been working, traveling and drinking his way across all 7 continents. Living in the moment his lifestyle is focused on travel, adventure, meeting new people and inspiring others to do the same. On his site Jonny shares his work and travel tips, photos and videos as he discover the world. Check him out to see which country he's off to next what beers he's looking forward to drinking.
1. Have your travels helped you create your own meaning of the word 'travel?' If so, what have you come up with?
I've never really thought about that Mike! But now that you mention it, I think to really be a traveler you need to go to somewhere where there are NO OTHER TRAVELLERS. Heading to Bangkok, Sydney, London and Cuzco is all good, but there are lots of tourists and travelers in those places. These days, I only really see off the beaten track places as "real travel."
I've been to some completely remote and obscure parts of China and Taiwan where I didn't see another foreign tourist for days or weeks! Places such as Chiayi and Taidong in Taiwan, and in China take your pick from Jin Ji Cun, Ta Pa Tsune, Little Likeng and Shuhe. I've drank beer in Chinese villages even the Chinese have never heard of. My travels have also taken me to places off the normal route such as Paramaribo (in Suriname), Mahlanya (in Swaziland), Guasca (in Colombia), Juquitiba (in Brazil), Bobruisck (in Belarus) and Antarctica.
So the way I see it is, one or two weeks away is a holiday, any longer than that is traveling, but real traveling is going to places that nobody else you know has ever heard of. That's the best way to travel!
2. What initially motivated you set out to travel and work your way around the world?
I've been asked this before and there wasn't really a decision or a motivation to do it, it just kind of happened. Booking a one way ticket from your homeland is the first step,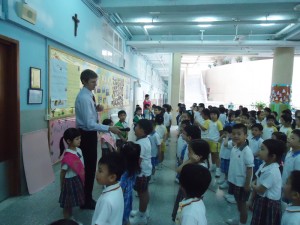 getting a job and somewhere to live are the next steps and things just fell into place for me then. After being away from my hometown (Bangor, Northern Ireland) for a few months, I knew I wasn't returning. I had met people from all over the world and I wanted to explore.
So booking your one way flight (or in my case ferry) is the first step, then work hard and save and you can travel the world easily. I spend less money backpacking round the world than my childhood friends spend on mortgages, cars, food etc. It's cheaper to travel the world than it is to stay in one place, at least in my life! I'm happy to keep working in random jobs and to keep exploring. I'm a tight assed, cheapskate backpacker on a mission to see the world!
Having said all that, the turning point that made me leave my hometown was in 2002. While working in a local butchery we ran out of meat during the foot and mouth crisis, I had an afternoon off and so I plotted my adventure…
3.  Is there one job you've had that really stands out? What did you take away from that job?
Yes, working on the world's first ever broccoli harvester! I was living in Tasmania in Australia in 2010 and working on the broccoli harvester has been the pick of my 50 plus jobs from my travels. I had worked hard for a couple of months on manual broccoli harvesting and to be chosen to work on the harvester was amazing. I was living in a tent in the mountains of Poatina at the time and was working 12 hours a day, 7 days a week. I hadn't been to a town or city in months and I was working on remote farms. I'd only used the internet once during my time and I hadn't checked my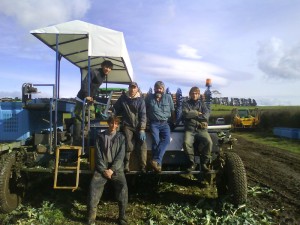 bank account at all.
When I moved from my tent on the final day of broccoli harvesting and checked my bank, I had done it. I had earned enough money (with surplus) to book my trip to Antarctica, so I did. If I hadn't been working on the broccoli harvester, I may never have had made it to Antarctica.
4.  You've had lots of crazy travel stories; what's been your craziest story after all these years of travel?
That's a tough one, and from the following shortlist, I have picked a winner.
– Wearing a pair of pink ladies pants to the Blue Lagoon in Iceland
– Stripping naked in the ice cold waters of Antarctica.
– My mate drinking a pint of his own piss from Children in Need then spewing up in the bar.
– Getting drunk with TWO international football captains.
– Getting refused entry to Suriname TWICE due to my passport being full (I persevered and finally got my visa).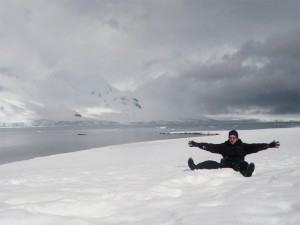 Of those there is a clear winner and it's getting my kit off in the waters of Antarctica. Antarctica is an extreme enough destination for a normal backpacker as it is. It's also the world's coldest continent. During the Polar Plunge I was overjoyed and overaud by the whole experience that I whipped my green shorts off and flubbed them in the air. Travel freedom. Loved it!
5. Of the countries you've visited, which one has had the best beer and where have you had the best food? Is there one country's beer you're looking forward to trying next? 
Best beers are probably these five:
1. Guinness (non mover)
2. Kokanee (Canada)
3. Sokol (Slovenia)
4. Bintang (Indonesia)
5. Sibebe (Swaziland)
I'm looking forward to North Korean beer the most – had North Korean Blueberry wine before and loved it – can't wait to try the beer there! Best food is from Northern Ireland – the Ulster Fry. I just love it. Pizza is a close second, with a good old Aussie steak coming in at number 3!
6. What is one thing all your travels have taught you? (about yourself, a city or a culture)
Don't succumb to "the norm", be yourself and be who you want to be. All these people I met at university were like "I'll get my degree then nail a high class job in London with the odd night in a hotel paid for" and I was thinking to myself, "are you serious? is this your ambition in life?" I still get the free hotels and I travel the world, and I work in jobs that I love and enjoy. I'm never stressed. The key is to go your own way. Live the life you want!
7. Do you have a favorite book, movie or playlist you can't travel without?
Not really, though Oasis and Manic Street Preachers on my music player are pretty important to me. I use Lonely Planet books a lot too!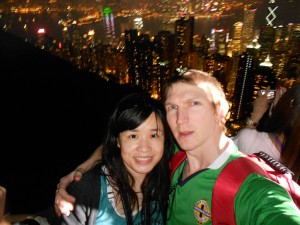 8. If you could travel with one person, from the past or present, who would it be?
Either my Mum, my Dad or my girlfriend. Can't really pick between them. And my best mates too. A famous person? James Bond – skip the visa queues and stay safe!
9. What destinations are on your list next, and if you had to pick one place to live for the rest of your life where would it be?
Next up is Burma, Tanzania, North Korea, Jordan, Azerbaijan and Nagorno Karabakh. I'd like to live in New Zealand for a while at some point, but have no real plans to settle down in one place yet. I can't really rule out my home country of Northern Ireland – it's where I'm from and I'm proud to be from there!
10. Any travel tips/advice for future travelers with the desire to explore?
In point form:
– Make the first step and DO IT
– Don't listen to people who tell you the problems (no money, no job etc. – that's all bullshit as they're jealous)
– Work hard
– Save hard
– Get off the beaten track
– LIVE the life you want (I can do it, so anyone can do it!!)
Safe travels and don't stop living!!
Visit Jonny's site: Don't Stop Living
Like him on Facebook
Follow him on Twitter @jonnyblair
Comments
comments
More Good Reads!










Share
About Author
(0) Readers Comments