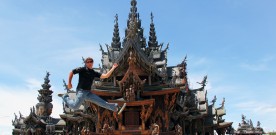 The Sanctuary of Truth has been sitting near the top of my list of sites to visit in Thailand for over a year and a half and I finally carved out some time to make the ride to Pattaya and check it out. I first heard about the Sanctuary of Truth after visiting both the Erawan Museum and Ancient Siam near Bangkok, and I was immediately intrigued. All three of these sites, each more unique than the next, were inspired by the creative mind of Thai businessman Lek Viriyaphant and were designed to promote and share the cultural history of Thailand.
The temple has an amazing location right on the waterfront in a small cove just north of Pattaya beach on Soi 12. Riding over to the temple Anthony and I battled the tropical heat and tried to keep our trucker sunburns form getting sunburns of their own. Once we had our tickets in hand we headed towards the water to explore the temple. While I was excited to see the temple, my mind was mostly focused on finding an ideal PowerKicK location.
Construction on the temple began in 1981 and conservative estimates don't have it completely wrapping up for another 20 years. Since the site is still under construction, with all pieces being carved by hand, the staff gave us hardhats and instructions for viewing as safety precautions. Hardhats on and we were ready to rock.
Wandering the grounds we were immediately impressed at the massive size of the temple and we marveled at the detailed carvings both inside and out. After soaking it all in, it was time to find the perfect PowerKicK spot. The south side of the temple offered a stunning photo-op from just across a small cove with azure blue waters, and we both agreed that a shot from here would be iconic. Unfortunately the only option for getting this photo was for me to jump off a 10ft seawall onto the dangerously rocky beach below. As I wasn't up for tempting fate, I decided against the Evel Knievel PowerKicK attempt…and our hunt continued.
Our search came to an end at a spot directly in front of the temple, which worked out well as it captured the temple's many amazing and detailed carvings. Testing out different camera angles, we both concurred that a ground-up shot was best for maximum effect. A quick PowerKicK photo tutorial for Anthony and it was go time. I stepped in front of the temple, gave a 3-2-1 countdown and leapt as high as I could. Thanks to my skilled photographer the photo was spot on, and the product is the August 2013 PowerKicK of the Month…The PowerKicK of Truth!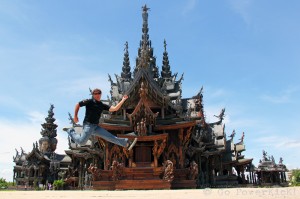 Comments
comments
More Good Reads!










Share
About Author
(0) Readers Comments