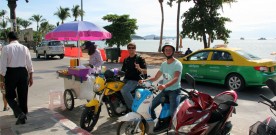 At 6:30am on Saturday morning Sukhumvit road hadn't totally come alive yet as Anthony and I headed out of Bangkok. Our plan was to ride 150km southeast from the city on a weekend trip to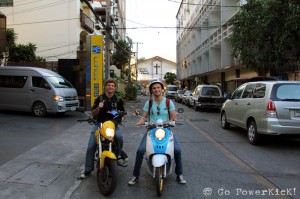 Pattaya. Typically, when heading to the beach, most people go by van which all take the same route on the highway. Add in loads of semi-trucks and weekend warrior drivers looking for a sunny getaway and it tends to make the roads slightly overcrowded. We wanted to avoid as much roadway congestion as possible so when planning our route I tried avoid the highways and toll roads. Mapping it out on google I was pleasantly surprised to see that Sukhumvit road ran the entire way, from Bangkok to Pattaya.
Whether riding north, south, east or west to explore Thailand by bike, I've found avoiding the log jam leaving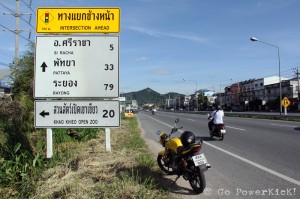 Bangkok's city limits to be nearly impossible. While it wasn't rush hour gridlock, the busses, song tawes and motorbikes were still their unpredictable selves early in the morning; which made the beginning of our ride a bit tricky. After we passed the Bearing BTS station things began to clear up. Riding past the Erawan Museum, entering Samut Prakan, the roads opened up and we were rolling like thunder!
Watching Bangkok's concrete jungle turn to a peaceful canal on one side of the road and fish and shrimp ponds on the other was a breath of fresh air. Cruising towards Chanchensao only a few fisheries and a gas station dotted the landscape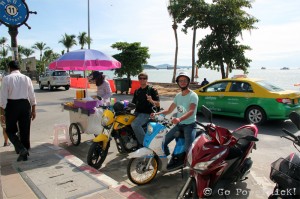 to remind us of city life. We enjoyed the 'country' roads for about 45km before we hooked a right and headed south towards Chonburi. The ride here got a bit hectic as we paralleled the highway. Trucks and cars filled the lanes and the occasional motorbike riding straight at us in the opposite direction on our side of the road didn't make things any more comfortable. Thankfully this lasted only a short while before we entered Chonburi, 'The Land of Sunshine.'
Leaving Chonburi, palm trees and a few rolling hills made the ride a bit more scenic as we approached Sri Racha and past the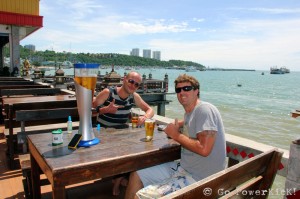 turnoff for Koh Si Chang island. Snaking along the coast we caught glimpses of blue water and a few islands out in the distance just before riding under the 'Sawatdee, Welcome To Pattaya City' sign. The beach vibe kicked in as we turned right and headed towards the water. We cruised down the Pattaya Beach Road to Soi 11 and parked our bikes at the Natural Hotel. To relax from the ride and celebrate our arrival we sat down right on the water to enjoy a cold celebratory tower of beer, and of course some delicious Thai food. It was a heck of a ride but a great pot of gold at the end of the rainbow!
Comments
comments
More Good Reads!









Share
About Author
(0) Readers Comments