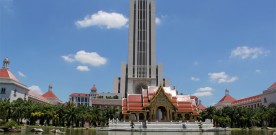 Teaching English abroad can be the best idea in the world, yet, at the same time one of the most overwhelming decisions ever. Questions about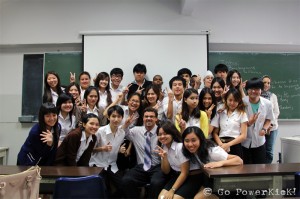 teaching abroad might range from "Where should I teach?" and "What if I want to try teaching but aren't ready to commit $1,200 for an in-person TEFL class?" to "What if I want to make a career change but don't have the background or degrees necessary to get placed in a top international school?"
For those who've ever had these questions, or others about teaching English abroad, I've got an answer. You can do what I've done and teach where I've taught, without any prior experience or a TEFL or CELTA certification.
Assumption University, and its campus in the park, is a great option available in Thailand for those looking to dip their toes into teaching English abroad.
Here's all the 411 you need to know about teaching English at Assumption University (ABAC) in Bangkok, Thailand:
– Be a native English speaker.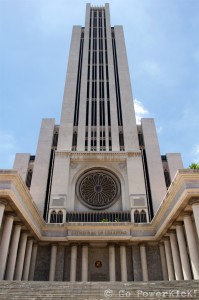 – Have an undergraduate degree at a minimum, having a graduate degree will earn you a higher base salary.
– No TEFL or CELTA required.
– Contracts are 1-year at a time with the option to roll it over when the year is complete.
– Contracts start at 15 teaching hours per week and can range up to 18 and 21 teaching hours per week.
– Base Pay for a new teacher with an undergraduate degree on a 15 hr a week contact is 25,000 baht per month (around $800 USD). Add an extra 10,000 Baht per month ($300 USD) if you have a graduate degree.
– Additional teaching hours per week over your contracted amount are paid at 300 Baht per hour, typically teachers can earn an extra 1,000 to 5,000 Baht per month each semester.
– Teachers are eligible for a round trip flight reimbursement after 2 years of teaching.
– Teachers are covered under Thai Social Security, which means basic health care costs and hospital visits are covered at the local Camillian Hospital.
– The university will handle all paperwork and logistics for work permits and Non-Immigrant B1 Visas. All teachers must do is pay the required fee and show your face at the immigration office.
– Housing is provided for free on campus in Bang Na in spacious private rooms with a balcony. **However, teachers are subject to paying utilities; which can run around 1,500 Baht per month ($50 USD) for air conditioning and electricity.
– Paid public holidays and two, 2-month mid-semester breaks each year…Perfect for traveling!
– For those interested, interviews can be arranged both in-person or via Skype with ABAC staff.
To give a better idea of what ABAC looks like, here are some photos of the campus in Bang Na.
The tall building is the Cathedral of Learning where the English department has offices for teachers on the 27th floor, complete with amazing views. There is also a lagoon, home to black and white swans, in front of the campus and a Wat (temple) where you can relax inbetween classes.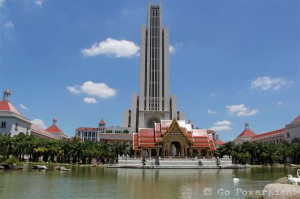 The main University Avenue is lined on both sides with buildings for each Major. All classrooms are well air conditioned, so escaping the Thailand heat is not a problem. The walkway on the right side is covered and plays top 40 tunes from ABAC Radio throughout the day.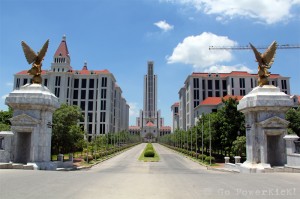 Teachers are housed in the King David dormitory directly in front here, which has and internet lounge and a café for relaxing, getting a bite to eat or grading papers.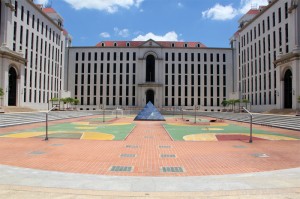 Very near to the dorms is the AU mall, where teachers can do laundry, go to the quickie-mart or get a bite to eat at one of several restaurants.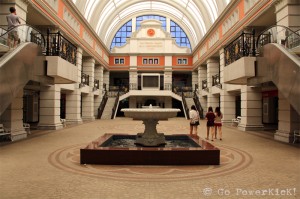 The Olympic sized swimming pool, workout facilities and basketball court round-out the amenities on campus.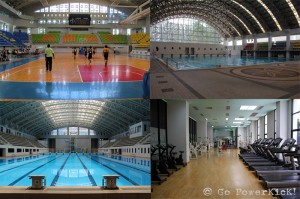 If you're entertaining the idea of teaching English abroad and don't want to make a huge financial or contract commitment, then teaching English in Thailand, at ABAC, is a pretty safe move. The light contract loads also provide the opportunity to make some extra cash on the side. For example, I've been able to set up a network for grammar checking Graduate thesis papers, and other teachers run different online businesses or small tutorial classes. In addition, the 4-months of paid vacation every year is pretty tough to beat!
If you are interested, or have additional questions, feel free to email me at mike@gopowerkick.com
Comments
comments
More Good Reads!










Share
About Author
(0) Readers Comments