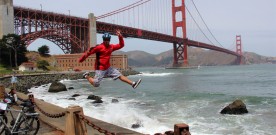 Being voted #2 on the list of America's most walkable big cities and 8th on the list of most bike friendly cities has left San Francisco with no shortage of fun things to do. During my 3-week return trip stateside, after roughly 3 three years in the Big Mango, I made sure to get my fix of the city by the Bay. A Golden State Warrior Playoff Game, watching batting practice before an Oakland A's game, along with a bike tour through the city and a belly first jump into San Francisco's best burrito and hamburgers all helped me scratch the Bay Area itch of home I'd been missing.
Passing up a San Francisco Giants day game, I jumped on the opportunity to two-wheel cruise the dock of the bay and cross the Golden Gate Bridge. To be honest, being born in SF and raised in the Bay Area, I'd never crossed the Golden Gate Bridge on foot or by bicycle before this trip home. I guess it's just one of those things you sort of take for granted when it's located right in your backyard. Renting two bicycles, Mr. Tim Waldron and I headed out to ride across the bridge into Sausalito and find out just how long the Golden Gate Bridge really is.
Our trek started out in North Beach winding through the Fisherman's Warf & Pier 39 area then out West towards the gate to the bay. Cresting a hill behind Ft. Mason we got our first glimpse of the golden behemoth out in the distance. From this vantage point we quickly gained an appreciation of the vast size and length of the Golden Gate Bridge, which is 8,981 feet long.
Before crossing the bridge we stopped at the base to check out Ft. Point, which was originally used to guard the San Francisco harbor from Confederate and foreign attacks during and after the Civil War. Ft. Point offers an awesome water level point of view of the bridge. Staring up really gives a good idea of just how high the 746 feet above the water the bridge actually is.
From here we realized there might not be a better postcard backdrop for a San Francisco PowerKicK. The only problem was locating a spot where the entire span of the bridge fit in the camera lens while providing a good place to PowerKicK. The location we found offered a clear shot of the bridge, however, the narrow and precarious landing made spilling into the Bay a real possibility. Leaping from the top of stone post right next to the water, the PowerKicK was flawless and the landing was stuck like an Olympic gymnast. Otis Redding would certainly be proud of the July 2013 "PowerKicK On The Dock Of The Bay."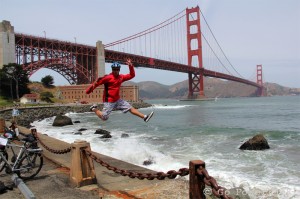 Comments
comments
More Good Reads!










Share
About Author
(0) Readers Comments