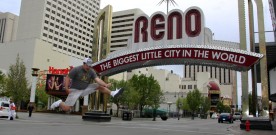 The Biggest Little PowerKicK In The World
Continuously over shadowed by Las Vegas; Reno, Nevada is definitely an underrated destination for a bachelor party. I recently spent a weekend with a group of friends in the high sierra desert experiencing all the things to do in Reno, as well as the diverse Reno nightlife while celebrating my older brothers bachelor party. Upon entering the city limits we headed directly to Craft Wine & Beer to kick-off the weekend with a hand-picked specialty brew 12-pack. With case in hand we proceeded to the Silver Legacy Hotel where we checked in and sampled our tasty brews prior to testing our luck at the tables.
Our Saturday afternoon Reno Riverwalk pub crawl was hands down the highlight of the trip. What made this pub crawl extraordinarily unique was the fact that our group, 'The Rolling Blackout,' was escorted from bar to bar and restaurant to restaurant by a Scottish bagpiper…kilt and all! The reaction our group received when entering an establishment, preceded by our piper, was nothing short of amazing and is something everyone should experience once in their lives.
Recapping the pub crawl and our evening gambling stories while sitting at the Silver Legacy Hotel's Sterling's Sunday Champagne Brunch, I quickly realized we couldn't leave Reno without a celebratory PowerKicK photo. I couldn't think of any other spot more perfect for a PowerKicK backdrop than the iconic Reno Arch which spans Virginia Street. A group of us made our way to the sign and began deciding the best angle for the shot. A small pack of Reno 911's finest rolled by on bicycles and were slightly hesitant to help us block off traffic to nail the shot, however, they did give us a few alternatives in lieu of stopping traffic then proceeded on their way…and we proceeded with the PowerKicK.
Realizing the short window of opportunity available to nail the PowerKicK, Jason Blater warmed up with a few practice jumps to loosen up the legs and get his form spot on to increase our chances of a one shot success. He and I then made our way into the intersection, focused the camera, gave a 3-2-1 countdown and SNAP. Height, form and positioning; he nailed it on the first try! Standing around 6'6 Jason isn't the tiniest guy in the group, so the June 2013 PowerKicK Of The Month was appropriately named "The Biggest Little PowerKicK In The World."
Comments
comments
More Good Reads!










Share
About Author
(0) Readers Comments