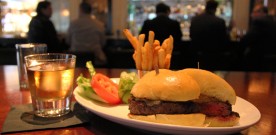 May is National Hamburger Month in the USA and to celebrate I dove into the 7×7 borders of San Francisco to experience first-hand the burger revolution happening in the city. Most known for crab, sourdough bread and Rice-a-Roni; the once-humble hamburger has entered the foodie stage and can now be found at practically every restaurant in town. Keeping with the '7×7' theme I went from dark English pubs to hipster-hangouts to food trucks; I climbed up the ladder to 5 star dining establishments and back down to famed fast food chains in an effort to find the 7 best burgers in San Francisco. The diversity couldn't have been greater and the unforgettable tastes continuously reminded me why I could never be a vegetarian. So, here are the 7 best burgers I found in San Francisco that helped add 7 inches to my waist line.
Bourbon Steak
The $22 house-ground bourbon steak burger is hands down one of the best burgers I've ever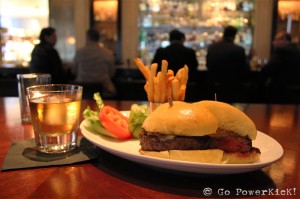 eaten. A unique 50/50 combination of American-Japanese wagyu and Prime Angus beef gives it a rich, meaty flavor and a tenderness that melts in your mouth. The 8 oz patty, which the chef suggests cooked medium rare, is placed between a soft and spongy biroche bun made fresh daily for Bourbon Steak by Firebrand Bakery in Emeryville. Spicing up the burger is a zingy sriracha '1001 Island' dressing, a sharp local nicasio valley hopscotch white cheddar cheese and sweet caramelized onions. The burger is served with a side of tomato, lettuce and thinly sliced and seasoned cucumbers. I completely forgot to add the sides to my burger as after the first bite I could barely put it down. The burger pairs well with one of their many bourbons and of course don't forget to order their goose fat fries which are dusted with a fresh multi-herb seasoning and compliment the burger perfectly.
Liverpool Lil's
The Liverpool Burger has been on the menu at Lil's since the dark, traditional English pub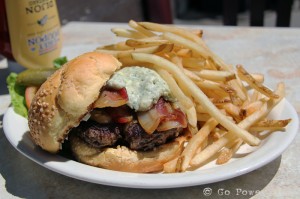 opened in San Francisco in 1973. The large, 8 oz, handmade patty is made from an 80/20 blend of choice Angus beef and has an old-fashioned backyard BBQ look with the taste to match. Topped with grilled onions, thick cuts of apple wood bacon for an additional $2, and your choice between 5 cheeses, it's a burger loaded with the good stuff. The combined richness of the cheese, sweetness of the onions, salt from the bacon and juices from the patty make every bite a flavor bonanza that'll keep your taste buds on overdrive trying to keep up. Holding it all together is a sesame kaiser bun, from the local Wedemeyer Bakery, that's soft on the outside and slightly toasted on the inside with a light spread of mayo. Served with lettuce, tomato, pickle and a mound of thin-cut fries you're definitely not going to leave hungry. At $13 this burger is a bargain.
Nopa
A hip American brasserie with French influences, Nopa's kitchen kicks out many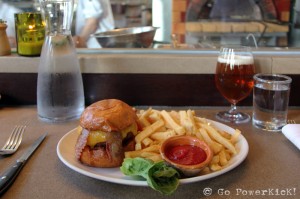 elegantly plated dishes, but the real hit here is the burger. The Marin Sun Farms grass fed burger is house-ground and handmade into an 8 oz, hockey puck thick patty. Recommended cooked medium rare, the burger is seasoned only with salt to bring out the true flavors in the beef. Flame kissed on the grill, the patty is slightly charred on the outside giving great grill flavor yet remains pink and moist on the inside. The burger comes draped with a slice of sharp cheddar cheese and criss-crossed with 2 slices of their in-house cured and smoked bacon. Loaded between a housemade biroche bun, which is glazed with clarified butter and toasted on the grill, the burger comes served with pickled red onions, a single leaf of lettuce and a pile of their Moldon Sea Salt seasoned, twice fried french fries. Well-seasoned, juicy and tender it's definitely worth the $14 price tag. Reservations are highly recommended and the Chef's Table is a great seat to watch all the action in the kitchen.
Red's Java House
Hungry longshoremen and blue collar workers looking for a lunch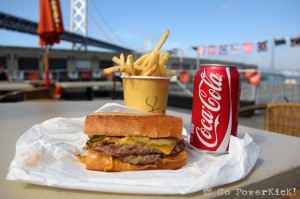 time burger and beer were the original customers at Red's over 90 years ago. The tiny shack at Pier 30, standing at the base of the Bay Bridge, griddles up thin-pattied burgers for their version of the All-American Classic. Their double cheeseburger, fries and soda combo runs $12.20 plus tax and comes with two 1/4 pound patties bursting with juice. Red's keeps it simple topping their burger with only cheddar cheese, mustard, pickles and chopped onions. Layered into a tangy San Francisco sourdough roll the patties and condiments fit like a glove. The exterior toughness of the roll and the soft doughy inside soaking up the juices really make this a burger that gets the job done. The outdoor patio, with a view of the bridge and the bay, provides a great location for enjoying their burger, but watch your fires as the birds in the area have become notorious thieves.
Marlowe
The Marlowe burger brings to life the Carl's Junior saying "If it doesn't get all over the place it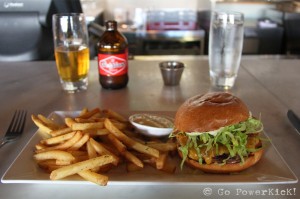 doesn't belong in your face." Throwing a bit of a wild card into their 5.5 oz patty, their 80/2o meat-to-fat blend from Niman Ranch actually includes about 20% lamb. Seasoned simply with salt, the burger is suggested cooked medium rare to kick up the beef-lamb flavor and turn the juice faucet on high. Packaged nicely between a sweet Acme pain-de-mie brioche bun, the burger comes topped with caramelized onions, cheddar cheese, crisp bacon and cold shredded lettuce. Before book-ending the burger the bun is given a light coating of bacon fat, toasted on the grill and covered with a spread of their horseradish aioli; which is a perfect balance of flavor and heat. The fries are crispy and dusted with sea salt and parsley and go really well dipped in the horseradish aioli. Checking out at $14 the price is a little high given the size of the burger, however, the flavor definitely carries the extra weight. All in all, this is one tasty burger.
FiveTen Burger
Since 2010 the FiveTen burger truck has been slingin' out top shelf burgers all around the Bay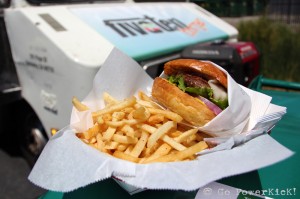 Area. Offering two types of 'artisan' burgers, FiveTen locally sources their ingredients and handmakes their burger patties daily. I ordered the Eel River Ranch 6 oz 100% grass fed organic burger, $8.75, which is a healthy 70 percent lean meat-to-fat ratio. The flat-top grill inside the truck cooks the patties to perfection giving them a nice caramelized outside and a tender, juicy inside. The brioche bun, made fresh daily at North Beach Baking Company, is brushed with butter and lightly toasted on the grill before being served. Burgers come with a choice of sharp cheddar, swiss or american cheese along with a tomato, thick red onion, lettuce and homemade pickles. Their garlic oil fries, an extra $2.50, are a must try and come piled in a heaping mound. Check out the FiveTen website, Twitter and Facebook pages to find out when and where they'll be slingin' burgers next.
In-N-Out
Flipping up burgers since 1948, no visit to California would be complete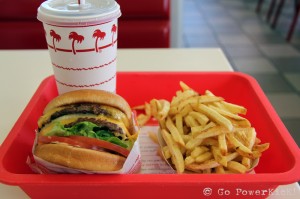 without a stop at this iconic, West Coast family owned burger institution. In-N-Out offers basic hamburgers, cheeseburgers and french fries, and their secret menu has items like a 4-patty burger and meals made 'Animal Style.' Their Double-Double burger, 2 patties and 2 slices of cheese for $3.15, is beautiful in its simplicity and is made with only the freshest ingredients. The 1/8 pound patties, made daily from 100% ground chuck, are cooked well-done on the griddle, but, you'd never know it by how well they maintain their juiciness. Loaded between a toasted, secret recipe sponge dough bun are hand cut tomatoes, a cripsy bed of lettuce, onions (grilled or raw) and two slices of real American cheese. The patties, cheese and onions meld together with thier secret 'thousand island' spread to form a juicy, gooey burger masterpiece. Their fries are are diced daily from Kennebec potatoes, fried using trans-fat and cholesterol-free vegetable oil and have a great 1-of-a-kind taste. The burger is "Quality you can taste" and the meal is one you'll never forget.
Comments
comments
More Good Reads!










Share
About Author
(0) Readers Comments