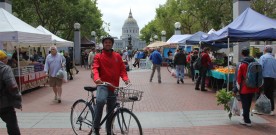 The first settlers stumbled upon San Francisco in 1769, however the city's history didn't really take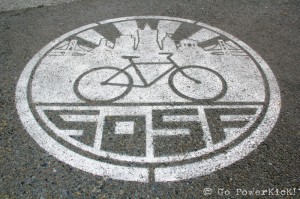 off until 1849 when gold was discovered in northern California. From 1848 to 1849 the city's population exploded from 1,000 to 20,000 people all looking to strike it rich. Since then San Francisco has never stopped attracting a diverse base of residents.
One of the best ways to experience the city's unique neighborhoods and its one of a kind flavor is up close on a bicycle. I recently took a tour with the guides at Streets of San Francisco Bike Tours who pride themselves on showing riders authentic San Francisco as well as their ability to provide those bits of history that leave a mark in your memory and even make veteran San Franciscians say 'Wow, I didn't know that."
Located in the up-and-coming hipster neighborhood of Hayes Valley, their shop is one of several container pop-up businesses operating around Patricia's Green Park. SoSF offers 3 types of city tours and private tours with prices ranging from $65-115. Hooking riders up with a comfy and stylish Specialized or Public bike, guides provide a great safety and route briefing before hitting the road.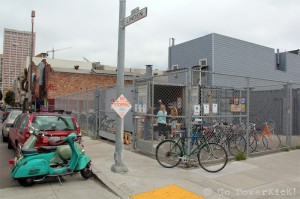 The ride started off with a slow entry onto Market Street and a right turn onto the Duboce bike path. This short path, with a detailed mural painted by Mona Caron, is an entry to the western areas of the city and a great introduction into the city's street art. Her mural represents transportation and life in a diverse city and is filled with living buildings, traffic jams, critical mass bikers, MUNI, ethnic neighborhoods and of course bike paths.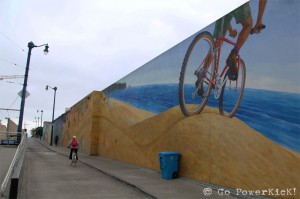 Exiting the bike path the tour follows the one-mile zig-zag that 15,000 bicyclists use per week to cut through the hills between Market Street and Golden Gate Park. What was once an old creek bed is now notoriously known as The Wiggle. Led by big green arrows painted on the street and scenic street signs which show the way to wiggle, we followed the trail and parked our bikes at the top of Alamo Square. From here we had a front row seat to the 'Full House' view of San Francisco's Painted Ladies and the downtown skyline.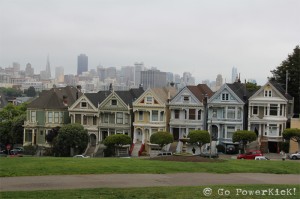 Wiggling through the Panhandle and into Golden Gate Park we rode by the conservatory of flowers and up to the de Young Museum. Our guides, Josh and George, took us to the top of Harmon Tower for a 360o bird's eye view of the city and a great history lesson. Our view of the gate to the bay and a peek-a-boo view of the Golden Gate Bridge was complemented by the history of how barons like Levi Strauss, Leland Stanford, Wells Fargo Bank and Ghiridheli Chocolate built their fortunes and legacies right here. They also described how the park was built and told stories of the fleets of boats that entered the Bay during the gold rush, including how term 'Shanghaied' was coined.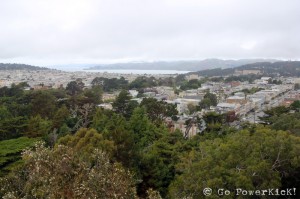 Leaving Golden Gate Park we continued down Haight Street straight through the heart of the "Summer of Love." The tour took us through the exact location where Jimmy Hendrix, Janis Joplin, Jerry Garcia and Jefferson Airplane changed the face of Rock n' Roll. The intersection of Haight St. and Ashbury St. was the crossroad of Peace and Love during the 60's and the 5 block neighborhood around Haight Street has since become a pinnacle for diversity in the country.
Rolling downhill we cruised through the Castro, where Harvey Milk transformed gay rights, then rode directly into the Mission District where we past taquerias, barber shops and cafes which really showed the diverse flavor of the area. We turned down a small alley and walked our bikes through the outdoor art gallery of Clarion Alley. This small 2 block alley is a one-of-a-kind outdoor canvas where community artists can showcase their artistic ability. At any given time around 30 murals of varying topics ignite the walls.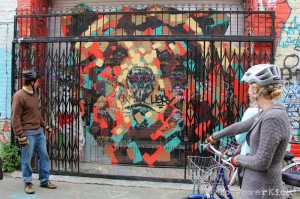 Snaking back downtown we parked for lunch at the new foodie favorite SOMA (south of Market Street) Street Food Park. Circled like wagons in a train heading west, is a rolling rotation of converted RV's sling out delicious varieties of ethnic cuisines. I was in the mood for BBQ and ordered The Drunken Monster from Adam's Grub Truck; an amazingly tasty asian fusion pulled pork sandwich with asian slaw, liquid dragon sauce and jalapenos piled on a brioche bun served with waffle fries.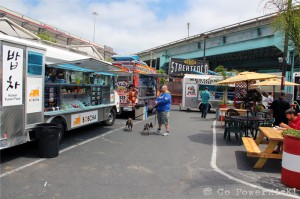 The tour wrapped up crossing back over Market Street and riding through UN Plaza and City Hall. Our ride coincided with the Wednesday Farmers Market and we were fortunate to ride through local vendors selling pies, fresh fruits and flowers. In addition to the street performers livening up the atmosphere we also saw the building where the UN Charter was signed in 1945.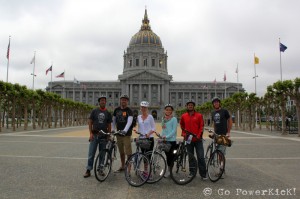 By the end of the day we'd covered 12 miles, ridden through 7 neighborhoods and got a full past-to-present picture of San Francisco. For anyone visiting San Francisco in the future I would highly recommend biking with SoSF for a fun way to explore the City!
Comments
comments
More Good Reads!










Share
About Author
(0) Readers Comments