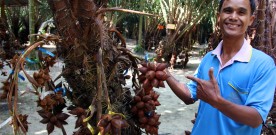 The southern province of Phatthalung is not typically included on 'to see' lists of most Thai and foreign travelers in Thailand. Searching for an authentic Thai experience, I did some research and found a handful activities here that certainly fit the bill. Even though I ran headfirst into the southern-Thai dialect language barrier; the kind and humble nature of the people, the culture and the natural beauty, I think, make Phatthalung one of the few remaining pure Thai provinces. Here are 6 activities I explored that opened my eyes to 'real Thai life.'
Uncle Pluem's Coconut Shell Workshop
40 years ago Pluem Chukong began carving and polishing the abundant coconut shells around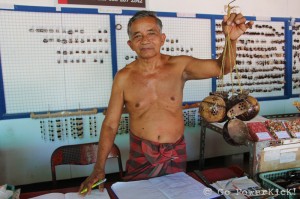 his home in the Chai Buri village of the Prang Mu sub-district in Phatthalung. After starting with basic kitchen utensils like chopsticks, forks, spoons and bowls he quickly perfected his art and his designs grew into boats, jars, jewelry and other trinkets. His coconut products soon spread throughout the neighborhood and even surrounding districts where they were sold as souvenirs.
When I arrived he happily took a break from his work to show me around his humble home and workshop. He gave me a demonstration of how he transforms an average coconut into a shinning, lacquer free, work of art in just 25 minutes on a sander and 5 minutes on a buffer. Excellent craftsmanship and extremely positive word of mouth have helped Khun Pluem create an internationally thriving business. He's also started a workshop where he trains others in the community in the art of coconut carving, helping bring buiness to his village.
Ok Talu Mountain
Rising majestically in the middle of Phatthalung, Ok Talu is the symbol of the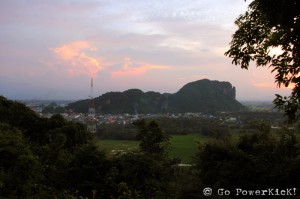 province. The mountain appears on the provincial seal and, lying just east of the train station, is impossible to miss. The local legend behind it and a 2nd mountain in town is one of a 'mistress' and a 'wife' fighting in a lovers quarrel. Legend says that both mountains sustained serious injuries during their fierce battle over the male City Mountain, Khao Muang.
Ok Talu, meaning Punctured Chest, got its name from the hole near the top which gives a peek-a-boo view to the city below and Khao Hua Taek, meaning Cracked Skull, got its name from its slightly splintered peak. A visit to Phatthalung isn't complete without summiting the near vertical steps to see the hole at the top. Making the climb around sunset is the best time to go to see some really picturesque views; I'd also suggest bringing along water and mosquito spray. There's also a great low-mountain view point which offers a fantastic view of Hua Taek's cracked skull.
Uncle Klom's Drum Workshop
Uncle Klom Chukaew is Phatthalung's resident drum maker. For almost 10 years he's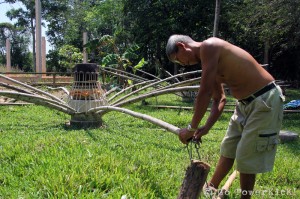 been working from his home, under the blazing Thai sun, to perfectly hand-craft 9 different styles of Phon drums. Made from the trunk of a palm tree, 5 drums from each tall trunk, he sands, files and chisels each of them into the perfect size and shape. He then covers the hollowed drum with the skin of a water buffalo and depending on how deep or high he wants the sound, he adjusts the taughtness of the skin.
His drums are made specifically for Phon Drum players looking to represent their districts and temples in the yearly Chak Phra competitions held in October. His finished drums are highly sought after and sell for between 5,000 and 25,000 Baht each. Held in the provinces of Phatthalung, Nakhon Si Thammarat and Surat Thani winners of the competitions are determined by the quality of their drum, usually meaning the loudest drum is crowned the winner. Uncle Klom played a few drums for me while I was there; they're definitely loud and I now know why people come from far and wide to his workshop.
Larn Ta Chu Steakhouse
Opened by two 'Le Cordon Bleu' certified Chefs, P'Chai and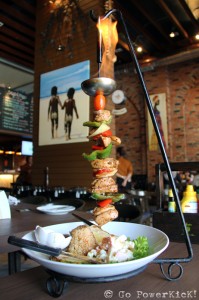 P'Poon, this restaurant is a well deserved break for any traveler looking to change up the night markets and street carts. A chill atmosphere, Top 40 music and a menu that covers all tastes; the Chef duo has hit a home run. Rounding out their menu are imported beers (Hoegarden and Budweiser) along with a variety of English, German, Japanese and Thai dishes. The menu is predominantly written in Thai, but with 'Steak House' in the name placing an order isn't really that tricky.
To help non-natives out there are small English descriptions on the menu as well as dishes written in English across the chalk menu on the banister. A few must tries from the menu are their fried stink beans, ostrich and deer steaks, and the flaming BBQ kebab. The kebab caught my eye when I opened the menu and I placed an order for it immediately. While sounding delicious, I'm saving the ostrich steak for my return trip.
Khun Wichai's Zalacca Orchard – Sala Lungthan

58 km southwest of Phatthalung is where Uncle Tan planted an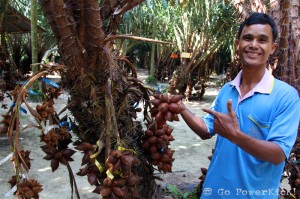 orchard of Zalaccas 64 years ago. Now running the show is Khun Wichai, Uncle Tan's son, who is an extremely happy-go-lucky farmer welcoming visitors from Thailand and beyond. When I arrived after getting lost he was there waiting to show me around the orchard. He explained that a Zalacca is a type of palm tree, bearing a fruit with a scaly, tough and prickly outer shell. He cracked one open to reveal a soft, white inside resembling a clove of garlic; however, without the smell and with a much sweeter and juicier taste.
He also showed me the breeding process and explained how visitors can pollinate their own vine and return in 9 months to pick it, or have the staff send a photo. I pollinated a vine and named it the 'Mai Pen Rai' vine, and will certainly head back to pick it when it's ready. Although well off the beaten path, venturing to Sala Lungthan is well worth the glimpse into rural Thai farm life and to taste the Zalaccas. If you get lost you can call Wichai, +66 084 859 3571, for directions. Also, everyone in the area seems to know Wichai and they're more than happy to point you in the right direction.
Palace of the Old City Ruler
8 km east of downtown, close to the banks of Lake Songklha, is the old home of the city's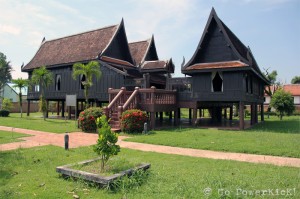 ruler built during the period of King Rama V. Separated into two sections, the compound has a traditional teak wooden residence, Old Palace, and a walled concrete office, New Palace. The New Palace, which was built for the ruler's son to succeed him, sits proudly on a canal. It's complete with several 'office' rooms along with a boat dock and boat for easy access to the waterways.
The Old Palace is built in a traditional raised style and has two bedrooms, a porch connected to a living room, and a kitchen. Inside are portraits of the ruling family as well as photos from a visit by the Princess. The simple elegance of the palace lets you know that sometimes you don't need much to live like a king. The palace is open Wednesday – Sunday 9am to 12pm and 1pm to 4pm. There's a faded sign showing an entry fee of 30 Baht, however, when I walked in nobody was staffing the booth.
Comments
comments
More Good Reads!










Share
About Author
(0) Readers Comments