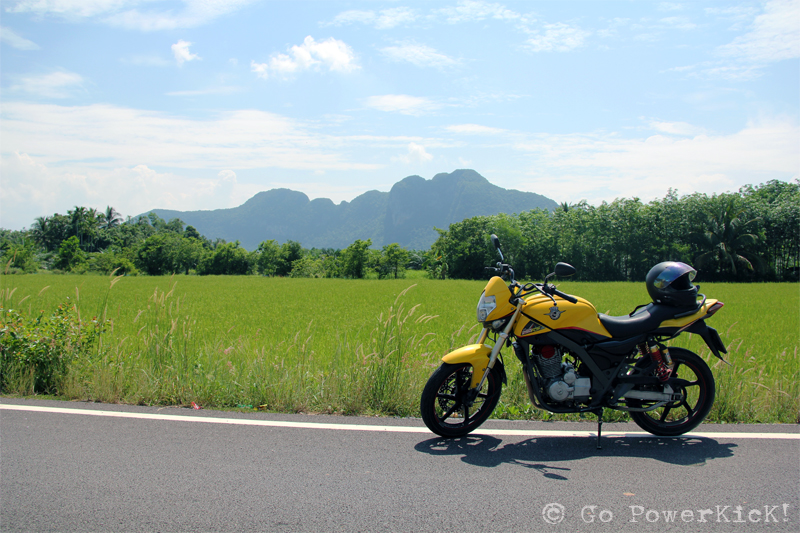 The final leg of the "Road to Phatthalung" was the shortest of my trip so far. Covering just 212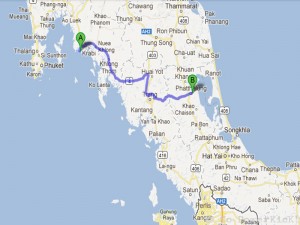 km I felt I could give myself a break from the early morning wake-up calls. By the time I packed, gassed up the bike and hit the road it was 7:50am. I figured the ride would be roughly 3 hours and including photos stops I should arrive around 11:45am or shortly after 12.
Heading out of Krabi felt quite similar to leaving Bangkok. Its tiny two lane road was full of morning commuters heading to work, kids going to school and I even passed a few police officers walking to the station with their helmets under their arms. The congestion lingered until around the airport where it began to open up.
A lesser talked about point on my trip has been the amount of carnage on the highways. Thankfully, what I've seen on the roads hasn't been human, that was until today. As I navigated out of Krabi I could see traffic coming to a halt. When I rode by, on the opposite side of the road, a scooter was laying perpendicular to oncoming traffic. Surrounding it were shards of broken plastic and a sprawled out body. Crawling by I couldn't tell if it was moving or not. I took a deep breath and reminded myself to continue to be mindful of my surroundings, expect the unexpected and always check my mirrors.
No less than 10 km down the road I could see brake lights lighting up again. I thought to myself there's no way it was another motorcycle accident. Thankfully as I rode by it wasn't. It was rather a large palm truck that had gone off the road. I don't see this often so I stopped to check it out. I hung around for about 5 minutes and watched all parties involved attempting to grasp the scale of the situation.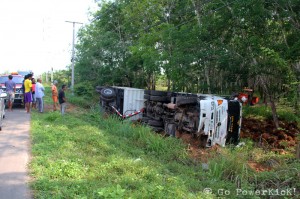 Making my way through Krabi I was still marveling at the volume of palm and rubber trees everywhere. I realized this section of Thailand, and east in Nakhon Si Thammarat, is really the heart of the palm oil and rubber industry in the country. It definitely showed as the homes I passed looked strategically placed to tend to the neighboring fields, each trying to cash in on the natural resources. Palm oil and rubber filled my thoughts as I rode. I kept thinking how cool it would be to tour one of the palm oil factories I've seen on the ride. I couldn't stop my curiosity and I decided to pull over to see just how rubber trees work. From the look of it, it looks like the trees are scored, causing it to 'bleed' and drip into a collection bowl attached to the tree. Given how widely rubber is used, this sure looked like a time intensive process. I'm still curious who checks and empties the bowls.

The mountain roads and greenery continued as I road along. I didn't see any checkpoints on day 2, and I thought today was going to start a streak. That changed after a Highway police car zoomed by me, which I later saw parked with 3 others at the Huai Yot intersection. I again made no eye contact and thankfully cruised through un-stopped.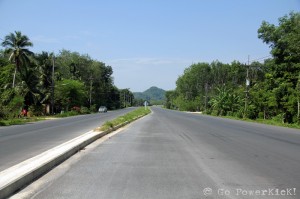 After about 2 hours on the road my stomach was growling. I thought about stopping for a roadside bowl of noodles until I saw my first sign for Phatthalung. Only 63 km were left and if I kept it at 80 I'd arrive in under an hour. I decided to hold off and keep riding.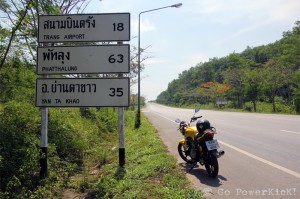 The remaining 63 km was on a thin 2 lane road that wound through the remaining jungle of the Trang province. I stopped to soak it in one last time before it disappeared and I luckily pulled over next to a cool ancient temple remains sign. I was too hungry to check it out though, perhaps on the reunion ride.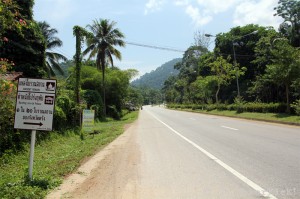 Leaving the jungle of Krabi and Trang behind I rode down into the plains of Phatthalung. The scenery opened up to mountains and rice fields and I could feel I was getting closer.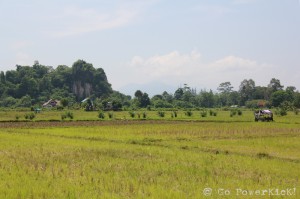 As I pulled into 'downtown' the rice fields and palm trees did a quick disappearing act. The road into Phatthalung is lined with shops, restaurants and schools and is much busier than I expected. Continuing on the main road, through downtown proper, it leads straight to the water. This time it wasn't a beach but rather Lake Songkhla, Thailand's largest natural lake. I rode onto the boardwalk and parked in front of a large fountain that's a monument to the fish and nearly  extent Irrawaddy dolphins in the lake.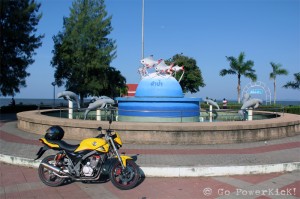 After holding off eating I was ready to eat just about anything. I located a hotel, put my things down and headed out to grub. I rode through town, took a random left and wound up parking in front of a steak and bbq restaurant. My eyes landed on the flaming bbq chicken kebab and I was sold. Minutes later a scrumptious masterpiece emerged and it didn't stand a chance against my hunger. Cheers to arriving in Phattalung!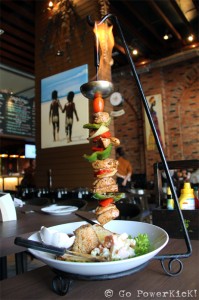 Comments
comments
More Good Reads!









Share
About Author
(0) Readers Comments