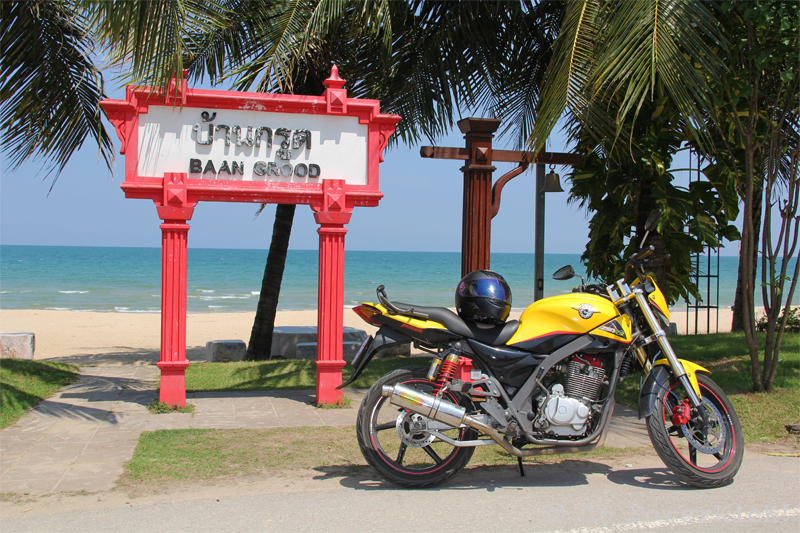 It was a cool Bangkok morning as I filled up the gas tank before heading out of town. Hoping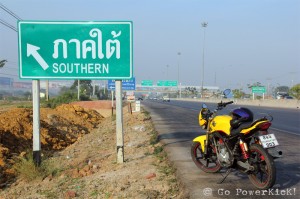 to get a head start on traffic and the heat, I was officially on the road at 6:13am. Day one of my trip to Phatthalung began today with a 357 km ride to Ban Krut, a small fishing village and beach town about 70 km south of Prachuap Khiri Khan.
Rama 2, or Highway 35, is the main road out of Bangkok and for an early Saturday morning, today it was buzzing with people getting their weekends started. Some loading into song thaew's (pick-up taxi's) on their way to work and others zooming by on motorbikes in the opposite direction carrying fresh veggies and other food from the morning markets.
Passing manufacturing plants, fisheries and other industrial estates, the ride out of Bangkok isn't really the most scenic. It's not until just after Amphawa, at the junction of Highway 35 and Highway 4 (or Asian Highway 2), that the commercial backdrop gives way to one much more natural. Highway 4 opens up to rice fields, palm trees and mountains which is just the beginning of the beauty of southern Thailand.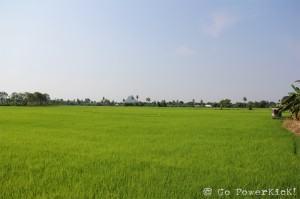 The scenery of Highway 4 makes for quite a peaceful ride. For portions, in between the 'major' towns, the road is lined with trees, flags and/or pictures of the King. Being a foreigner it's an interesting distraction as it's not every day you can see reverence of this kind on such evident display. During other stretches the road is under a canopy of trees providing a nice break from the sun as the day heats up. Winding inland, between coastal mountains to the east and boarder ranges to the west, are palm tree plantations and pineapple fields. In some areas you can actually smell the fresh pineapple and even stop off at roadside huts to buy, or eat on the spot, fresh pineapples and mango's.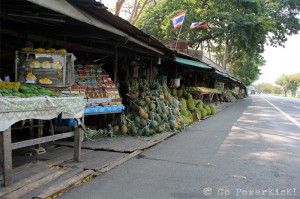 The ride is definitely not without its headaches. Buses heading to Phuket, Krabi or Ranoong speed by often as if they're on the German Autobahn. Other drivers and motorbike riders, helmet-less and 2 or 3 deep on a motorbike or 10 to 15 deep in the bed of a pickup truck, do just about everything you'd expect them not to do at the exact time they shouldn't. I'm used to seeing checkpoints along the highways and today I saw 4 (just before Highway 4, near Hua Hin, outside Kui Buri and in Prachuap). As the orange cones became visible on the road I knew what was coming. My adrenaline rushed and my heartbeat sped up as I avoided any direct eye contact with the police. I did see some of the riders and driver who passed me either getting a stern talking to or receiving a ticket. Thankfully I made it through with no tickets!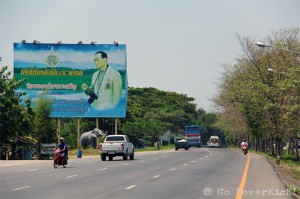 For the final leg of the journey to Ban Krud I had to turn off the highway and follow a 2 lane road 13 km to the beach. The road winds its way through neighborhoods, past temples and across train tracks until it hits the sand. The Ban Krud beach front road the parallels the sand and water literally steps away. Behind a thin wall of trees the bright blue water and bright white sand were a welcome sight after about 6 hours on the bike.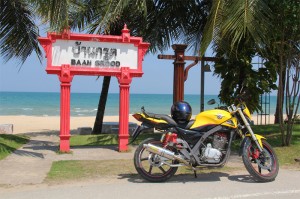 After a day of riding and an afternoon walking on the beach and exploring a nearby temple, I was ready to eat. I grabbed a table on the sand at one of the beachfront restaurants and placed an order for yum woon sen talay and som tam with a plate of rice (spicy glass noodle salad and papaya salad). Both were served in massive portions but extremely fresh, tasty and quite spicy! Today was a fun, relaxing and scenic first day on the bike. Tomorrow should be more of the same, however, slightly longer as I ride 452 km to the iconic beach town of Krabi. Live to Ride!
Comments
comments
More Good Reads!









Share
About Author
(0) Readers Comments