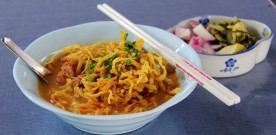 Khao Soi is a trifecta of Burmese, Laotian and Northern Thai flavors brought together in an unforgettably tasty yellow curry noodle soup. Lots of shops in Bangkok claim to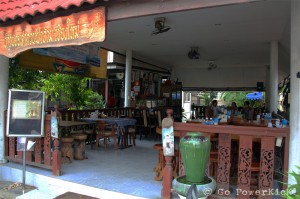 serve authentic northern Khao Soi, however, since it's truly a northern specialty locating something authentic in the city can take some searching.
For the past sixteen years Auntie Lum Duan, the daughter of the owner of the 70-year old Khao Soi institution in Chiang Mai named Khao Soi Lum Duan Fah Haam, has been serving up her perfected family recipe to Khao Soi lovers in Bangkok from her quiet location near the Don Meuang Airport.
Her restaurant/home is a family affair and the atmosphere immediately lets you know you're in for a tasty home cooked meal. The main dining area has been transformed from what would typically be the side yard and all the cooking is done in an area adjacent to the car port.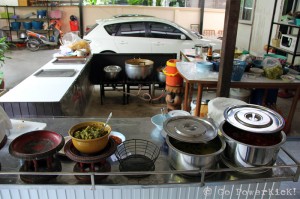 Early every morning Auntie heads to the local Sapan Mai market to buy meats (pork, chicken and beef) and vegetables for the day. Once she's back cooking and prep-work begins, and by 8:30am her doors are open to feed the masses.
Bowls of Khao Soi come in 3 varieties, Beef 50 Baht ($1.70), Chicken or Pork 45 Baht ($1.50). For those who like to snack, there are also bags of fried pork rinds at the table to munch on, which are great dipped in the soup. The traditional way to order Khao Soi is with chicken, but I was in the mood for something new so I opted for beef.
Within 2 minutes of ordering, the soup was at the table. Its golden broth, crispy shapes of the fried noodles and toppings of green onions and cilantro created a delicious looking meal. Each bowl comes served with a side dish of pickled cabbage, onions and a slice of lime. These can be added according to your liking, however, if your appetite is similar to mine I'd suggest dumping them all in the bowl.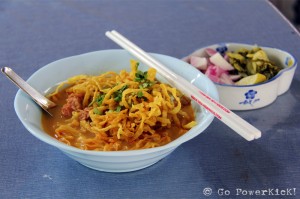 According to Auntie Lum Duan, aside from the curry which comes directly from Chiang Mai, there is nothing out of the ordinary about her recipe. Rather, it's her unique combination of coconut milk, chilies, ginger, garlic, coriander, turmeric and curry which produces the mildly thick, spicy yet tart broth that's overflowing with flavor.
Combining hearty egg noodles, beef so tender that it literally falls apart in your mouth and toppings of crunchy fried noodles; she's created a meal second to none! Auntie Lum Duan is definitely all about her Khao Soi, and I asked her why, in sixteen years, she hadn't opened a branch closer to downtown. Her response was straight to the point and I totally agree with her.
The recipe is so good that no matter where we are people will come."      – Auntie Lum Duan
For those who wish to taste the deliciousness the shop/house is on 16/54 Vibhavadi Rangsit Road Soi 58, which is about a 15-20 min drive from downtown. They're open every day from 8:30am to 3pm, except for the last Sunday of the month. So, if you're looking for an authentic taste of the north without having to leave Bangkok, then this is the place. Happy eating!
Comments
comments
More Good Reads!










Share
About Author
(0) Readers Comments