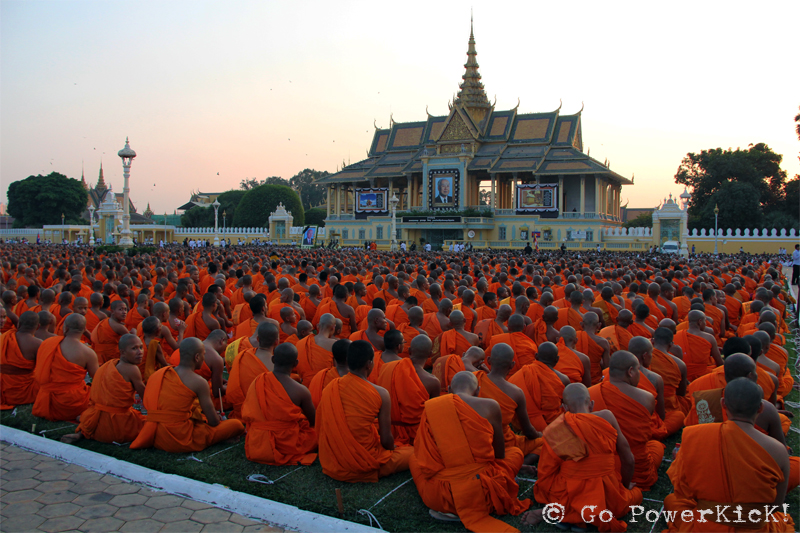 Pictures can say 1,000 words and sometimes even more. Video, on the other hand, can make you feel like you're a part of the action. On a recent trip, a few friends and I took a rather non-traditional cultural dive into to Phnom Penh, Cambodia. The trip was a weekend birthday celebration and by the end we'd come away with tons of photos and 'reels' of video. Upon arrival we went straight into what we ended up calling the 3 B's of Phnom Penh…Burgers, Bullets and Brews.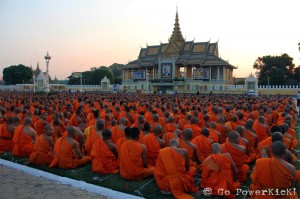 While we passed up the more popular sights and cultural activities like the killing fields, S21 prison and Wat Phnom; we were able to witness a once in a lifetime cultural event. Prior to our arrival the King of Cambodia, King Norodom Sihanouk, had recently passed away.
We were unaware of the events of his passing, and as it turned out our trip coincided with a four day funeral procession taking place in the heart of the city. We got to witness thousands of Cambodians who had descended on the capital paying their respects. One evening we stood and watched traditional Buddhist ceremonies taking place at the Royal Palace. While private ceremonies were taking place inside, we were able to stand outside the palace walls in a sea of orange robes with hundreds of monks and crowds of Cambodians who had gathered together in a show of solidarity.
Phnom Penh is the country's capital, as well as the largest city in Cambodia, and its Mekong River location helped it become the country's center of politics, industrial activities and cultural heritage. For those looking to experience Cambodian and Khmer culture, the city definitely has depth and history.
While not showcasing the total depth of the city's culture, the video below does show parts of daily life as well as other types of fun anyone can have in the city.
Comments
comments
More Good Reads!










Share
About Author
(0) Readers Comments