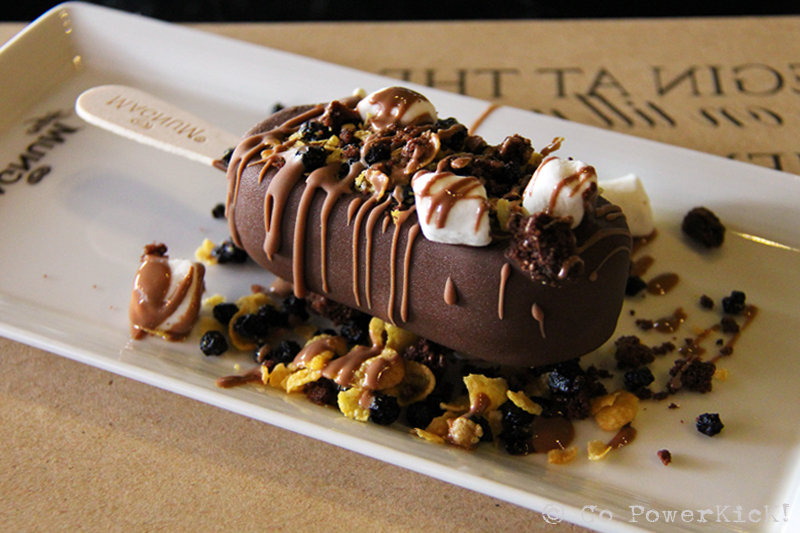 In case you were wondering, no, the Magnum Café  isn't a condom shop. It is, rather, the coolest spot right now in Bangkok for ice cream lovers to customize their own chocolate bars while escaping the Thai heat. For dessertarians this place is a must visit as it's only open for a limited time and scheduled to close May 31st. The Café, on the first floor of Siam Center, stands out from similar hit Café's in London, Paris, Edinburgh, and Jakarta as this is currently the world's largest with a 400-square meter layout and a seating capacity of 170 customers.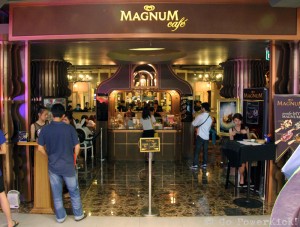 The Café offers both dine-in and take away options, but if you're looking for a swift remedy to satisfy your sweet tooth I recommend going take away. The take away option offers 2 choices on the order card, a Magnum from the recommended dipping menu of 4 pre-designed bars or the chance to  customize your own.
Customizing your own is way more fun and filling out the order card is as easy as ABC-123. The first step is to coat it. Here you get to choose to dip your bar in either milk or dark chocolate for a thick chocolaty coating. After its been coated it's time to top it. Take your pick of 3 toppings from a desirable list of 20 to be sprinkled over the top of your Magnum bar. Don't worry if you can't decide on only three, extra toppings are just 15 Baht ($0.51) a piece. Once the bar has been topped the next step is to drizzle it. Choose from dark, milk or white chocolate to have drizzled all over the bar and toppings.
Once all selections on the order card have been filled out; hand it to the cashier, pay 80 Baht ($2.72) and take your receipt to the ice cream parlor. In less than 2 minutes your pimp'd out ice cream bar will be ready for the final step, eat and enjoy!
Crowds pile up seven days a week for a specialty dipped bar and can be a bit overwhelming. Dining-in can be a more relaxed experience and allow you explore the unique, chocolate infused menu of dessert trays, tapas, pizzas and pastas. I chose to dine-in and gave their waldorf pizza and choco beef carpaccio a shot. The pizza has 80% dark Ugandan chocolate as its paste and is topped with bacon, walnuts and sun-dried tomatoes. The carpaccio is lightly seared and topped with oil, 80% dark chocolate and chili flakes. Both items were definitely different and really tasty. If you'll be in Bangkok before May 31st head over and enjoy some of these chocolate treats!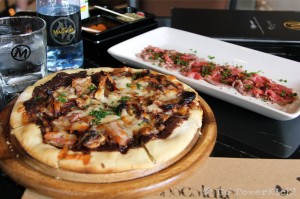 Comments
comments
More Good Reads!










Share
About Author
(0) Readers Comments