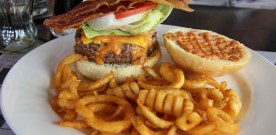 The Factory Burger
For a while I've been hearing about the burgers at the Burger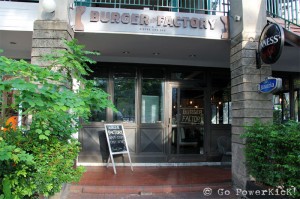 Factory. I hadn't yet visited so, I resumed my burger exploration from its brief vacation and headed over to punch-in my 'burger card' at the Factory and see what the hype was all about.
The restaurant has an interesting atmosphere, sort of a mix between the décor of a French countryside farmhouse and the vibe of a chic HiSo-café. To be completely honest, given the name I was expecting something slightly more industrious, however, their open grill where you can watch your burger come to life was an industrial touch and definitely unique.
Looking over the menu I noticed all burgers come cooked medium (different levels of doneness are available upon request) and eaters have a choice between sides of fries, potato salad or coleslaw and a few extra add-ons to the burgers. Debating over the classic or their signature burger, I ended up placing an order for their signature 'The Factory Burger' cooked medium rare with a side of seasoned curly fries and a Coca~Cola.
Old-school tradition is the foundation for the burgers at The Factory and three times per week the shop receives deliveries of choice grass-and-grain fed Australian beef; from which patties are g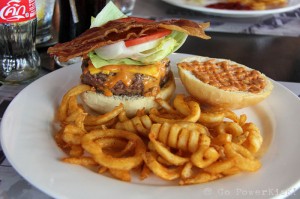 round daily from only the finest steak-cut portions. Sticking to tradition, their 170g patties are hand-made and seasoned simply with salt and pepper. They add no additional spices or seasoning, letting the beef truly speak for itself.
With my order placed I went to watch my burger proceed through the grilling process in the kitchen window. The final product which arrived at the table was an art gallery of deliciousness and scored a 10 for presentation. Staring back at me was a towering stack of bun, burger, cheese, special sauce, lettuce, onion, tomato and bacon; leaving no place for hunger hide.
Every day the factory bakes their own home-baked buns to ensure freshness and quality; so it's no accident that their handcrafted patty fits precisely in the bun. Topping the burger with the bun I could feel its buttery softness as it compressed in my hands. In my initial bite the crispy bacon popped and the fresh iceberg lettuce crunched as my teeth cut through the burger. The bun had an herby, garlic an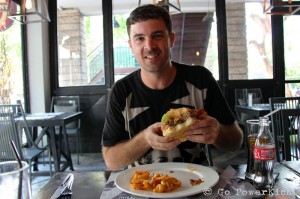 d thyme flavor which was an unassuming compliment to the meaty juices coming from the patty.
As I chomped through the burger I could feel the tenderness of the beef and taste the meaty flavor brought out by the salt seasoning. Bite after bite my appreciation for their bacon escalated. It was lean-cut yet full of great fatty flavor and by far the crispiest I've had on a burger yet. For me, the bacon was the highlight of this burger.
Topped with caramelized onions and a special BF (Burger Factory) aioli, the burger had a sweet yet mildly spicy kick. While tasty, the aioli was quite similar to a Thousand Island dressing, which I felt was a bit sweet for the burger.
A complication presented itself about halfway through. Compressing in my hands during each bite the patty began to flatten and sort of sprawl out beyond the edges of the bun. On two occasions bits of burger actually came apart and fell out of the bun. Perhaps it was my medium rare order which was outside the grill m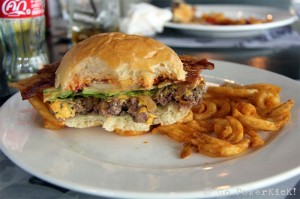 aster's realm of expertise or maybe the kitchen was simply having an off day prepping patties, I'm not sure.
Although the patty was cooked well and had a nice taste, it was loosely formed and lacked a strong cohesiveness keeping it together. Personally, I would have expected a sturdier burger from an establishment named 'The Burger Factory.'
After giving the burger a shot I can see how the presentation hyped it up; but I've definitely eaten more well rounded and well put together burgers. The prices here are fair and range from 215 Baht ($7.32) for the classic hamburger up to 290 Baht ($9.87) for The Factory Burger, not including any extra add-ons. For those who wish to give the Factory a shot, they're open Monday – Thursday and Sundays from 11:30am – 11:00pm, and Friday and Saturday they're open until 12:00am. Their shop is easy to find in the small shopping center on Ekkamai Soi 10 just across from Healthland, quite a convenient location for a relaxing massage after a belly filling burger!
Score Card
Burger Juiciness –  2.5/5
Bun Goodness –  2.5/5
Cheesy Madness –  2/5
Overall Tastiness –  3/5
Price –  3/5
Overall Rating – 2.5/5

Comments
comments
More Good Reads!










Share
About Author
(0) Readers Comments