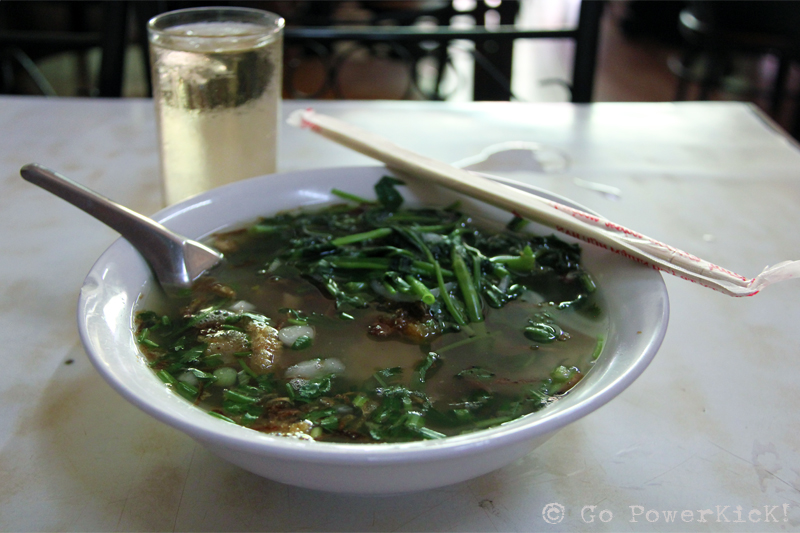 Learning the art of sourcing out tasty local food while traveling doesn't take long to master. A simple rule to follow that can help any search get started is: if there's a large crowd of locals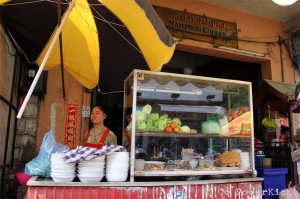 eating or waiting to eat somewhere then more than likely it's got tasty grub. I followed this rule while meandering through Vientiane looking for something local to eat and true to form, it led me to what just might be the best bowl of noodle soup I've eaten.
At first glance, with the row of motorbikes and M150 energy drink umbrella out front, the Namphou Coffee Shop looked more like a mechanic than an eatery. The lunchtime stream of office workers pouring in quickly convinced me there was something special happening inside this dark unassuming shop, so I followed the herd and made my way in.
Just about every table was eating a bowl of soup that looked and smelled delicious. I was given a menu and guessing soup was the dish de jour, quickly flipped through looking for a picture that resembled what others were enjoying. Kao Peak, a Vietnamese style soup, was their specialty and bowls were 13,000 to 16,000 Kip (around $1.75) depending on size, small or large. I placed an order for a small pork bowl and eagerly awaited its arrival.
Each table had an array of spices including hot chili oil, soy sauce, minced ginger, chilies in white vinegar and limes. As these are some of my favorite condiments I was excited to add these to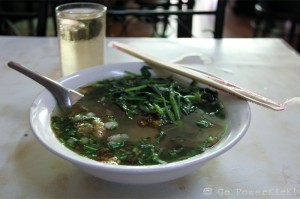 my soup and kick up the flavor. The soup came piping hot, billowing aromatic steam and accompanied by a glass of ice cold chrysanthemum tea. After sampling a small taste of the soup I realized adding additional spices would ruin this fantastic flavor.
The broth was rich with a meaty flavor and loaded with extras. Fried shallots and garlic, minced cilantro, thick green onions, over-sized pieces of morning glory and loads of pork crowded the bowl. The pork was fried and similar to a Thai moo glop. It had a crispy and crunchy texture yet still a bit soft from bathing in the broth. The Kao Peak noodles were a new name for me, yet a familiar style. Resembling a Japanese Udon noodle they're thick, round, soft and slimy and contrasted well with the pork.
The overall mixture of flavors and textures made this an exciting bowl of soup to eat. Along with the great taste, the local atmosphere and friendly staff make a stop at Namphou a must on a trip to Vientiane.
Comments
comments
More Good Reads!










Share
About Author
(0) Readers Comments