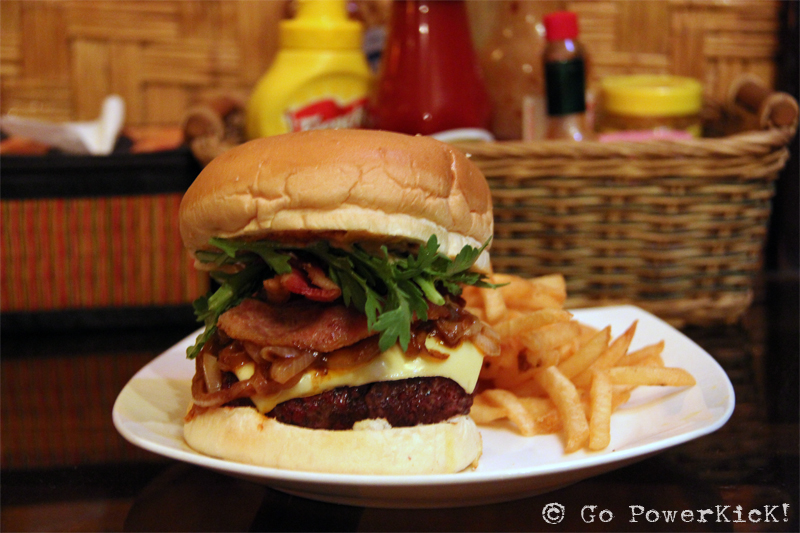 The Cheeseburger with Bacon
Knotted throughout Southeast Asia are small garages employing highly talented mechanics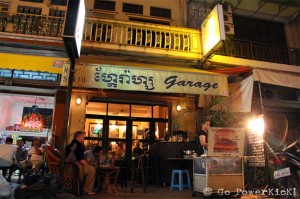 with uncanny capabilities for fixing anthing motorized. There is however, only one garage with a highly talented chef cooking exceptional burgers without a kitchen. In Phnom Penh, #9 on street 110, The Garage is cranking out Cambodia's best sousvide burger. I've seen burgers presented in a variety of styles, yet most cooking techniques tend to remain the same. Learning The Garage had no kitchen and hearing of this unique way they cook their burger, I had to inquire about the sousvide technique and of course sample their bacon cheeseburger.
The Garage has local Cambodian beef delivered daily, which is weighed into 200g patties that get handmade into perfect hockey puck shapes. The patties are straight beef, and no spices are mixed in with the meat. Six patties at a time are placed into a large bag and surrounded with a special blend of spices. The coveted mixture was not disclosed to me as Jeff, the owner, wanted some pieces of his creation to remain a secret.
Next, the bag is vacuum sealed to remove all the air and placed into a simmering water bath in a converted rice cooker, at a precise 136o F. A proper two hour soak returns a patty that's been saturated with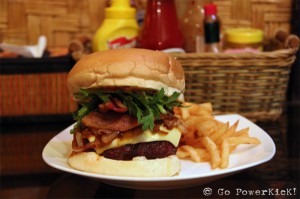 flavors which seeped from the spices as they were broken down in the heat. The air-tight bag keeps all the juices and aromas together through the entire cooking process; and the precision of the temperature ensures the meat is not over cooked.
Taken form the bath, the perfectly cooked medium rare patty is sent to the charcoal BB-Q out front to be flame kissed for 1 minute on each side. Here a medium layer of Swiss cheese is placed on the burger then topped with an additional special recipe of caramelized onions and two thick, crispy strips of bacon which have also been cooked on the BB-Q. Just before being brought to the table the burger is placed on a standard sourdough bun, given a layer of arugula for crunch and color along with a spread of Sriracha-mayo for a little added zing. And Voilà!
I watched my burger flow through the cooking process until it arrived at the table. Looking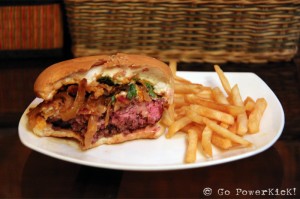 as if it came directly from a photo spread in Bon Appétit Magazine, I had to pause to admire its construction before taking the first bite. It was stacked tall, and each layer was visible and glistening with flavor.
The patty looked much larger than the 200g size I was quoted. I learned this was a result of the water bath which causes no shrinkage during the cooking process, contrary to a traditional grill.
My curiosity took over and I charged in for bite number one. The fluffy bun compressed easily as I took hold of the burger. As I bit into the burger a symphony of flavors were released and…I was wowed! Bold, tasty and a mouthful to remember; the flavors were some of the best I've tasted.
The overall tenderness of the beef and the strength of the flavors overly compensated for the minimal bursting of juices. I tasted garlic, salt and pepper, the latter of which lingered on my tongue making me crave another bite. The light spread of Sriracha-mayo and moist juices didn't overwhelm the bun and it stayed totally intact the entire way through. This served well as the flavors could not escape and were contained in every bite, causing the pace of my bites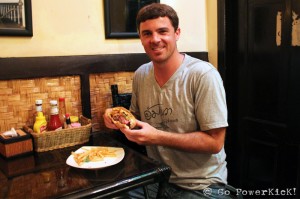 to increase rapidly.
I totally credit the disappearing act this burger pulled from my plate to its fantastic taste; and for a cost of $5.25 for the burger, $1.00 for bacon and $0.50 for fries it didn't break my budget. This is a cheeseburger masterpiece that's bound to delight taste buds, satisfyingly fill stomachs and bring a smile to anyone's face.
If you find yourself in Phnom Penh I highly recommend visiting The Garage. Open daily from 5pm til 1am, the burger here is a destination for all eaters and the rock bar ambiance is a musical sanctuary for those who appreciate a good tune. Enjoy!
Score Card
Burger Juiciness –  4.8/5
Bun Goodness –  5/5
Cheesy Madness –  4.8/5
Overall Tastiness –  5/5
Price –  5/5
Overall Rating – 5/5

Comments
comments
More Good Reads!










Share
About Author
(0) Readers Comments