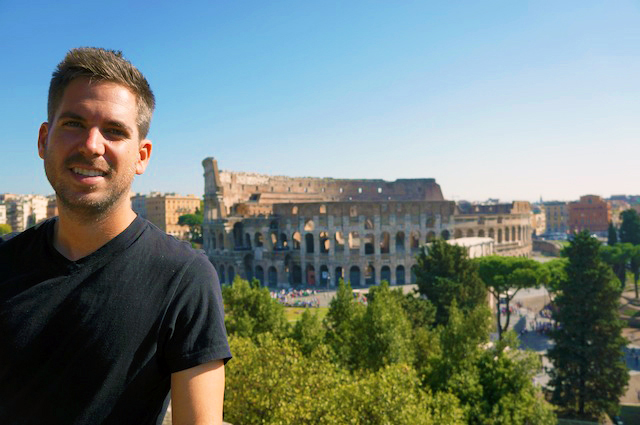 In 'Today's Traveler' I'll introduce you to a world traveler and travel blogger. Get to know them,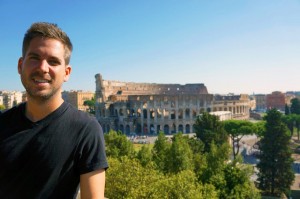 learn what makes them tick and why they love to travel. I recently met Turner Barr, the mastermind behind the travel blog Around the World in 80 Jobs. After graduating in 2007, He hit the open road. He is now traveling around the world, hustling to find interesting jobs, and writing about what happens when you read too many self-help books.
1. Have your travels helped you create your own meaning of the word 'travel?' If so, what is it?
I think that travel and its definition to me continues to evolve. When you first go abroad, you are excited just to be in a new country, maybe going on prearranged tours or staying in a hostel, but then maybe you have a desire to go deeper. So maybe you try couchsurfing or volunteering to meet locals. I am at a place now where I like to not so much "travel" as I do "live" abroad and try to get more into the local scene, by means of friends and jobs in the places I go to. So in that sense, travel has evolved for me in the process of being on the road.
2. How did you first come up with the idea to travel the world in 80 Jobs?
I had thought about it after college for a bit, when I was thinking about what I wanted to do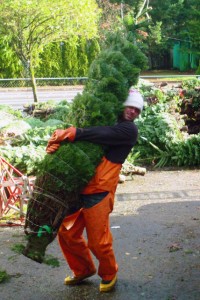 with my life. I thought it would be cool to try different jobs around the world because college, and frankly, the entire American education system/culture doesn't really focus on asking the right questions when you are going through school. I think it focuses more on making the most money possible to be deemed successful rather than figuring out your personality, and what things you like to do and want to do;  and then leading from that place.
When I finally decided after spending a year backpacking South America that I wanted to live abroad full time, I went looking for more information on how to do it. My university career center didn't have the tools or offer any help really, other than pointing you to job boards. When I searched online, I got frustrated as I found most of the online sites to be bullshit. Either they were generic sites built for SEO and adsense revenue or sites built by internet marketers who had never done any of the jobs, or there were sites that offered "internships" or jobs aboard but you had to pay outrageous fees for some vague experience pouring coffee. So the lack of genuine online information motivated me to create a site where I show people jobs you can do, and give the real low down on what they are like.
3. What are your steps for finding a job when you arrive in a new city?
First is to just talk to everybody. Network, and by network this can be anything from talking with expats in bars to walking around the scene and checking out different businesses for opportunities. But talk to a lot of people. Inquire, be open. Also you can look online for local job listings like Craiglist, Gumtree websites, but really, do not underestimate the power of making local friends and talking with people because you can get into some pretty amazing situations you might not have considered. They usually have been there for a while so they can be a real resource to the reality of working there vs trusting a random site online.
4. What's been your most memorable job so far?
I really enjoyed playing the demonic Krampus in Austria during the holidays, as it was so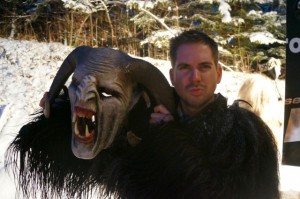 unique and interesting to play this yeti like creature. It really was a different way to experience a culture. I also really enjoyed working at a Christmas market  in Hiedelberg Germany pouring Gluhwein as well. I love Christmas markets, so to be able to work in one and drink to my heart's content was pretty much heaven.
5. Have you had any really embarrassing moments at a job?
Working at a festival in Holland as a toilet attendant wasn't the most glamorous of jobs. I had to lift heavy garbage bags that would tear and drip that liquid death onto my jeans, as well as man the toilet monitor post. But it was still all in good fun.
6. On your path to enlightenment, is there one thing you've learned while on the road that stands out? (About yourself, a city or a culture)
I think that I have learned that anything is possible. Random strangers will help you out when often times people you know are not as helpful as you would have thought. I think I learned that you accomplish and experience amazing things but you really need to take action. Taking actin is everything. Sometimes you get a no, sometimes a yes. It doesn't matter, because nothing will happen if you don't make a move. So I guess I learned of the importance of constantly pushing myself to try, even if you are facing failure. You gotta face it head on.
7. Do you have a favorite food, book, movie or playlist you can't live without while traveling?
Before I travel I tend to watch movies that show adventure and some cool locations. So I really love watching the Indiana Jones series (1 & 3, 2 & 4 are rubbish), also maybe some of the old James Bond movies, to see some of the exotic locations.  In terms of books, I give the Alchemist a read once a year to give me some perspective on what I am doing, as it is very much about finding you own purpose and meaning.
8. If you could travel with one person, from the past or present, who would it be?
I would travel with Anthony Bourdain and Bill Maher. I like people that cut the bullshit, and I think these guys would be cool to party and travel with.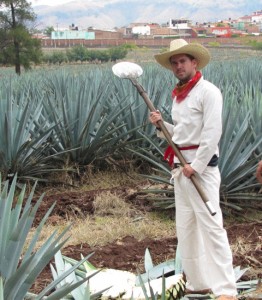 9. What destinations are on your list next, and if you had to pick one place to live and work, for the rest of your life, where would it be?
I am heading off to SEAsia, to Bangkok or Saigon to live for a bit. Definitely on my to do list is to live in South Africa and Brazil at some point. In terms of for the rest of my life – ha I cant answer that. Living in Europe in general is pretty amazing as you can go to so many countries so easily and so affordably…
10. Any travel tips/advice for future travelers who want to head out and give the road map the finger?
Just to dive in and take action. The road will reveal itself and it will take turns you didn't expect, but those turns can lead to some pretty wondrous places. Dive.
Visit Turner's site Around the World in 80 Jobs
Like him on Facebook
Follow him on Twitter @80worldjobs
Comments
comments
More Good Reads!










Share
About Author
(0) Readers Comments