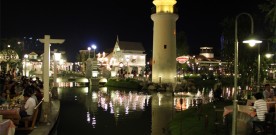 In comparison to Sukhumvit Road, the outskirts of north Bangkok are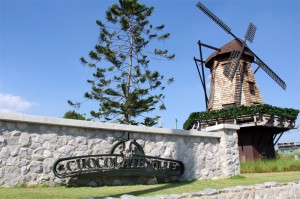 still pretty much the boondocks. Slowly being developed, the area is mostly freeways and fish farms, peppered with a few small strip malls. In 2011 Chocolate Ville popped up on Kaset Nawamin Road and breathed some life into the area with its 'Dinning in the Park' theme.
A bit of country-ville USA, Disneyland and a slice of old Europe create a unique dinning environment here. Its lagoon, old town wine cellar, dairy barn, canal bridge and lighthouse have made it a hit since the day it opened and their soundtrack, quite similar to what you'd hear playing at Disneyland, does a fantastic job of making you feel as if you've completely left Thailand…if only for the night.
At 4pm when the grounds open, crowds flock in to reserve tables. Due to its out of the ordinary design, Chocolate Ville has b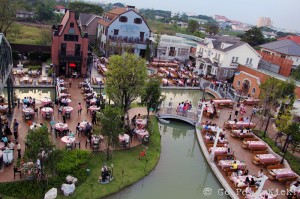 ecome a popular destination for professional photo shoots as well as amateurs looking to practice their skills. I'll admit, I joined the massive paparazzi frenzy photographing everything and everyone in sight while I waited to be seated.
Once at a table eaters aren't disappointed by their menu; which covers all 4 hemispheres and boasts a selection of over 300 dishes. The open air environment is great for enjoying a tasty meal in the warm Bangkok nights and in case a tropical monsoon arrives, Chocolate Ville is well prepared offering the protection of indoor seating and a covered section under a large conservatory.
To accurately represent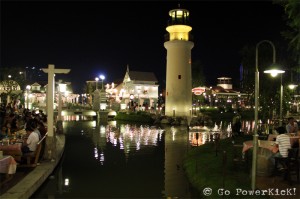 the range of cultures on the menu I placed a diverse order of ham and mushroom pizza, cheesy potato skins, fried balls of larb gai (spicy pork salad), deep fried som tam and stir fried mushrooms; which I complemented with a tall Hoegarden to wash it all down.
The food arrived quickly and I was excited to try the fried som tam as this was a first for me. The crispy papaya, fresh veggies and citrusy dressing were an awesome combination, which I'll definitely be ordering again if I see it on a menu. Their pizza tasted just like home with a thin crust, the precise amount of tomato sauce and a heavy layer of cheese covering the toppings.
My favorite by far were the potato skins. Crispy and crunchy, they were loaded with cheese, green onions and bacon bits. It had been a while since I'd had these and my palate welcomed the salty, cheesy mix of flavors. With their assorted menu of Western dishes everything was pretty reasonably priced; ranging from 120 Baht ($3.95) for appetizers up to 500 Baht ($16.37) depending on the entree.
C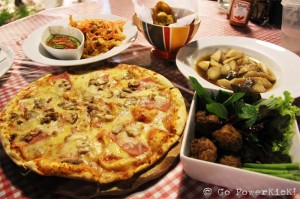 hocolate Ville is certainly a contrast to most restaurants in downtown Bangkok. With only a handful of westerners eating in, it's a great place to dine amongst Thai's in a lively and new-age setting. A visit to Chocolate Ville is great for a fun date, showing visitors a different side of Bangkok or for travelers who want to venture off the beaten path. Enjoy!
Comments
comments
More Good Reads!










Share
About Author
(0) Readers Comments