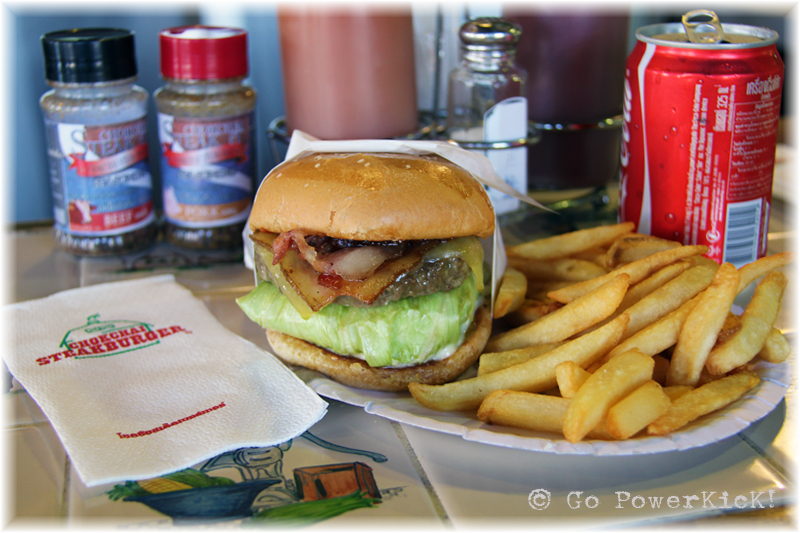 The Original SteakBurger With Bacon and Cheese
Perhaps it's the proximity of the kitchen to the cows or maybe just a placebo effect, either way I've noticed that burgers made directly at a ranch seem to have a slightly superior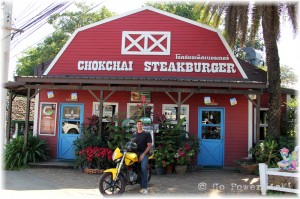 taste to those at a restaurant. While Bangkok isn't home to any working ranches, if you trek 160 km northeast you'll arrive at what was once a working ranch during Thailand's 'Wild West.' Farm Chokchai is nestled into a wooded plateau in the hills of Pak Chong in the Nakhon Ratchasima province, and is where legendary Thai cowboy Khun Chokchai Bulakul built a ranch to raise cattle. The farm now offers tours and activities in addition to serving up steaks and burgers at their steak hut and burger bar.
The burger bar is located right off the highway and is built in an old farmhouse style. Inside they've created an atmosphere that's a proper mix between a western saloon and a 1950's American Diner. The menu is placed behind the bar, above a window which offers a glimpse of the chefs flipping burgers. Burger prices range from 150 Baht ($4.88) for the original steakburger to 250 Baht ($8.15) for the premium wagyu burger. All patties are handmade from premium Thai beef which has been aged for 30 days. The beef comes from a cattle farm of theirs in the northern province of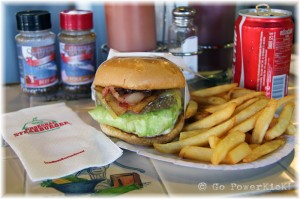 Sakon Nakhon, not directly from Farm Chokchai as I had originally expected.
The wagyu burger sounded mouthwatering, however, I fought off the urge and stuck with the original. I called over the cowboy attired waitress and placed my order. An original steakburger with cheese, bacon, a side of fries and a Coca~Cola Classic was coming my way. At 100g the patty is a featherweight compared to most other burgers, nevertheless it's loaded with flavor. The chef adds salt, pepper, olive oil, garlic and of course a dash of 'special seasoning' to give the burger its unique taste.
The service was quick, and when the burger arrived I immediately noticed their high attention to detail. Served on a paper plate the burger comes neatly wrapped in white wax paper, a classic touch. Giving it a once over I could see the burger was dressed with two strips of bacon, a layer of cheddar cheese and their special sauce, all resting on a hefty bed of fresh iceberg lettuce. No effort was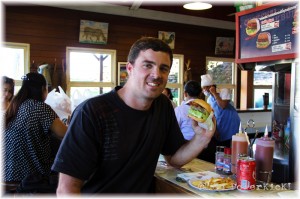 wasted as each layer was meticulously placed in its precise location between the lightly toasted buns. I was hesitant to dive in as the presentation reminded me of a burger from a relaxing backyard Bar-B-Q and what a burger order looks like from California's own In-N-Out Burger.
My admiration and nostalgia was brief as I couldn't ignore my growling stomach any longer. Picking up the burger a combination of sauce and glistening bacon, cheese, patty and lettuce was staring back at me, which looked perfect for the first bite. The lettuce let out a crunch and a flood of flavor poured from the patty as I sank my teeth in. If my taste buds could talk they'd have let out a YEEE-HAW! The beef had a bright pasture-raised flavor and the blend of garlic and salt in the paddy complemented the sweetness of their special sauce.
The soft sesame seed bun did its job containing the juices and sauce, although some did escape it was caught by the wax paper and was good for dipping my next bites into. As soon as I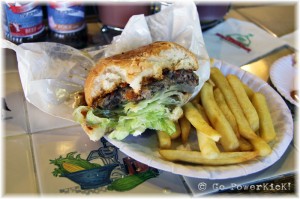 finished enjoying bite one it seemed I was wiping my face clean and washing it all down with Coke. A combo of motorcycle ride hunger and the tasty flavor had my mind, and stomach, thinking of seconds. I ordered a repeat of the original and rang the bell for round two. Equally as good the second time around, my only thoughts for improvement would be to slightly reduce the amount of lettuce and add a slice of tomato and onion. With these additions I think this burger would be lights out!
I highly recommend this burger and for those who want the same tasty burger without the 320 km round trip journey, you are in luck. The farm has two burger bar locations in Bangkok, one in Central Plaza Lad Prao which is open from 10:30 a.m. to 10:00 p.m., and another in Siam Paragon which is open from 11:00 a.m. to 9:30 p.m. Regardless of the location I'm sure you will enjoy this burger and Farm Cholchai's western cowboy flare.
Score Card
Burger Juiciness –  3/5
Bun Goodness –  4/5
Cheesy Madness –  3/5
Overall Tastiness –  4/5
Price –  5/5
Overall Rating – 4/5

Comments
comments
More Good Reads!










Share
About Author
(0) Readers Comments