Everything I've read or heard from others about Venice is that the city, with its beauty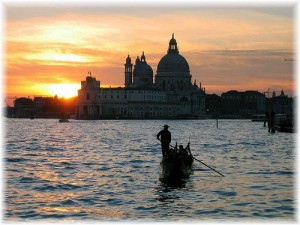 and charm, can quickly capture the heart. Could anyone really ask for more from a city than one that's interwoven amongst surrounding islands and waterways, and overflowing with art, food, culture and history? Well, I want to find out, and that's why I'm hoping to get the chance to Go With Oh to Venice so I can 'Viva like a Venetian.'
Growing up my parents were always 100% supportive of activities my brothers or I decided to pursue; whether they be sports, education, learning to fly helicopters or moving across the globe to teach and travel. This support helped build confidence and a positive 'can-do' attitude. Pursuing our dreams didn't come free of charge though. They often came with sacrifice and prioritization on the part of my parents, and globe trotting was one activity that was put on the back burner.
This is why, if given the chance to Go With Oh to Venice, I'd like to bring my dad along as my travel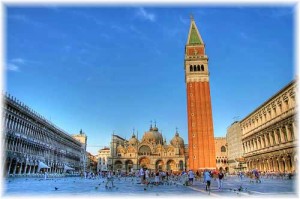 companion. He's always been a great provider, and he is the hardest working and most unselfish guy I know. If there's anyone I'd like share an exploration with, its him. I'd love to use the skills, he helped and encouraged me to develop, to show him what they've come to allow me to do…travel and explore.
Our to-do-list would hit the highlights before making it to the pièce de résistance our our trip. There's a lot to be said for hitting the streets and 'getting lost' when arriving in a new city. Wandering through the charming neighborhoods of San Marco, San Polo and Santa Croce we could view first-hand the mixture of daily life amidst Venice's commercial, religious, and political history.
A bird's eye view from the top of the Campanile in San Marco Piazza would offer the perfect vantage point to take in a panoramic view of the city and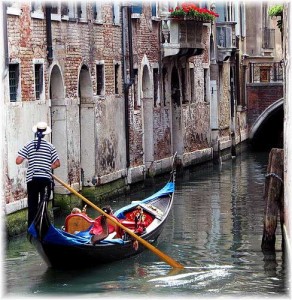 appreciate its complex architecture. Walking over the Rialto Bridge in the neighborhood of San Polo we'd dive directly into the belly of Venice. For around 700 years the Rialto market has been where Venetians go for fresh, local tastes. Strolling through and feeling the pulse of the market we could bargain with vendors for delicious snacks to enjoy over an afternoon apéritif.
A trip to Venice wouldn't be complete without gliding along the waterways in a gondola. Navigating tight canals and under bridges would put us at point blank range to marvel at the engineering and construction prowess of the early Venetians. Hopefully our colorfully dressed captain could share some 'local' knowledge not found in history books or museums. It also wouldn't hurt if he was an undiscovered 'Italian Idol' and could carry a tune to serenade our waterfront cruise.
Last but certainly not least is something I know would scratch a BOLDED TOP 5 item off my dad's bucket list. A short two hours from Venice is the historic province of Modena. Its cities of
Maranello, Fiorano, and Sant'Agata Bolognese are home to the Ferrari factory and test track as well as the Lamborghini factory, which are the birthplaces of modern supercars.
My dad is a huge car enthusiast and growing up we worked on cars, attended races and admired the supercars of the automobile industry as a family. So, prior to our arrival I'd arrange a day trip for us to tour Modena's 'motor valley.' Talking with engineers and walking the factory floors where the hand-crafted design excellence first came to life would be a dream come true. Buckling in and riding shotgun for a few laps on the test track, feeling the roar of the engine and hearing the screeching tires push the car to its limits, would no doubt make this trip even more unforgettable.
With so many sights to see and memories to capture we'll no doubt need an extra memory card for this trip. I know w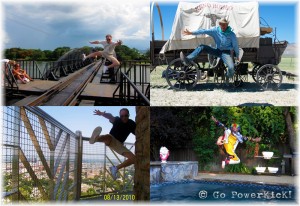 e'd build quite a library of picturesque shots, and my goal would be to snap one photo that would truly be a one of a kind.
When I began the Go PowerKicK travel blog my dad got into it. Whether at home in California, visiting my brother in New Orleans or me in Thailand, he has surprised us all with his ability to PowerKicK…and PowerKicK well. I have no doubt that the best souvenir we could take home to memorialize our trip together would be a father & son Venice PowerKicK.
Sending our taste buds on their own flavor excursion would  be an enjoyable endeavor for all parties involved. If 6 seasons of the Saprono's taught me anything, its that Italian cuisine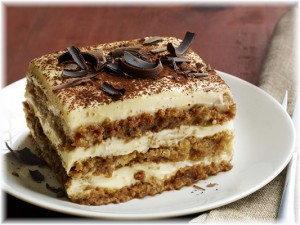 brings people together. Plates of thinly sliced carpaccio, drizzled with fresh olive oil, cracked pepper and parmesan cheese,  followed by steaming bowls of savory seafood risotto would certainly bring satisfying smiles to our faces and wet our appetites. Topping those dishes of with a main course of classic 6-layered baked ziti would have us well on our way to eating like true Capo's. Of course it goes without saying that washing it all down with a fine, velvety Chianti is a must.
I inherited 32 sweet teeth from my dad, so without a doubt dinner would be followed by tasty Italian desserts. Finding a Piazza, canal front cafe or bakery to sit and enjoy tiramisu, gelato and fried cream puffs would be the perfect way to end our days of exploration.
Visit the Go with Oh website and see how you can win a fantastic prize in their Facebook competition!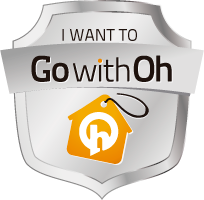 Comments
comments
More Good Reads!










Share
About Author
(0) Readers Comments