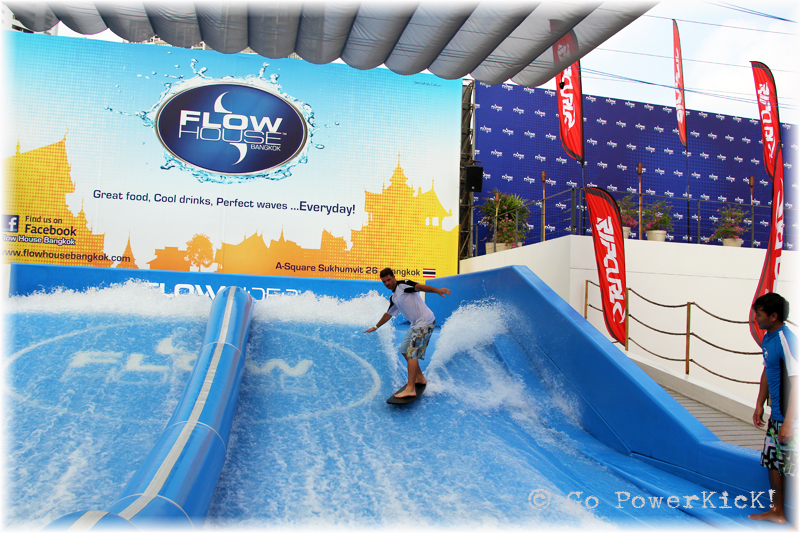 If one was to pinpoint where I've called home over the last 10 years on a map, a continuous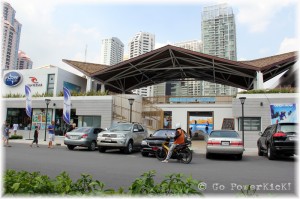 theme would quickly emerge….warm weather and sandy beaches. I've lived in places like San Diego, Honolulu and Phuket; where I've been fortunate to surf at world famous beaches like Pacific, Waikiki, and Kata Beach. My current home of Bangkok has plenty of warm weather, however, it lacks a sandy coastline and the warm waters of my previous abodes. What Bangkok does have is the ingenuity and creativity to replicate just about anything you can imagine; and surf breaks have recently been added to the list.
In the heart of Bangkok, at A-Square plaza on Sukhumvit 26, is Southeast Asia's first ever wave machine. The Flow House is an urban beach club where surfing, snowboarding and wakeboarding come together into a hybrid sport known as 'flowboarding.' The FlowRider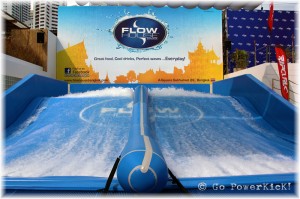 is where it all goes down and where hundreds of gallons of water are continuously pumped over a small inclined hill to create the perfect wave, all year round.
Split into two sections, the FlowRider can accommodate up to 10 riders per side per hour. Riders have a choice of boogie boarding or standing up on the flowboard to Hang 10. At 550 Baht ($18) per hour during the week and 650 Baht ($21) per hour on the weekends, prices are pretty reasonable.
Arriving a bit early for a scheduled 2pm surf session, my excitement got going while watching the group before me ride the wave. The learning curve looked steep, however, each rider got a good amount of time on the wave to get the hang of it. It's been almost two years since I've been on a surfboard, and when my turn came to ride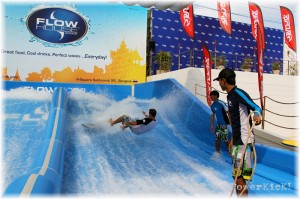 I was anxious, and was hoping my muscle memory didn't have amnesia.
I choose the flowboard and got ready to bring a little ALOHA to the FlowRider. As I floated out to the center of the wave it took a moment for me to get my balance and footing. Just when I thought I had it, and was ready to carve up the wave, I leaned a little too far forward, put the nose under the wave and WIPED OUT! Landings can be a bit hard on the foam surface, but, combined with the excitement and the force of the water shooting you off the back, you barely notice a thing. I laughed as I got up and was ready to ride again. The staff happily offers pointers to help riders get their bearings; it pays to listen as these guys are triple crown flowboarders themselves. By the end of the session I was getting the hang of it and dropping in from the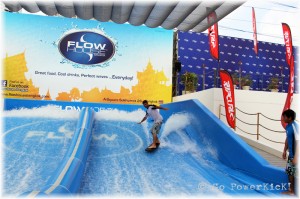 top, carving my initials into the wave.
Entry into the Flow House complex is totally free, and for those who want to beach-bum it up and watch the action there's seating right in front of the wave. The Flow House is also stocked with a full bar and kitchen, so if you're looking for tropical drinks and tasty eats after surfing, they've got you covered.
Complete with a wading pool, locker room and Rip Curl shop, the Flow House has everything you need to take a beach break from the Bangkok heat. If you're in the market for some new beach wear, or want to look like a surfing pro, the Rip Curl shop has all the latest threads. Surf's up in Bangkok!
Comments
comments
More Good Reads!










Share
About Author
(0) Readers Comments